Just in case the standard Escalade doesn't quite measure up to your lifestyle, Cadillac offers the Escalade ESV. At 20 inches longer than the regular Escalade, the ESV is an enormous SUV, carrying on the tradition of Cadillac dreamboats from bygone eras. Like its tail-finned ancestors of the 1950s and 1960s, the ESV does nothing if not make a statement. Except for dimensions, the regular Escalade and the ESV don't differ by much.
What's New for 2017
Two new technology options are available for the 2017 model year. The rear camera mirror promises a field of vision that's four times greater than what you see with a regular rearview mirror. It also removes obstructions from your view, including passenger heads and the rear pillars. Optional Automatic Packing Assist uses ultrasonic sensors to locate a suitable parking spot, and then maneuvers the SUV into either a parallel and perpendicular space. Aluminum 22-inch wheels have a new design. Trim levels have been renamed Escalade, Luxury, Premium Luxury, and Platinum.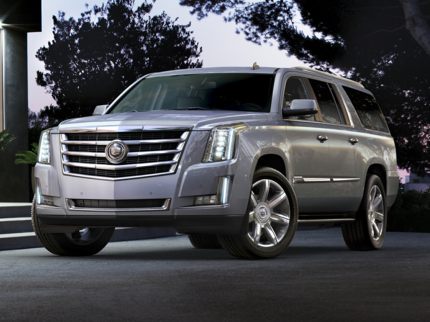 Choosing Your Cadillac Escalade ESV
The ESV's extra length allows for a lounge-like interior with stretch-out space for eight adults. Cargo room is generous even with a full crew aboard, and grows to nearly 121 cubic feet with the middle and back rows folded. Only a van can hold more. With all seatbacks up, cargo volume behind the back row is 39.3 cubic feet; with the third row folded, it totals 76.7 cubic feet.
The ESV's 6.2-liter V8 engine generates 420 horsepower and 460 pound-feet of torque, An eight-speed automatic transmission and rear-drive are standard, but most buyers choose the four-wheel drive setup. The Magnetic Ride Control system features Sport and Comfort modes. EPA-estimated fuel economy is identical to the regular Escalade: 15/22 mpg (city/highway) with rear-drive, or 15/20 mpg with four-wheel drive.
The voluminous standard equipment list leaves no doubt about the Escalade's luxury mission, whether in regular or ESV size. At the touch of a button, the third row folds completely into the floor. The CUE infotainment system includes Apple CarPlay and Android Auto. The eight-inch center screen uses capacitive touch operation and gesture recognition.
Trim levels differ mainly in safety technology:
CarsDirect Tip
Clearly, not so many buyers need the kind of space that an Escalade ESV provides, even if its luxuries and sizable accommodations are enticing. Few will feel deprived in the least by selecting the standard model. Whether to upgrade depends mainly on your comfort level with piloting a vehicle of this size. The additional safety features are undeniably reassuring, especially when dealing with urban traffic.
Get your price on a Cadillac Escalade ESV »