Like Toyota, its archrival, Honda was a pioneer in hybrid automobiles. Both companies issued battery/gasoline models just as the 21st century got underway. Unlike Toyota with its increasingly popular Prius, however, Honda's hybrid path has been less steadfast and expansive.
Honda launched its first Accord Hybrid for 2005, joining the smaller Civic Hybrid and departing Insight; but the battery/electric midsize sedan disappeared after three seasons. Totally new hybrid and plug-in hybrid Accords debuted for 2014, but the plug-in faded away quickly and the regular hybrid missed the 2016 model year.
Now, the Accord Hybrid has returned for another stab at the battery/electric marketplace. The Accord Hybrid is part of Honda's new Clarity lineup of alternative-fuel models: full-electric, plug-in hybrid, and hydrogen fuel cell.
What's New for 2017
Following a year out of Honda's lineup, the Accord Hybrid is back, said to be restyled and re-engineered, with a revised hybrid propulsion system. For 2017, the front bumper is more sharply creased. The lower bumper tucks into large meshed areas that contain LED foglamps. A contoured aluminum hood sits above a brighter, more prominent grille. Visual differences from the gas-engine Accord are subtle, but noticeable. Honda claims sportier driving performance.
Choosing Your Honda Accord Hybrid
In the hybrid powertrain, a 2-liter, four-cylinder Atkinson-cycle gasoline engine works with twin electric motors and a lithium-ion battery pack. Combined output totals 212 horsepower.
The hybrid system lets the vehicle accelerate from a stop using only battery power, though it won't go far without the gas engine. Three drive modes are available: EV Drive, Hybrid Drive, and Engine Drive. EV lets the car run on electricity alone, for a short distance. In Hybrid Drive, the electric motor powers the car, with the gas engine serving as a generator to keep its charge level sufficiently high. Engine Drive allows the gas engine and electric motors to work together. Fuel economy is estimated at 49 mpg in city driving and 47 mpg on the highway, or 48 mpg combined.
Display Audio with Android Auto and Apple CarPlay capability is offered in EX-L and Touring trim levels, with a 7-inch touchscreen. Making the battery pack more compact allowed an increase in cargo space, to 13.5 cubic feet.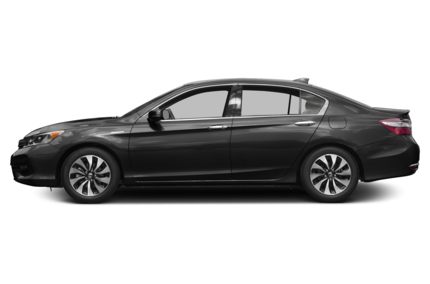 CarsDirect Tip
Partly because of lower gasoline prices lately, hybrid sales have sagged somewhat as shoppers gravitate back to gas-guzzling SUVs and sizable sedans. Even apart from phenomenal gas-mileage estimates, though, the comfortably spacious Accord Hybrid delivers plenty of features—including a surprising amount of active-safety technology—for a reasonable cost. Plenty of vehicles don't offer such a comprehensive safety suite at any price.
Get your price for a Honda Accord Hybrid >>