Model Preview
Honda has already announced that it'll dive into the fuel-cell vehicle pool with its Clarity FCV, but this model will be limited to just large markets in California. The Clarity will, however, become a more nationwide model in its EV format that's known as the Clarity Electric. This model will join the FCV and the Clarity Plug-in Hybrid to form the first platform with FCV, electric, and plug-in hybrid tech available.
The Clarity Electric will feature the same low and wide design of the fuel-cell version of the sedan, but there will be some mild tweaks like specific badging and a plug-in port. Inside the cabin, the Clarity Electric will likely carry the Fuel Cell Vehicle's same, toned-down styling. We do know that the electric model will feature highly desirable tech goodies, such as a Display Audio with Android Auto and Apple CarPlay, and standard Honda Sensing. It will also have room for up to five passengers.
Other than being fully electric, the Clarity Electric's powertrain remains a mystery for now. Given this model will compete in a growing segment with new, 200-plus-mile competitors, such as the Tesla Model 3 and the Chevrolet Bolt, Honda will have to find a way to milk nearly (preferably more than) 200 miles from the Clarity Electric to keep buyers interested.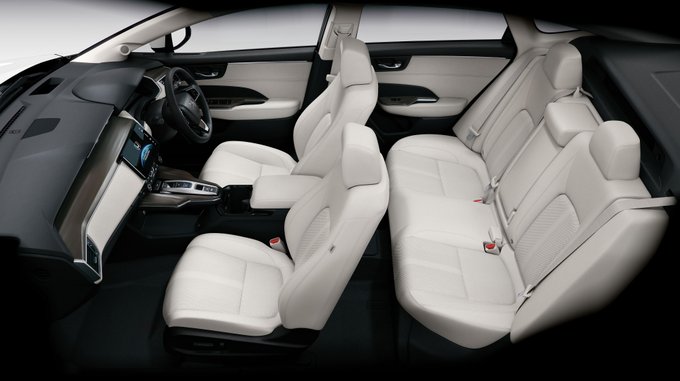 Safety will be a top priority with this model and Honda will prove this by making its Honda Sensing package a standard feature. While it'll be some time before the IIHS gets to test the Clarity Electric, we wouldn't be shocked to see it earn the coveted Top Safety Pick designation.
Expect further specs to emerge closer to launch.
Release Date & Pricing
Pricing is a complete unknown at this point, but it'll need to remain competitive with the likes of the Bolt EV (starting from $37,495 destination fees not included) and the Model 3, which is slated to start around $35,000. If Honda comes in low in terms of mileage, it will need to compensate in price accordingly to keep buyers interested – the opposite is true if it exceeds these cars' ranges.
We expect to see the 2017 Honda Clarity Electric on showroom floors in 2017.
See this month's top deals on green cars »
Pictured: 2017 Clarity Fuel Cell