Plenty of compact-to-midsize luxury sedans are available today, but only a handful make sporty performance a top priority. One of those is the INFINITI Q50 sedan from Nissan's luxury division, which was redesigned and renamed for 2014. More than most competitors, the Q50 promises quick reflexes as well as eager acceleration, blended with the interior comforts of a plush cruiser. Categorized as a compact by the EPA, the Q50 comes with your choice of a four-cylinder or twin-turbo V6 engine. A Q50 Red Sport 400 debuted during the 2016 season, packing a high-output version of the 3-liter V6 that produces 400 horsepower. All versions can have either rear-drive or (for $2,000 additional) all-wheel drive.
What's New for 2017
New 2.0t Sport and 2.0t Sport AWD models have joined the lineup. Red brake calipers have been added to Red Sport 400 models. Base models now include auto-dimming mirrors, HomeLink, and rain-sensing wipers. A new Design package is available for V6 Sport models. Premium versions add advanced climate control and a new Bose 16-speaker audio system.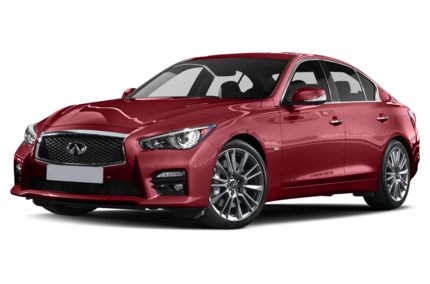 Choosing Your INFINITI Q50
Buyers have two basic engine choices. A turbocharged 2-liter four-cylinder engine develops 208 horsepower and 258 pound-feet of torque, whereas the twin-turbo 3-liter V6 generates 300 horsepower and 295 pound-feet. Topping the performance spectrum, the Q50 Red Sport 400 packs a 400-horsepower variant of the V6 that also yields 350 pound-feet of torque.
A seven-speed automatic transmission is standard for all Q50 models. Optional all-wheel drive adds $2,000 to each Q50's price. A Direct Adaptive Steering system promises improved feel and feedback. INFINITI's Dynamic Digital Suspension can adjust the Q50's ride toward either performance or comfort.
Each Q50 incorporates an idle stop/start system. Fuel economy with the four-cylinder engine and rear-wheel drive is estimated at 22 mpg in city driving and 31 mpg on the highway (26 mpg combined). Models with the 300-horsepower V6 are estimated at 20/29 mpg (city/highway) and 23 mpg combined. The Red Sport 400 gets an estimate of 20/26 mpg (city/highway) and 22 mpg combined. All-wheel drive makes each version (especially the four-cylinder) a little less thrifty.
The Q50 is now available in six trim levels, each with rear-drive or all-wheel drive: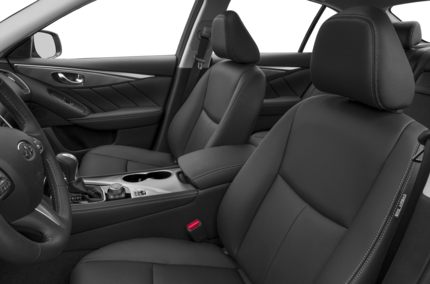 CarsDirect Tip
With its broad engine selection, the Q50 starts out competitively priced – almost like a compact luxury sedan rather than a midsize model. To approach a true luxury-car experience, we recommend the Premium trim level. INFINITI also offers a hybrid version of the Q50.
Get your price on an INFINITI Q50 »