Jaguar's full-size sedan has earned bountiful praise for its interior craftsmanship, alert reflexes, and sleek aluminum body. Yet, what really sets the XJ apart from its competitors isn't so much its résumé. Rather, it's the XJ sedan's effortless elegance and sheer magnetism, building upon the marque's renowned, long-standing British heritage.
What's New for 2017
Complete details on the 2017 model are not yet available, but it will essentially be a carryover.
Choosing Your Jaguar XJ
The XJ starts out with a classy wood-and-leather interior that's packed with such premium features as a 20-speaker 825-watt Meridian sound system, heated and ventilated seats in both front and rear, and a flat-panel 12.3-inch instrument screen with virtual gauges. There's no denying that even the most basic XJ (if such a thing exists) is indulgently equipped.
Buyers can choose between two wheelbases and three supercharged engines, spread across the wide model range: a 3-liter 340-horsepower V6, a 5-liter V8 with 470 horsepower, and a 550-horsepower version of the V8. An eight-speed automatic transmission is standard on every XJ, and all-wheel drive is available on V6 models. Standard All Surface Progress Control provides automatic throttle and brake inputs when accelerating on slippery roads.
Fuel economy is estimated at 18/27 mpg (city/highway) with the V6 engine, and 15/23 mpg with the 470-horsepower V8.
Trim levels for the XJ correspond to what's under the hood: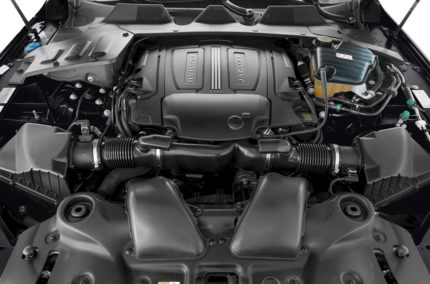 A handful of individual options are available, including adaptive cruise control with automatic braking, a carbon fiber engine cover, and a heated windshield.
CarsDirect Tip
There's a $46,600 price spread between the top and bottom of the XJ line, so don't be scared off by the six-figure prices of upper models. Not surprisingly, the V8 engines don't come cheap, but you have an easy alternative. With 340 horsepower on tap from the V6, you can drive off in the "base" XJ without feeling the least bit deprived.