Kia has been moving ahead with hybrid and electric vehicles lately, introducing a trio of new models for the 2017 season. One of them is the South Korean automaker's first plug-in hybrid, based upon the recently-redesigned midsize Optima sedan. Each is part of the company's environmentally-focused EcoDynamics sub-brand, aiming to boost fuel-efficiency by 25 percent, by 2020.
What's New for 2017
A brand-new model for 2017, the plug-in hybrid is similar in appearance and equipment to the gas-engine Optima, with some hybrid-exclusive details. They include a distinctive instrument cluster and special alloy wheels. A new suite of Eco telematics and infotainment upgrades includes Apple CarPlay and Android Auto.
Choosing Your Kia Optima Plug-In Hybrid
Only one trim level, the EX, is available. The plug-in hybrid powertrain consists of Kia's 2.0-liter four-cylinder, direct-injected gasoline engine, rated at 154 horsepower and coupled with a six-speed automatic transmission. A 50-kilowatt electric motor sits on the transmission and packs an extra 42 percent more power than the one in the previous Optima Hybrid sedan. Kia says this promises greater all-electric capability.
A 9.8-kilowatt-hour lithium-ion polymer battery packs about 60 percent more energy than the previous Hybrid's battery. A high-voltage electric oil pump, replacing the prior mechanical/low-voltage electric unit, is water-cooled rather than air-cooled.
Total driving range is estimated by the EPA at 610 miles, and the Plug-in Hybrid should go 27 miles in full-electric mode. Like other plug-ins, drivers can select all-electric mode, hybrid mode, or a charging mode that can refill the battery on the go for later use in EV mode. An active grille opens and closes automatically at high and low speeds, and a rear diffuser shrouds the exhaust tip to streamline airflow.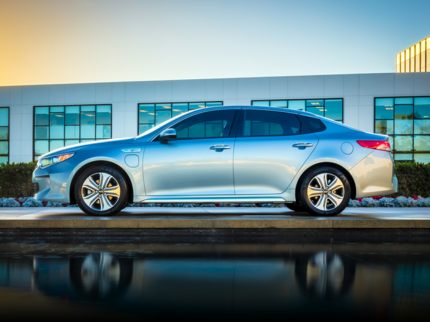 A new Eco-DAS (Driver Assistance System) incorporates a Coasting Guide, which helps the driver decide when to coast and when to apply brakes, for maximum fuel economy. UVO EV Services telematics offers more than 30 features, according to Kia, including LTE wireless connectivity. A pedestrian warning system produces virtual engine sounds.
The EPA estimates the Optima Plug-In Hybrid returns 38 miles per gallon city, 43 mpg highway, and 40 mpg combined. Equivalent mileage, according to the EPA, is 103 MPGe. Full battery charging takes less than three hours using a 240-volt (Level 2) charger, but closer to nine hours via a 120-volt (Level 1) outlet, like those commonly found around the home.
EX
Priced at $36,105 (destination charge included), the Optima Plug-in Hybrid is well-equipped, including dual-zone automatic climate control, automatic headlights, LED daytime running lights and taillights, power-folding heated mirrors, and a tilt/telescopic steering column. An eight-inch touchscreen features navigation and an integrated rearview camera. Harman Kardon provides the 10-speaker surround-sound stereo and includes satellite radio. Also standard are Bluetooth, leather seat trim, a power driver's seat, heated front seats and steering wheel, driver's memory, and keyless entry/ignition. 17-inch alloys are the only wheels available.
A number of safety and convenience features are available, but they come in a rather costly ($5,250) EX Technology Package. Those optional safety systems include autonomous emergency braking, blind-spot detection, rear cross-traffic alert, adaptive cruise control, lane-departure warning, and front-collision warning. Also included are a panoramic sunroof, ventilated front seats, and power front passenger seat.
CarsDirect Tip
Considering the price and fuel-efficiency potential, Kia's Plug-in Hybrid comes with plenty of amenities, from leather to navigation. Availability of so many active-safety features is laudable, but packing them all into a single, expensive option group isn't so praiseworthy.