When an old model name is revived for an all-new vehicle, it doesn't usually reach back to the years before World War II. That's what Lincoln did, in naming its newest sedan. The first Continental debuted as a 1940 model, soon becoming an unqualified classic—one of the most beautiful motorcars ever made. That V12 model lasted into 1948, but the Continental name reappeared on a near-classic hardtop coupe in 1956-57. After the elegantly designed sedans of the 1960s, subsequent Continentals were considerably less striking. The last one faded away after 2002.
What's New for 2017
Replacing the departing MKS sedan, the contemporary Continental arrives as an all-new 2017 model. Lincoln promises serene "first-class travel" with its new flagship, emphasizing craftsmanship and safety. Up front is a new "signature" mesh grille. New features include Approach Detection technology, E-latch door release, and Perfect Position Seats. Three V6 engines are available.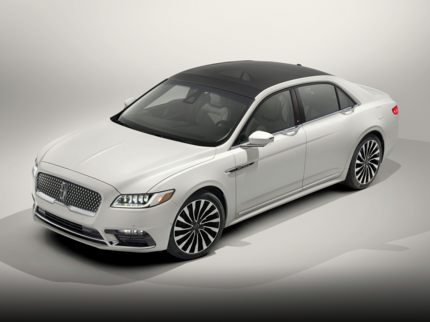 Choosing Your Lincoln Continental
The 2017 Continental comes in four trim levels, with front-drive or all-wheel drive. The standard engine for Premiere and Select trim is a 3.7-liter V6 that produces 305 horsepower and 280 pound-feet of torque. Standard on Reserve and Black Label editions, and a $2,250 option on others, is a 2.7-liter GTDI turbocharged V6 that makes 355 horsepower. Topping the powertrain selection is a 3-liter twin-turbo GTDI V6, generating an estimated 400 horsepower and 400 pound-feet of torque. The 3-liter V6 is optional only for Reserve and Black Label models. Each engine mates with a six-speed automatic transmission with a pushbutton shifter.
Available all-wheel drive melds with Dynamic Torque Vectoring that transfers torque to the appropriate rear wheel when taking a corner. Active grille shutters are standard.
Continentals may be loaded with luxury features, either standard or optional. Select, Reserve, and Black Label models have sequential exterior lighting. As the driver approaches with the key, LED lighting in the lower front fascia and taillights engages subtly. Then, headlights "awaken" in what's dubbed a fluid motion. Light also illuminates the pavement around the front doors, while select interior lights begin to brighten the cabin.
Door handles promise effortless entry, courtesy of new E-latch door release, integrated within the beltline. At the touch of a button, the doors are said to pop open. Power door-closing technology also is available.
Lincoln Drive Control provides three settings: Comfort, Normal, and Sport. They adapt steering and suspension settings to tailor ride and handling. Taking it a step further, available adaptive steering helps optimize steering response.
Pre-Collision Assist with Pedestrian Detection can automatically apply up to full braking force, when appropriate. Optional adaptive cruise control can automatically slow the car in heavy stop-and-go traffic, while a 360-degree camera system helps with parking.
Perfect Position Seats, said to be inspired by private jets and luxury office furniture, may adjust up to 30 ways, to suit an individual's shape and weight. Seats can be fitted with massage, head and cooling functions, as well as thigh extensions.
Audio systems offer three listening modes: Stereo, Audience, and On Stage. Active Noise Control and acoustic laminated glass are standard.
CarsDirect Tip
Plenty of current cars claim to be distinctive in appearance, different from the other. The Continental actually is. Buyers have plenty of choices, starting with the trio of available powertrains.

Don't expect much humanity from the highly-touted Approach Detection technology, despite its promise of a "warm and inviting welcome" that's a "more human, personally tailored Quiet Luxury experience." First seen on the 2015 Lincoln MKC, it's one more computerized algorithm masquerading as true personalization.
Get your price for a Lincoln Continental >>