Model Preview
For 2017, the Volkswagen e-Golf all-electric hatchback will undergo its most significant update since its introduction back in 2015. The most notable changes will be a refreshed look and a new powertrain featuring a 50% increase in range.
While the looks of the e-Golf will remain familiar, there are a handful of stylistic changes that'll set it apart from the current model. These will include new bumpers and front fenders, as well as LED headlights and taillights. Inside, the only stylistic changes will be new décor and seat trim.
We'll also see some technological upgrades in the new year. These include a new 9.2-inch optional infotainment system, the available Volkswagen Digital Cockpit, a configurable home screen, gesture control, and more.
Probably the biggest change to the new e-Golf is its powertrain. Volkswagen will increase its battery capacity from 24.2 kWh to 35.8 kWh in order to achieve 125 miles of total range on a single charge – an increase of 42 miles over the previous year.
As for charging, the SE and SEL models will come standard with the 7.2 kW onboard charger – replacing the old 3.6 kW charger on the SE trim – charging will take less than six hours on a traditional charger. The DC Fast Charging – optional on the SE and standard on the SEL – will charge the battery to 80% in an hour.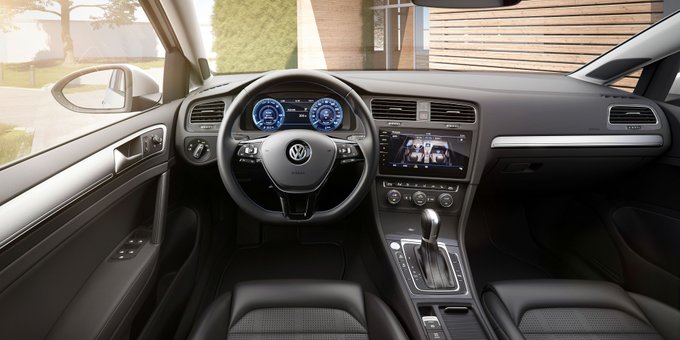 The juice and charging system aren't all that'll change. Volkswagen has also bumped its output to 134 horsepower and 214 pound-feet of torque – increases of 19 horsepower and 15 pound-feet. This results in a one-second-quicker 0-to-60 sprint, dropping it to 9.6 seconds. Top speed will increase to 93 mph. Estimated EPA fuel economy ratings will be 119 MPGe based on 126 MPGe in the city and 111 MPGe on the highway.
Safety will be a top priority for the new e-Golf, as Volkswagen will drop a ton more safety features on the options list. The biggest upgrade is forward collision warning with autonomous emergency braking and pedestrian detection.
Buyers of the SEL Premium trim can add the Driver Assistance Package, which includes the Volkswagen Digital Cockpit, adaptive cruise control, forward collision warning with auto braking and pedestrian monitor, blind-spot monitoring, lane assist, park assist, and light assist.
Expect a full review closer to launch.
Pricing & Release Date
The 2017 Volkswagen e-Golf is on sale and available for pre-order now. Based on our analysis, special offers on the outgoing car have been very attractive, at least when it comes to finance and lease deals.
Official pricing for the new e-Golf SE will start from $31,315 including destination, a $1,500 increase over the previous year. DC Fast Charging will be a $995 option.
Next up, the Limited Edition adds leatherette seats, DC Fast Charging and more with a price starting at $34,615. Finally, the model tops out at $37,815 for the SEL Premium and gets you access to the full range of driver assistance technology.
In this price range, the e-Golf will battle the Focus Electric ($30,045 starting price), the Chevrolet Bolt EV (starting from $36,620), and the FIAT 500e (starting from $32,795).
Build & price the 2017 VW e-Golf »
Pictured: 2017 e-Golf