The BMW 7-Series sits at the top of the food chain when it comes to sedans from the automaker. The 2018 BMW 7-Series is the second model year for the six-generation of the sedan and is available in rear-wheel and all-wheel drive, as well as a plug-in hybrid variant. Technology and luxury have always been strong points for the 7-Series and the 2018 model continues to carry the torch when it comes to those two fields.
What's New for 2018
BMW hasn't changed a lot on the 7-Series for 2018. Besides some renaming and restructuring of packages, the luxury sedan carries on mostly unchanged.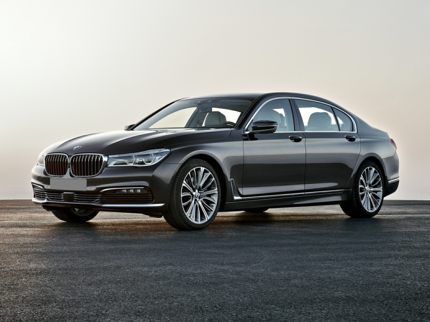 Choosing Your BMW 7-Series
Getting into a 7-Series is a lot easier choosing between some of its other models, as there's only one body style for the 7-Series – a lengthy sedan. BMW doesn't make an M-badged variant of the 7-Series, but it does sell the Alpina B7, a more powerful and luxurious – if you can believe that – version of the sedan, which is covered separately. Power wise, the 7-Series is available with four powertrains and six trims, though two of those just add all-wheel drive over their rear-wheel-drive counterparts.
Regardless of what trim you go with, the 7-Series comes with adaptive LED headlights, automatic high beams, LED fog lights, heated exterior mirrors, and an eight-speed automatic transmission as standard. On the inside, standard features for the luxurious sedan include 14-way power front seats, four-zone climate control, a panoramic moonroof, an automatic-dimming rearview mirror, ambiance lighting, Dakota Leather upholstery, Fineline Wood trim, a black panel center console with brushed aluminum, and touch-sensitive controls.
In addition to doing luxury really well, the 7-Series is a tech-forward sedan. Every trim comes with a Harman Kardon Surround Sound system, enhanced USB and Bluetooth, a rear-view camera, a 10.2-inch high-resolution screen, gesture control, a 12.3-inch dynamic digital instrument cluster, dynamic cruise control, park distance control, wireless charging, and Wi-Fi hot spot.
The base engine in the 740i and 740i xDrive sedans is a 3.0-liter twin-turbocharged inline-six that generates 320 hp and 332 lb-ft of torque. The 740i is rated by the EPA to get 21 mpg in the city and 29 mpg on the highway, which results in a combined rating of 24 mpg. The 740i xDrive, which brings BMW's all-wheel-drive system to the sedan, understandably, isn't as efficient as its rear-wheel-drive counterpart. The all-wheel-drive version is rated to get 20 mpg in the city and 29 mpg on the highway and has a combined rating of 23 mpg.
The 740e xDrive iPerformance is the next step up and is the hybrid offering in the 7-Series lineup. The trim features a 2.0-liter twin-turbo inline-four-cylinder engine that gets some additional power from an electric motor and a 9.2 kWh lithium-ion battery pack. Combined output for the hybrid powertrain is rated to be 322 hp and 369 lb-ft of torque. The 740e xDrive is the most efficient 7-Series with a rating of 64 MPGe and a combined rating of 27 mpg. 

Making the move to the 750i and 750i xDrive sedans brings a 4.4-liter twin-turbo V8 engine that cranks out 445 hp and 479 lb-ft of torque to the vehicle. The rear-wheel-drive variant is capable of getting 17 mpg in the city and 25 mpg on the highway – a combined rating of 20 mpg. Opting for all-wheel drive reduces fuel economy ratings to 16/25/19 (city, hwy, combined). 

The M760i xDrive is the closest, besides the Alpina of course, consumers can get to an M-badged 7-Series. The range-topping trim comes with a 6.6-liter twin-turbo V12 that's good for 601 hp and 590 lb-ft of torque. The M760i xDrive is at the bottom of the spectrum when it comes to fuel efficiency with a rating of 13 mpg in the city and 20 mpg on the highway, which gives the sedan a combined rating of 16 mpg.
The 7-Series' lineup is split between rear-wheel-drive and all-wheel-drive variants. The 740i and 750i have rear-wheel drive as standard and have versions that come with all-wheel drive for an additional $3,000. The 740e xDrive iPerformance and M760i xDrive trims are exclusively available with all-wheel drive.
Once you've chosen what kind of drivetrain you want, the next step is to select from roughly 10 optional packages that can be added onto the sedan. For the most part, the entire 7-Series lineup shares a lot of the same available packages. The 750i and M760i xDrive have a few bespoke features that aren't offered on other trims.
The most affordable combination of features is the Cold Weather Package that costs $400 and adds a heated steering wheel and front and rear heated seats, because those aren't standard on a $84,000 sedan. With the 7-Series' lengthy body, springing for the second most affordable package, the $700 Parking Assistance Package, is a smart idea, as it brings surround view cameras and BMW's parking assistant.
For drivers that want some more safety features, the $1,700 Driving Assistance Package is a good buy, bringing active driving assistant, which includes lane departure warning, frontal collision warning, city collision mitigation, and pedestrian detection. Active blind spot detection and a head-up display are also included with the package.
For an additional $1,700, drivers can opt for the Driving Assistance Plus Package that brings even more safety features to the 7-Series. Driving assistant plus is included in the package, which includes active cruise control with stop and go, collision mitigation, and everything from active driving assistant. Other pieces of tech that are added with the package include traffic jam assistant, which can take control of the vehicle in bumper-to-bumper traffic and active lane keeping assistant with side collision avoidance.
So far, the majority of packages have altered the amount of tech features on the 7-Series, but BMW does offer optional extras to make the sedan's interior even more luxurious. The first of which is the $1,800 Interior Design Package allows consumers to choose from seven different interior trims, three alcantara headliners, and brings a grab handle in wood trim, luxury floor mats, a rear center armrest with wood trim, and a rear seat belt cover in wood trim.
Adding the Executive Package, which costs $3,300 brings multi-contour seats, a power rear sunshade, rear side window shades, black ceramic touches, and ventilated front seats.
Going with the Luxury Rear Seating Package costs $3,900 and requires consumers to get the $3,300 Executive Package. So if you want to add some luxury to the rear seats, you'll actually wind up paying $7,200. The package brings a heated steering wheel, heated front and rear seats, heated front and rear armrests, rear massaging seats, rear comfort seats, and ventilated rear seats.
If you really want to turn your 7-Series into something that rivals a private jet for the road, the BMW Individual Composition package that costs $7,100 is the way to go. Opting for the package, though, requires you to get the Driving Assistance Package, Driving Assistance Plus Package, Executive Package, and the Luxury Rear Seating Package. Opting for the package, then, raises the car's price up by $17,700. There's more bad news, as a lot of the features that consumers are required to choose from cost more money. 

With the package, consumers can choose from between four exterior colors, which cost an additional $1,950. There are five upholstery options (four of these cost an extra $5,500), three different trims, all of which cost an extra $1,080, and two alcantara headliners. No-cost features that come with the package include door sill finishers and a bespoke leather steering wheel with fine wood trim.
With tech and luxury features covered, the last couple of packages are directed towards consumers that want a sportier feel out of their 7-Series. The $3,400 M Sport Package adds some sporty touches to the 7-Series including 11 different exterior paint schemes, some of which come at a hefty $1,950 premium. There are three different wheel choices – two are 19-inch options, while 20-inch wheels are an additional $1,300. On the inside, there are eight trims to explore and three headliners to choose from – two are alcantara. The last thing that the package adds is a full-body aerodynamic kit.
Lastly, the $4,100 Autobahn Package is one of the more expensive options and brings integral active steering, which allows the rear wheels to move to give the large sedan a more maneuverable chassis, and active comfort drive with road preview. The last piece of tech allows cameras to provide the dynamic damper control system with a look at road irregularities to provide for a more comfortable ride.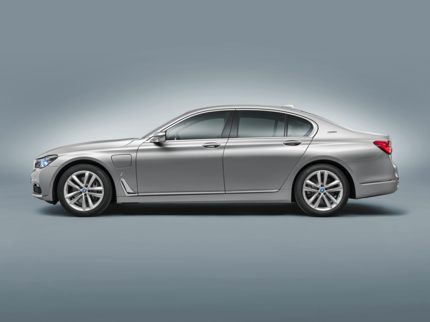 CarsDirect Tip
For a sedan that starts above $80,000, it's mind-boggling to see heated seats as an optional extra. As a high-tech luxury sedan, the base 740i and 740i xDrive have a good amount of standard features and loads of options to choose from. Keeping things simple is key, as the sedan can easily crest the $100,000 mark. The Cold Weather Package is a must, as is the Parking Assistance Package. Regardless of what 7-Series you choose, strap in and relax, because you're in for a luxurious ride.