There was a time, not that long ago, when most Americans' "aspirational vehicle" was a Cadillac. A Cadillac is still a sign of wealth, but for years it's been the Escalade most aspired to, not any of the brand's coupes or sedans. However, the razor-sharp 2018 Cadillac CTS is more stylish, luxurious and feature-packed than ever before. People may not naturally aspire to the Cadillac CTS, but there's never been less reason not to.
What's New for 2018
The CTS can now be synced to an Apple Watch via the myCadillac Apple iOS app, offering owners another wireless way to interface with their car. New is a pair of additional USB ports in the rear console, a "smart" heated steering wheel that automatically adjusts its warmth based on ambient temperature, and Satin Steel Metallic debuts as the CTS's ninth exterior hue.
Choosing Your Cadillac CTS
Now that the ATS has established itself as the entry-level Cadillac, the CTS four-door sedan has been able to move upmarket. Given the difference between the starting MSRP for the base and top trim is $24,800, it's spread out as well. From an ante of $47,490 (including a $995 destination charge) for a base four-cylinder rear-wheel drive CTS to an all-in V-Sport with a twin-turbo V6 and a $72,290 MSRP, the CTS range Cadillac's created contains a car combination for almost every consumer.
The base engine is a 2.0-liter direct-injection DOHC turbocharged inline-four with automatic stop/start that produces 268 horsepower and 295 pound-feet of torque. With standard rear-wheel drive, it returns EPA ratings of 22 miles per gallon city, 30 mpg highway, 25 mpg combined, or 21/29/24 mpg with optional all-wheel drive.
A 3.6-liter Flex-Fuel DOHC 24-valve V6 (335 hp/285 lb-ft) is optional on some trims, and, thanks in part to its use of auto start/stop, its EPA figures are still-respectable at 20/30/24 mpg (RWD) and 19/27/22 mpg (AWD).
The ultimate CTS engine – apart from the monster V8 found in the CTS-V (covered elsewhere) – is a twin-turbo version of the 3.6-liter V6 that pumps out 420 hp and 430 lb-ft. Restricted to V-Sport models and only available with RWD, its efficiency figures drop to 16/24/19 mpg.
All powerplants are paired with an eight-speed sequential-shift-control automatic transmission.
Cadillac's CTS line comprises five trims: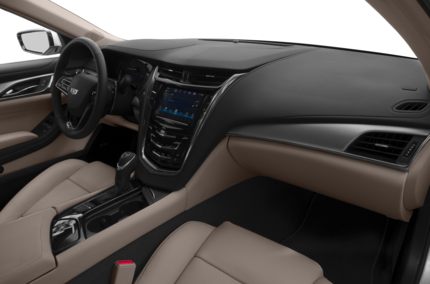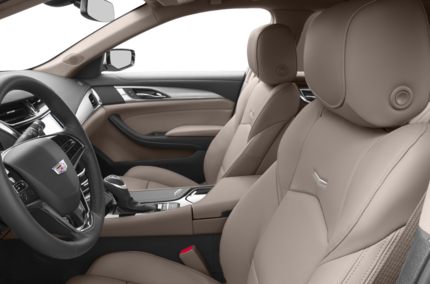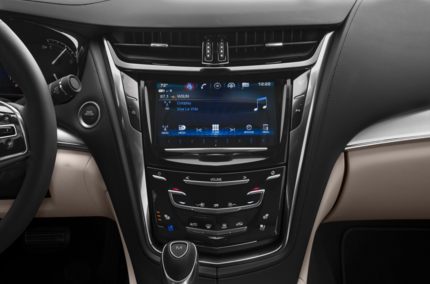 CarsDirect Tip
The CTS has two drivetrains, three engines, five trims, and more options, packages, and ways to put all those together than can hardly be believed. As mentioned, even the base RWD four-cylinder's price can exceed $60,000 if you check enough boxes. That money, however, is far better spent on the sweet-spot price-, performance-, and package-wise: a V6-powered Luxury model with AWD and the V-Sport Package. At $59,655, it gives you everything but the twin-turbo motor and the highest-ticket luxury and technology items at a reasonable price.