The 2018 Ford F-150 pickup receives a significant refresh to bolster its position as America's bestselling vehicle. With its plethora of available trims and equipment, the F-150 has something to offer just about every type of truck buyer.
What's New for 2018
All versions of the F-150 get new head lights, grilles, and front bumpers. Rear ends feature a more sculpted tailgate with different designs for different trims and redesigned tail lights. A new 3.3-liter V6 serves as the base engine, replacing the old 3.5-liter, while the 2.7-liter, twin-turbocharged V6 and 5.0-liter V8 improve in power and efficiency. A 10-speed automatic transmission is new on all but the base V6 (which sticks with a six-speed auto) and high-performance Raptor. The available adaptive cruise control system gains collision-mitigation functionality. A premium B&O Play sound system joins the option list.
Choosing Your Ford F-150
The F-150 comes in three main configurations: the three-person Regular Cab, the Super Cab with a backseat and rear-hinged back doors, and the Super Crew, which features full-size rear doors and additional rear legroom.
The Regular Cab comes standard with 6.5-foot bed, but an eight-footer is optional. The Super Cab and Super Crew get a 6.5-foot bed, and the SuperCrew can get a 5.5-foot bed as a credit option.
The engine roster starts with the new 3.3-liter V6, which puts out 290 horsepower and 265 pound-feet of torque. The engine comes with a six-speed automatic transmission, and delivers an EPA-estimated 22 miles per gallon in combined city and highway driving, or 20 mpg with four-wheel drive.
Next up is a turbocharged 2.7-liter V6 that produces 325 hp and 400 lb-fit of torque. EPA ratings for 2.7-liter are 22 mpg combined with rear-drive, and 21 mpg with four-wheel drive. The available 5.0-liter V8 also musters 400 lb-ft of torque, but horsepower jumps to 395. With the V8 installed, efficiency drops to 19 mpg combined, or 18 mpg with four-wheel drive.
The top choice is a 3.5-liter turbocharged V6 with 375 hp and 470 lb-ft of torque, which enables the F-150 to tow up to 13,200 pounds. (The high-output version of this engine used in the Raptor makes 450 hp and 510 lb-ft or torque.) According to EPA estimates, the 3.5-liter delivers 21 mpg combined, or 19 mpg when paired with four-wheel drive.
The three optional engines come with a 10-speed automatic transmission, introduced last year on the Raptor. All F-150 engines feature auto stop-start technology for enhanced efficiency.
All F-150s come with a wide range of cargo management features from common stuff like tonneau covers and access steps, to the more specific, like stowable cargo ramps that are perfect for loading up dirtbikes or ATVs.
Cab and engine availability varies by trim level: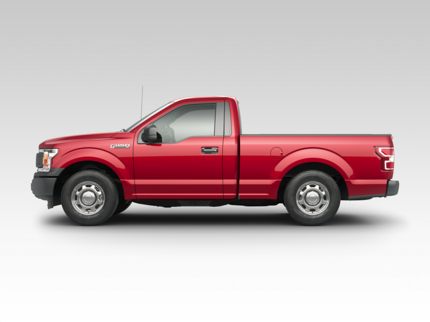 CarsDirect Tip
The Lariat is the best choice for mixed personal and work duty. It can be skewed toward either of those ends, and gives you access to every important safety feature.