Our Take: 2018 Ford F-150
The 2018 Ford F-150 is America's perennial favorite vehicle, delivering the style, comfort and utility customers expect. The full-size F-150 pickup truck is constantly improving, adding a new V6 engine and expanded availability of its 10-speed automatic transmission for 2018. A turbo-diesel engine is also new, arriving later in the model year.
Best Value
With the 2018 F-150, Ford offers a dizzying array of choices, including Regular, SuperCab and Super CrewCab body styles. You'll also find varying bed lengths, your choice of two- and four-wheel drive, several engine options and seven trims: XL, XLT, Lariat, King Ranch, Platinum, Limited and Raptor.
Choosing a "best value" model can be difficult, for the simple reason that there are so many configuration choices. Moreover, pickup trucks are usually heavily discounted, especially the better equipped they come. Nevertheless, the F-150 Lariat offers the best balance of affordability and equipment, while the four-door SuperCrew body is the most versatile. Grab the Lariat trim and you'll get Ford's most advanced Sync3 infotainment system, a rear-view camera designed with towing in mind, an eight-inch display in the instrument cluster, leather upholstery, push-button start, and access to a wealth of optional goodies.
Ford offers five engine choices with the 2018 F-150, but we're going with the Lariat's standard engine, the 2.7-liter, twin-turbocharged V6. It includes standard stop-start system and an excellent 10-speed automatic. Naturally, we'll have four-wheel drive, too.
Model:

2018 Ford F-150 XLT SuperCrew 4x4

Engine:

Twin-turbocharged 2.7-liter V6

Output:

325 hp / 400 lb-ft

Transmission:

6-speed automatic

Drivetrain:

Four-wheel drive

MPG:

19 City/ 24 Hwy

Options:

Four-wheel drive ($3,425), 501A Equipment Group (blind-spot monitoring, remote start, rear parking sensors, heated, power-folding mirrors)

Base Price:

$44,770 (including $1,395 destination charge)

Best Value Price:

$50,280
Performance
You have five engine choices to consider when exploring the 2018 F-150. Make that six with the upcoming 3.0-liter turbo-diesel V6, due in dealers later this year.
The vast majority of sales are for a V6 gas engine — Ford offers just one V8 engine. The base engine is a new 3.3-liter V6, adding direct injection for improved performance and efficiency. Consider it Ford's work duty engine with ample low-end torque, operating quietly under acceleration. It's the only engine paired to a six-speed automatic transmission, which is smooth and competent in everyday driving.
The 325-horsepower, 2.7-liter V6 that we recommend is a peach – its 400 lb-ft of torque is accessible low in the rev range, giving the F-150 an unusually nippy personality we wouldn't expect from a vehicle of this size. This is the first entry point for Ford's new 10-speed automatic, which is sublime. It's refined, smart, smooth and invisible in normal driving. There's a minimal amount of hunting for gears under hard acceleration, too, which makes it easy to forget this is such an advanced transmission.
Ford's 5.0-liter V8 remains – it's charming in an old-school way, lacking the immediacy of the F-150's turbocharged engines, but making up for it with a more enjoyable soundtrack, more predictable fuel economy (although it's worse at 16 city and 22 highway), and the same smashing 10-speed auto. This is the F-150's most likable powertrain, even if it's outclassed on paper.
Ford's 3.5-liter, twin-turbocharged V6 is the F-150's most capable engine, offering up 375 hp and 470 lb-ft of torque. It's fast and aside from EPA fuel economy estimates that are difficult to hit in the real world, the 3.5-liter is inarguably the best choice if you need speed or towing capability (the F-150 can manage up to 12,000 pounds with this power plant). Power is constant at low, medium, and high engine speeds, while the two turbochargers spool up with hardly any delay. You want accessible power, the 3.5-liter EcoBoost provides.
Across the model line, the F-150 behaves like a midsize sedan at low to moderate speeds. Under full throttle you'll feel its full weight, with the truck pitching and rolling in precisely the manner we'd expect. Ride quality is inferior to the Ram 1500 and its optional air suspension, but the F-150 manages bumps and imperfections without too much of the shuddering through the chassis that's common in body-on-frame vehicles.
Style
New front grilles and bumpers grace the 2018 Ford F-150 with most trucks featuring the same pair of long horizontal bars popularized by the Ford Super Duty. We found the look pleasing even if it is different only for different's sake. A massive front end, broad grille, strong shoulders and expansive sheet metal define every model.
Inside, the F-150 is spacious, especially in the first row. Second-row passengers will prefer the SuperCrew over the SuperCab as it offers excellent leg room. Some of the materials offered on the lower trim models offer more plastic than what we like, but this truck becomes downright luxurious at the Limited level. Soft-touch materials, leather and a host of power accessories and technologies can turn this pickup truck's cabin into something extraordinary. Most models strike a balance between the two extremes.
The Best and Worst Things
You can build an F-150 to your exact specifications and there won't be another one like it. Literally, there are millions of ways you can customize your truck. You just need to show some patience as you await your custom order. On the other hand, trim level upgrades, packages, and customization can come at a steep price. The 2018 F-150 can also get pricey and fast. But the same can be said about each of its competitors.
Right For?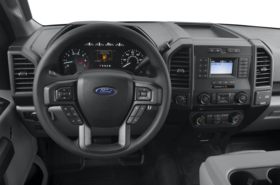 Most pickup truck buyers. Unless you're a Chevrolet, GMC or Ram devotee, the F-150 is your dream pickup truck.
Wrong For?
Truck shoppers who simply don't need this much truck. A void in Ford's truck product line will be filled after eight years when the 2019 Ranger arrives. It'll probably swipe some sales from the F-150 as a cohort of truck owners embrace the truck they really want.
The Bottom Line
There is an Ford F-150 for everyone, and they can all tow, haul, and serve at the worksite. But they're also comfortable, stylish, and if you have the money, luxurious. This truck is a blank slate for your personality, so think good and hard about what's most important in your truck before signing on the bottom line.
Buying With CarsDirect
We have partnered with trusted dealers in your area to give you a great price on the new Ford F-150.
This is how it works:
We connect you to the Internet Department at a Trusted Dealership.
Use the CarsDirect Target Price as a tool in your negotiation.
The dealer will help you with financing or leasing, as well as trade-in options.
Insider Information
We have information you must know before you buy the F-150.
We want to send it to you, along with other pricing insights.
Your Email
Submit
We will not spam you, and will never sell your email. You may unsubscribe at any time.
Thank you. You are now subscribed to our Pricing Insider updates.