After years of disappointing sedans, the 2006 Ford Fusion wasn't just any old midsize four-door – it was a revelation. That first-gen Fusion finally gave Ford a true contender for the sales crown versus the perennial favorites, Toyota's Camry and Honda's Accord.
The second-generation Fusion of 2013 had even higher aspirations, becoming the first four-door sedan available in gasoline-only, plug-in gasoline/electric hybrid (each covered elsewhere), and plug-free gasoline/electric hybrid forms. Add to that the fact the cars are well-made, well-equipped, sharply-styled, and a solid value, and it's easy to see why the Fusion has become a fan-favorite in the midsize sedan segment.
What's New for 2018
The Fusion Hybrid hums along unchanged.
Choosing Your Ford Fusion Hybrid
All Fusion Hybrids are powered by a 2.0-liter Atkinson-cycle inline-four paired to an 88-kilowatt electric motor that draws its juice from a 1.4-kilowatt-hour lithium-ion battery pack partially recharged through regenerative braking. Able to run its gasoline and electric motors separately or together, when fully-engaged, the hybrid system produces a net 188 horsepower and 129 pound-feet of torque. Regardless of powertrain mode, whatever power the Fusion Hybrid produces is sent to the front wheels alone via an electronically-controlled continuously-variable transmission.
Starting MSRP on the base Hybrid S is $26,170 (including $875 Destination Charge), while its non-Hybrid equivalent is $3,175 cheaper. But as the EPA figures are 21 mpg city, 31 highway, and 25 combined on the latter and 43/41/42 mpg on the Hybrid – plus an additional 176 miles between refuel stops – it won't take long for Hybrid buyers to make up that difference. And should buyers want to eke the most out of every ounce of fuel, all Fusion Hybrids come with an EcoSelect button and a SmartGauge with EcoGuide display that uses flora-based graphics to turn efficient driving into a game.
The Fusion Hybrid comes in the same four trim levels as gasoline-only four-cylinder Fusions: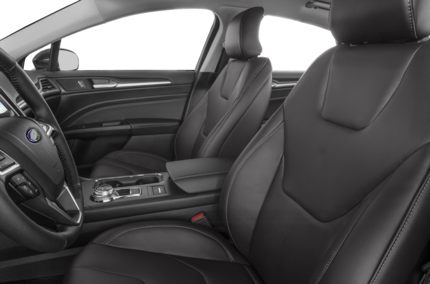 CarsDirect Tip
Ignore the S, if for no other reason than its $950 "savings" denies access to all of the Fusion's best packages and features with an SE. From there, it's a matter of reconciling your desire for all of the Fusion's features with what you can actually afford. But if you're looking for the best value in the Fusion Hybrid line, it's the Titanium trim with the optional driver aid packages as it will include everything one needs while saving thousands over the Platinum's price.