Model Preview
The Genesis G70 will be a new compact luxury sport sedan under the Genesis brand of Hyundai. Unlike the G80 and G90 which are based on the outgoing Hyundai Genesis and Equus, the G70 will reportedly be based on the same platform as the hotly-anticipated Kia Stinger. So far, we mainly have information for Korean-spec versions of the car. Full info on the U.S. model is expected at a later date.
In terms of design, the G70 should seem familiar to anyone who has seen another Genesis model with styling that the automaker describes as "athletic elegance." However, unlike its stablemates, the G70 will feature a long hood and short overhangs for a tighter overall package. To bolster its premium appeal, the car gets a number of interesting touches.
Along with aluminum-themed trim and door handles, the car features metal speaker mesh and Nappa leather upholstery. Like most Hyundai vehicles, the car will offer both Android Auto and Apple CarPlay connectivity. Customization will likely be a selling point with 10 paint choices employing a finishing method that uses aluminum particles for greater lustre. 7 interior colors: black, gray, burgundy, brown, beige, gray and red all add to the variety of available combinations.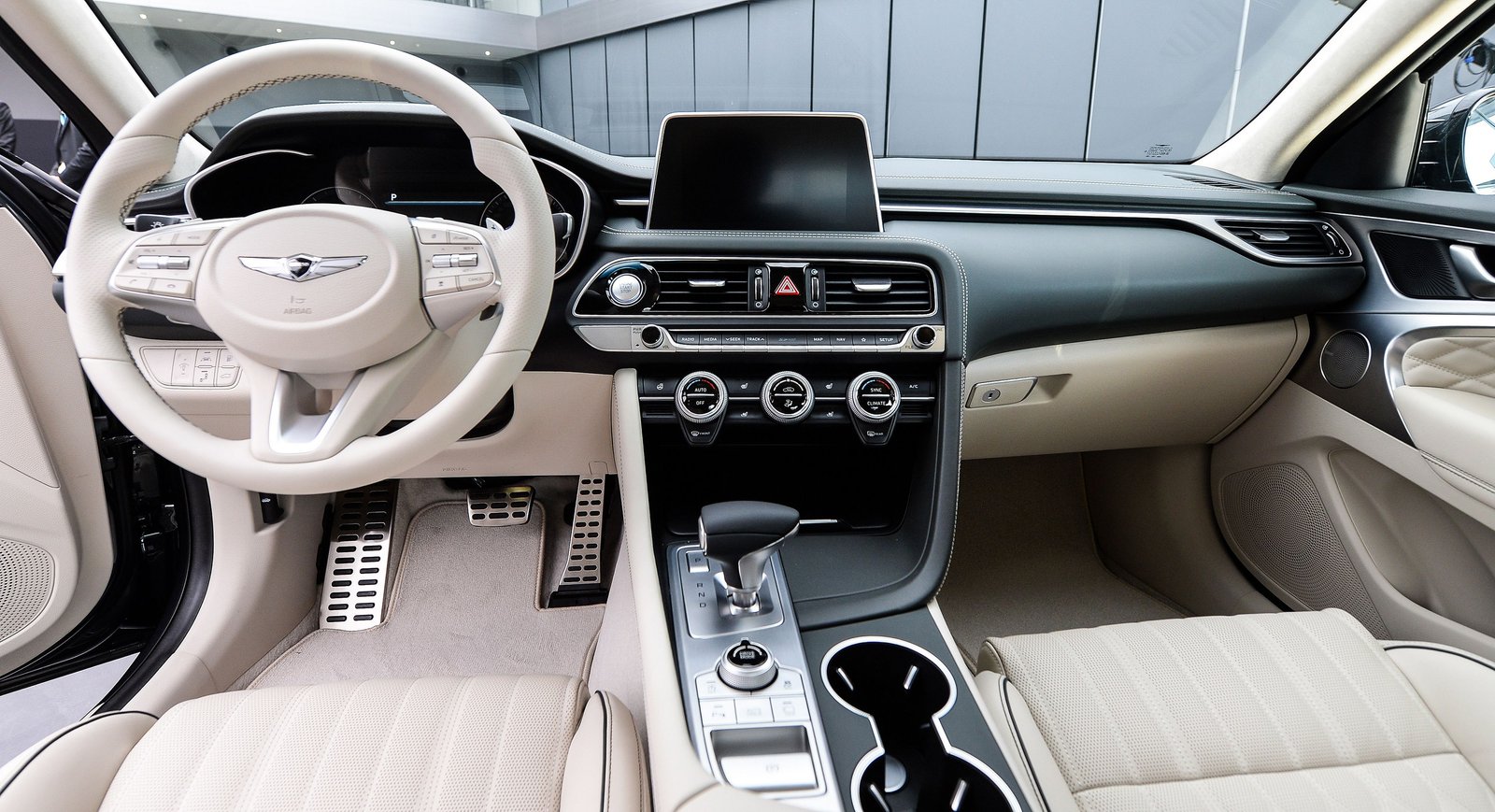 Under the hood, the G70 will be offered with 2 engine choices in the U.S.: a 2.0-liter 4-cylinder turbo and a 3.3-liter turbocharged V6. Overseas, a fuel-efficient 2.2-liter diesel will be available, but there are reportedly no plans to bring it to the States. Full power figures aren't available yet, but the V6 is expected to produce 365 hp with a 0-60 acceleration time of 4.7 seconds. Like many competitors, the G70 will be offered in either rear-wheel or all-wheel drive.
In terms of safety, the G70 will offer a full range of driver assistance technology. Dubbed "Genesis Active Safety Control," the system includes a suite of features like forward collision warning with emergency braking, blind spot detection and more. At the moment, it's unclear what sort of premium this will all add to the vehicle's price. Will the features be standard like they are in the flagship G90? That remains to be seen.
Pricing & Release Date
The Genesis G70 is expected to arrive in Spring 2018.
Official pricing has not yet been announced. For reference, the larger G80 is currently priced between $42,725 and $60,475 including destination.
Based on where its competitors are priced, we tentatively expect the G70 to range between $35,000 and approximately $52,000 depending on which version you opt for.
Competition for the G70 will include the BMW 3 Series, Mercedes-Benz C-Class and INFINITI Q50.
Stay tuned for updates.
Explore current Genesis models »
Pictured: 2018 G70