Ranching. Fracking. Logging. For these and other extreme jobs, light-duty trucks won't cut the mustard – something more rugged is needed. For this reason and others, GMC builds the 2018 Sierra 2500HD. With the ability to tow up to 18,100 pounds, and with 910 pounds-feet of torque from the available diesel engine, this truck is built to do more than haul the occasional light bulb from Home Depot.
What's New for 2018
For 2018, GMC sprinkles the heavy-duty Sierra with a few updates. Besides a new grille for the Denali model, other changes include a tire fill alert notification, a standard rearview camera, and a standard 7.0-inch infotainment system. Three additional colors are available: Deep Mahogany Metallic, Red Quartz Tintcoat, and White Frost Tricoat, which will be available later in the year.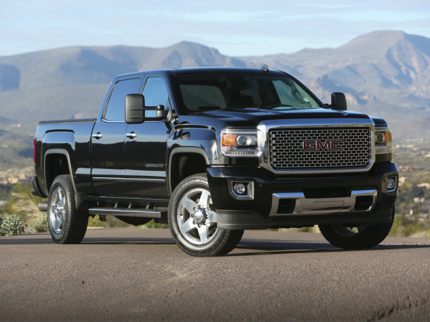 Choosing Your Sierra 2500HD
The plethora of options and choices available for the heavy-duty Sierra make the Golden Corral's buffet tables look as sparse as an airliner's breakfast menu. Four trim levels, three cab types, two bed lengths, two available engines, and a choice of two- or four-wheel drive make for a dizzying amount of combinations for even the most seasoned truck buyer.
As for cab choices, the traditional two-door, bench-seat Regular Cab is standard. An extended Double Cab, with smaller front-hinged rear doors, lets passengers ride along on the full rear bench seat. When that won't do, the Crew Cab and its four standard-sized doors is available. While a Regular Cab is only available with an 8.0-foot bed, the larger cabs offer an optional 6.6-foot bed. These cabs can house interiors ranging from spartan to ritzy, something determined by the four available trim levels.
Standard propulsion comes courtesy of a 6.0-liter gasoline V8, from GM's acclaimed Vortec engine family. It produces 360 horsepower and 380 pound-feet of torque, and is mated to a six-speed automatic transmission. Payload with this engine ranges from 2,943 lbs (Crew Cab, 6.6-foot bed, 4WD) to 3,534 lbs (Regular Cab, 8.0-foot bed, 2WD). For those with a propensity to tow rather than haul, max trailering is between 13,900 lbs (Crew Cab, 8.0-foot bed, 4WD) and 14,800 lbs (Regular Cab, 8.0-foot bed, 2WD).
For those looking for even more heavy-duty towing capacity, the 6.6-liter Duramax diesel is available. The oil-burner is hooked up to a six-speed automatic Allison transmission, and produces 445 hp. In the heavy-duty truck world, however, torque is more important than horsepower, and this engine produces an abundance of it: an impressive 910 lb-ft at a lowly 1,600 RPM. A Sierra HD powered by a Duramax boasts fifth wheel towing capacity ranging from 12,400 lbs (Crew Cab, 8.0-foot bed, 4WD) to 18,100 lbs (Regular Cab, 8.0-foot bed, 2WD). Payload, however, can't match the gas engine, ranging from 2,356 lbs (Crew Cab, 8.0-foot bed, 4WD) to 3,204 lbs (Regular Cab, 8.0-foot bed, 2WD).
Available packages include the Snow Prep Package (giving buyers a stronger alternator and the electrical provisions to wire up auxiliary lights and a plow), the Gooseneck Prep Package, and the Driver Alert Package (which equips the truck with safety features such as forward collision warning, park assist, and lane departure warning).
CarsDirect Tip
With an abundance of enticing options, it's easy to fall down a rabbit hole of over-equipping a 2018 GMC Sierra 2500HD and landing an eye-watering price tag as a result. To avoid this, jot down what's most important to your needs. Focus on what the truck will be used for, and the resulting abuses which it'll endure. This will make it easier to determine whether to take the keys to a gas-powered Crew Cab in Denali trim or a Regular Cab Sierra with diesel power.