The Honda Pilot has been a mainstay of the crossover niche since 2002. Even with the segment's burgeoning popularity and the ensuing scramble by automakers to cash in on the stilted-wagon mania, the Pilot remains a top pick amongst buyers. Why? For the same reasons Honda's other mainstream offerings have been successful – it's intuitive, reliable, well-built, and has a dash of that quintessential Honda ingenuity. Unsurprisingly, those traits all persevere into 2018.
What's New for 2018
There are no notable changes for the Honda Pilot for 2018.
Choosing Your Honda Pilot
Another reason the Pilot sells like hot dogs at a baseball game is because Honda offers so many different versions. With five trim levels, and four of those offering a choice of AWD or FWD, buyers have nine distinct iterations they can choose from. Then there's the options list to consider, which offers further opportunities to turn the straightforward act of picking a Pilot into one with all the simplicity of the Free Bird guitar solo. Specifically, buyers can opt for a rear-seat entertainment system, a navigation system, and the Honda Sensing Suite of safety technologies, which includes automatic emergency braking, forward collision warning, lane keeping assist, adaptive cruise control, and lane departure warning.
Where buyers don't have much of a choice is in the engine bay. All 2018 Pilots come standard with a 3.5-liter V6 that produces 280 horsepower and 262 pound-feet of torque. Honda fanboys will be happy to hear that the classic VTEC variable valve-timing technology is present and accounted for, and newer advances such as direct-injection and variable cylinder management also play a role here. Somewhat surprisingly, no four-cylinder engine is offered, even though competitors such as the Chevy Traverse and Mazda CX-9 do have four-pot power on tap.
The three lower-tier Pilots use a familiar six-speed automatic, but the top two trims – Touring and Elite – have a nine-speed automatic. The FWD six-speed units have an EPA-estimated fuel economy rating of 19 miles per gallon city, 26 highway and 22 combined, and AWD models return 18/25/21. The additional cogs of the nine-speed boost the FWD Touring's rating to 20/27/23; the MPG of the AWD Touring and Elite increases to 19/26/22 over six-speed equipped AWD models. Speaking of the AWD system, getting power to all four wheels costs an extra $2,000 across the board.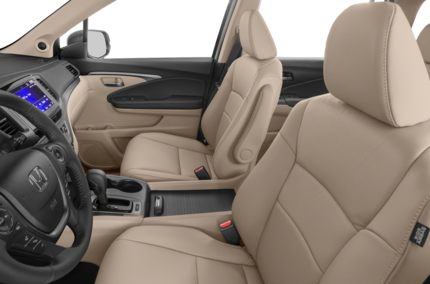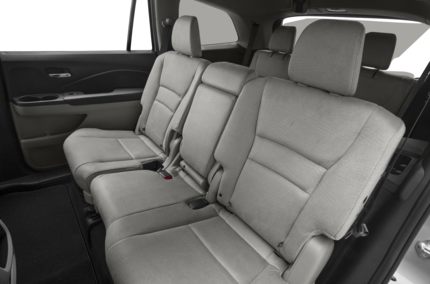 CarsDirect Tip
The Elite is far too close to $50,000, and the extra features it comes with are frivolous at best. Because of this, we'd avoid it – you're better off buying an Acura MDX if you want a dressed-to-the-nines crossover built by Honda. We'd also stay away from the LX for the opposite reasons – it's too sparsely equipped to be worth the cost savings. So, which one would we pick? The EX. It combines a reasonable price with list of standard features that'll keep most drivers comfortable and satisfied.