In a sea of compact sedans, the 2018 Hyundai Elantra floats above most competitors. Available in six trim levels and starting at $17,835 (including an $885 destination charge), the 2018 Hyundai Elantra sedan is loaded with standard technology features, has a fun sporty variant, and returns rather impressive EPA-estimated fuel economy ratings. The Elantra is best suited for small families or singles looking for a reliable, comfortable daily driver.
What's New for 2018
In 2017 the Hyundai Elantra underwent a needed wholesale exterior redesign. As the calendar turns, the 2018 edition focuses on improving standard safety systems for each of the six trims. The SEL trim adds blind spot monitoring with rear cross-traffic alert, a seven-inch touchscreen audio system, a rearview camera, and Apple CarPlay and Android Auto compatibility. The Sport trim now comes standard with a power sunroof and added safety systems.
Choosing Your Hyundai Elantra
Hyundai makes selecting the perfect Elantra rather easy for consumers by creating six distinct trim levels. For example, the SE, SEL, and Value trims are well-equipped with popular technology and safety features. You'll get a perfectly fine 2.0-liter, four-cylinder with 147 horsepower and 132 pound-feet of torque that can return 26 miles per gallon city, 36 mpg highway, and 29 combined with the SE's standard manual transmission or 28 city, 37 highway, and 32 with the six-speed auto on the SEL, Value, and Limited trims.
The Eco trim returns an EPA-estimated 32 mpg city and 40 mpg highway for 35 mpg combined, which is perfect for those who commute daily. The improvement is thanks to the standard 1.4-liter, turbocharged four-cylinder and seven-speed dual-clutch transmission. Look for a modest 128 hp and 156 lb-ft of torque.
Grab the Elantra Sport for its 1.6-liter, turbocharged four-cylinder, 201 hp, and 195 lb-ft of torque. Available with a standard six-speed manual or an optional seven-speed dual-clutch, it's inarguably the most entertaining and least efficient Elantra, returning 26 city, 33 highway, and 29 combined.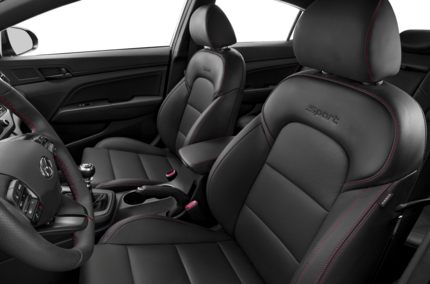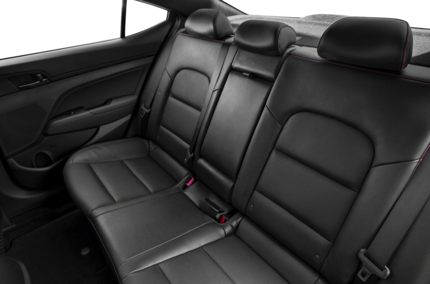 CarsDirect Tip
With so many different trims, Hyundai provides a lot of different characters for the Elantra. The Value Edition offers the best bang for the buck, coming in just north of $20,000. Consumers who drive 100 miles per day or more should carefully consider the Eco as a viable option, as a combined 35 mpg can save a bunch on fuel bills while still enjoying the Value Edition's healthy feature list.