Model Preview
Hyundai has already rolled out its Ioniq Electric and Hybrid models, and now it's time for a third member to arrive to this green party: the 2018 Hyundai Ioniq Plug-In Hybrid. Recently, Hyundai unveiled all of the details of this gap-bridging plug-in hybrid.
In terms of appearance, the familiar Ioniq styling features an industry-best 0.24 coefficient of drag. That said, each Ioniq model has its own unique styling bits that set them apart from each other. When comparing the Ioniq Plug-In Hybrid to the Hybrid, the former will feature a plug port on the driver's side front fender, the vertical C-shaped LED daytime running lights, LED low-beam headlights, and specially designed 16-inch alloy wheels.
Inside, all will remain the same as its brethren, as the Ioniq Plug-In Hybrid will use a clutter-free design that eliminates as many distracting knobs and buttons as possible. It'll also boast a smart air-conditioning system with a driver-only mode, eco-focused materials, a 7-inch TFT information cluster that will change its looks between Eco and Sport modes. Owners will also find advanced infotainment features like Apple CarPlay and Android Auto, and wireless cellphone charging.
Under the Ioniq Plug-In Hybrid's hood will sit a familiar 1.6-liter gasoline engine that puts out just 104 horsepower and 109 pound-feet of torque. This engine pairs with an electric motor that pumps in 60 hp. There is no mention of combined output, but it should be at least equal to the Ioniq Hybrid's 139 hp, though it'll likely be slightly higher than this. The power is routed through a six-speed dual-clutch transmission.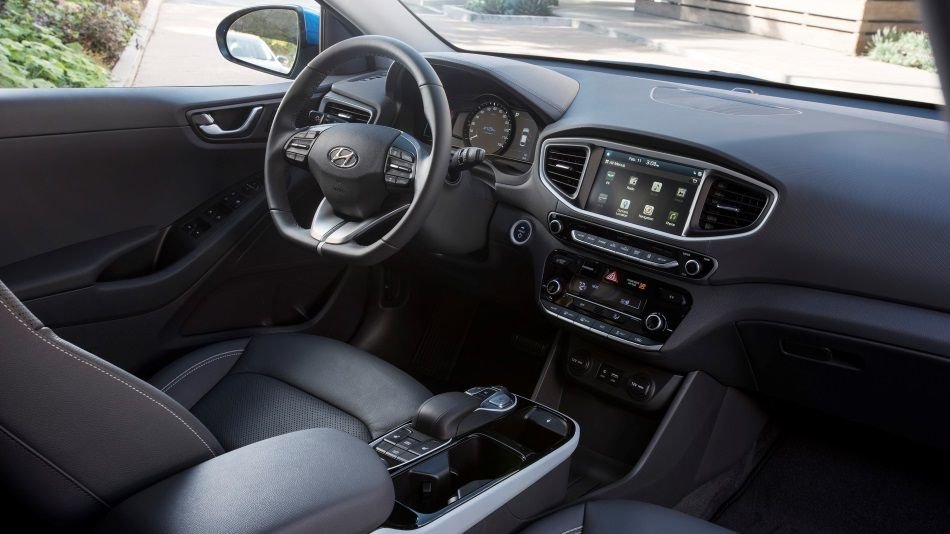 Where this powertrain really excels is thriftiness. In hybrid mode, it delivers up to 52 miles per gallon combined. On a full charge, it will travel up to 29 miles on electricity alone and deliver an EPA-estimated 119 mpg-e. With a full charge and a full tank of gas, the Ioniq Plug-In Hybrid can travel a full 650 miles.
There are no safety ratings for the Ioniq Plug-In Hybrid yet, but its Hybrid sibling is a 2018 IIHS Top Safety Pick. Given they share a platform and safety equipment, we expect the Plug-In Hybrid to at least share this rating. In fact, with its LED low-beam headlights the Plug-In model could up the headlight test results to a "Good" and earn the Top Safety Pick+ rating.
Pricing & Release Date
There is no mention of when the Ioniq Plug-In Hybrid will hit showrooms, but it must be soon, as pricing is already available. It'll start from $25,835 and top out at $29,185 (including an $885 destination fee).
This pricing is, of course, before federal and state tax credits. Thanks to its 8.9-kWh battery, the fed will give you a tax credit of $4,543. If you live in California, you'll get another $1,500 in incentives as well. This means a California resident could get the Ioniq Plug-In for as little as $19,792 after rebates and destination fees.
Competition for the 2018 Hyundai Ioniq Plug-In Hybrid includes the Toyota Prius Prime, Chevrolet Volt, and the Kia Niro Plug-In Hybrid.
Learn about the current Ioniq Hybrid on sale now»
Pictured: 2018 Hyundai Ioniq Plug-In Hybrid