Car purchases may be dwindling but still make up nearly a quarter of the automotive pie, and the midsize sedan continues to make a strong case with its practicality, price, and proportions. However, seeing its own numbers dwindle last year and continuing into 2017, Hyundai introduces a new Sonata for 2018 in hopes to inject some life into its struggling sedan sales.
What's New for 2018
The Hyundai Sonata receives a significant mid-generation refresh for 2018. Updates include a new eight-speed automatic transmission option, redesigned exterior and interior elements, added connectivity features, updated safety technology packaging, improved dynamics, and streamlined trim packages.
Choosing Your Hyundai Sonata
A front-wheel drive midsize sedan, the 2018 Hyundai Sonata is available with three engines and three automatic transmissions.
The standard engine is a 2.4-liter four-cylinder which produces 185 horsepower and 178 pound-feet of torque, and is paired with a six-speed automatic. The EPA rates fuel economy at 25 city miles per gallon, 36 highway, and 29 combined (SE only) and 25/35/28 (SEL, Sport, and Limited).
A 2.0-liter, turbocharged four-cylinder pumps out 245 hp and 260 lb-ft and works alongside an eight-speed automatic – look for this combo on top-of-the-line trims. At 23/32/26, fuel economy improves by one point in both city and highway driving but remains unchanged in combined mpg.
Lastly, a 1.6-liter, turbocharged four-cylinder is reserved for the Eco trim level and is matched with a seven-speed dual-clutch transmission. Power output is 178 hp and 195 lb-ft. EPA numbers are 28 city mpg, 37 highway, and 31 combined—representing a one mpg improvement on the highway.
All Sonata vehicles receive redesigns to the front and rear fascias. Most models will be outfitted with Hyundai's new "cascading" grille while 2.0-liter turbo-equipped models will showcase more aggressive styling with an exclusive sport grille, front fascia, rear diffuser, rocker panels, and dual exhausts.
Interior changes include a new steering wheel, instrument dials, and center stack as well as available smartphone integration, wireless device charging, and a rear USB charging point.
Vehicles equipped with Hyundai's Blue Link connected car system will now receive the service complimentary for three years. Previously, trial periods ranged from one year (Connected Care) to three months (Remote and Guidance packages).
The 2018 Hyundai Sonata is available in five trim levels: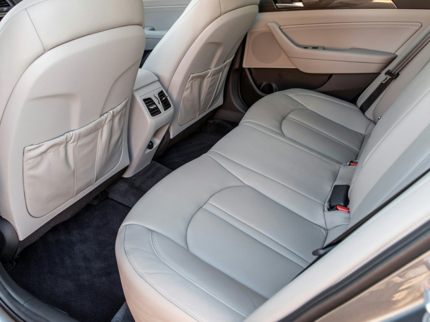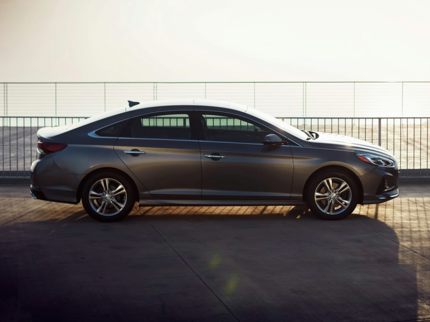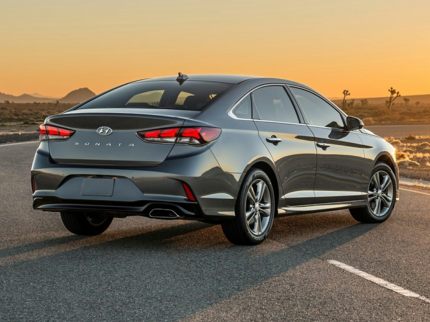 CarsDirect Tip
By keeping things simple, Hyundai makes Sonata shopping rather effortless thanks to a robust number of standard features and minimal package options. The SEL Tech will give you a well-equipped commuter with affordable monthly payments, while those wanting a more dynamic drive home should spring for a Sport 2.0T.