Model Preview
Although we expect the 2018 Hyundai Sonata to get a refresh, but there is no indication that the plug-in hybrid version will follow suit. This wouldn't be a big shock, as Hyundai is no stranger to holding its hybrid models over for a year or so after the gasoline models get a new look. In fact, this is exactly what happened when the Sonata received its most recent redesign back in 2015 – the redesigned Hybrid didn't come until the following year.
All signs seem to point toward the 2018 Sonata Plug-n Hybrid being a carryover of the current car, so we expect no changes inside or out. This isn't a huge deal, given its look is still fresh. We expect much of the same inside, as its roomy and well-equipped cabin should remain unchanged.
If this proves true, look for standard features on the base 2018 Hyundai Sonata Plug-In Hybrid to continue to feature 17-inch alloy wheels, automatic projector headlights, LED daytime running lights and taillights, cruise control, keyless ignition, a rearview camera, a seven-speaker audio system with an 8-inch touchscreen, Apple CarPlay and Android Auto, and more.
No changes are expected under the hood, so look for a 2.0-liter four-cylinder engine with 154 horsepower and 140 pound-feet of torque just like the current car. This engine pairs with an electric motor that produces 67 horsepower and 151 pound-feet of torque. Total system output is 201 horsepower.
As a plug-in hybrid, the current model is able to travel up to 27 miles on a full electric charge. With the gasoline and electric motor combined, the EPA rates 2017 Sonata Plug-In Hybrid at 99 miles per gallon equivalent, and we don't expect any changes here.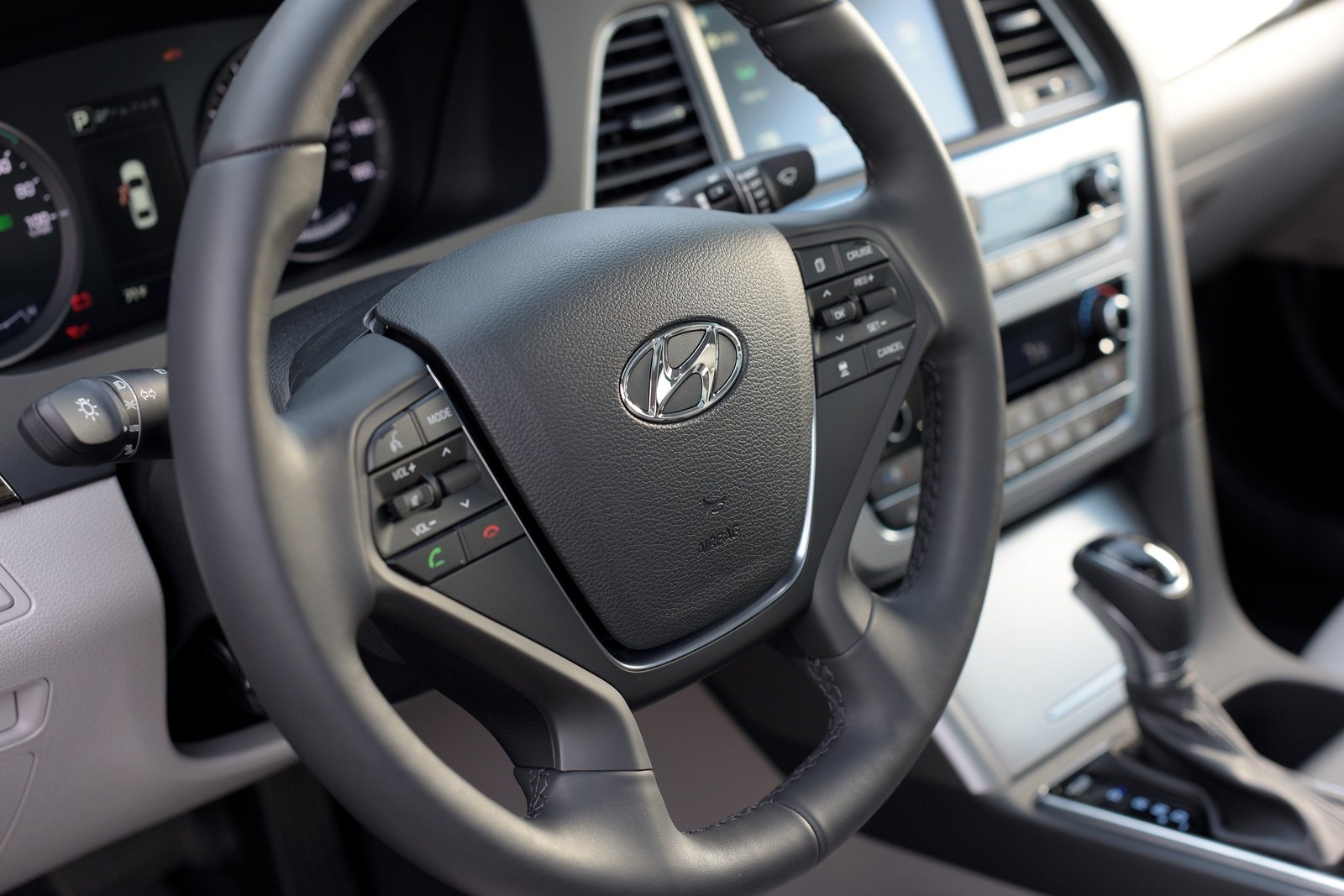 Although the IIHS did not test the Sonata Plug-In Hybrid for safety, its gasoline-only sibling is a Top Safety Pick – the rating agency's second-highest honor. It only missed the top rating due to its "Poor" rating in the headlight test.
Oddly enough, the current Sonata Plug-In Hybrid lacks available automatic emergency braking, whereas the hybrid model does have this as an option. We may see this come as an addition for 2018.
Expect full details closer to launch.
Release Date & Pricing
Based on production estimates, we anticipate the 2018 Sonata Plug-In Hybrid to arrive sometime in either late December or early January of next year.
With us expecting a carryover, we don't anticipate any big changes in pricing. For reference, the 2017 model ranges from $35,435 to $39,435 (destination fees included).
Key competitors include the Ford Fusion Energi, the Kia Optima Plug-In Hybrid, and the Toyota Prius Prime.
Learn about the current Sonata Plug-In Hybrid »
Pictured: 2017 Sonata Plug-In Hybrid