2018 INFINITI Q70 Overview
The 2018 INFINITI Q70, the brand's flagship performance luxury sedan, offers the looks, comfort, and drive that rivals Europe's finest.
What's New for 2018
Light changes accompany the 2018 INFINITI Q70, including adding the Luxe badge to all trims. Other changes include updates to package content and naming.
Choosing Your INFINITI Q70
The 2018 INFINITI Q70 comes with two engine choices: a 3.7-liter V6 or a 5.6-liter V8. The base 3.7-liter V6 is no slouch, delivering a robust 330 horsepower and 270 pound-feet of torque. The 5.7-liter V8 makes 420 hp and 417 lb-ft of torque. Both engines send power to the rear wheels by means of a seven-speed automatic transmission.
The Q70 makes an EPA-estimated 18 miles per gallon in the city and 25 mpg on the highway with the V6 engine (18/24 mpg with all-wheel drive). Models powered by the V8 engine earn an EPA-estimated 16 mpg in the city and 24 mpg on the highway (16/23 mpg with all-wheel drive).
Options are many for the Q70. A Sport Package ($4,900) adds a sport-tuned suspension, sport brakes, 20-inch wheels, sport seats, and solid magnesium paddle shifters. Check out the ProActive Package ($3,300) for a healthy dose of active safety systems, including: blind-spot monitoring and intervention, adaptive cruise control, predictive forward collision warning, lane departure warning and prevention, forward automatic emergency braking, backup collision intervention, and auto-level headlights. INFINITI also offers a pair of Premium Select Edition Packages for $3,300 on 3.7 models only: Graphite and Stone. These packages add special exterior trim, a rear decklid spoiler, illuminated kickplates, a suede-like interior, sport brakes, special wheels, and additional trim embellishments.
Individual upgrades include a rear decklid spoiler ($505), illuminated kick plates ($465), and upgraded 18-inch aluminum-alloy wheels ($1,525). Seven color choices are available; add $500 for Obsidian White.
The 2018 model is available in Q70 3.7 Luxe, Q70 3.7 Luxe AWD, Q70 5.6 Luxe, and Q70 5.6 Luxe AWD grades.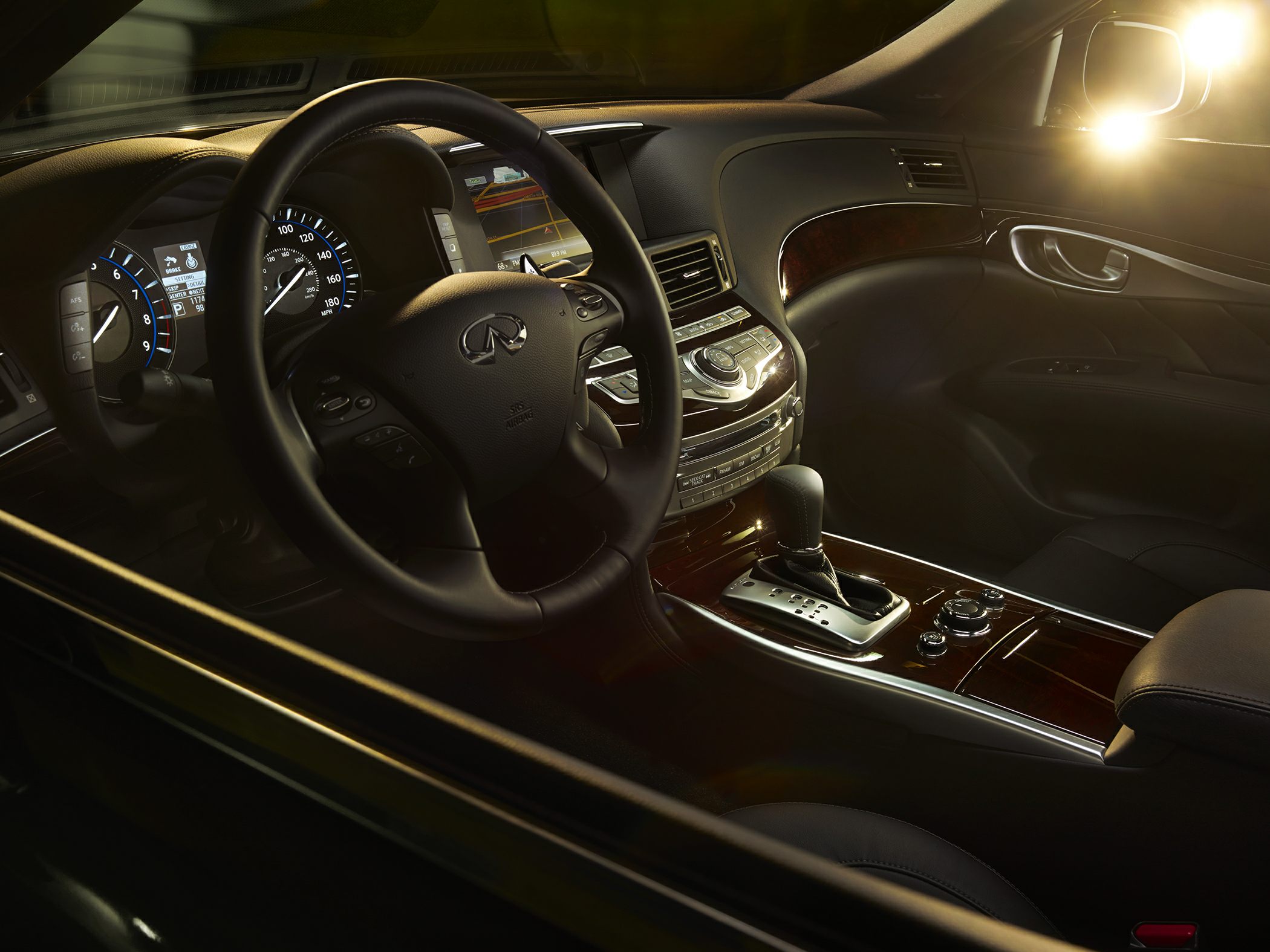 CarsDirect Tip
Decisions, decisions! Should buyers go with the V6 or the V8 engine? The V6 offers excellent power and will satisfy most, but the V8 has its own following. In any case, we think most people will be happy with rear-wheel drive. Upgrading to the Sport Package is a must for anyone who places an emphasis on performance.
2018 INFINITI Q70 Review

Since making the name change from M in 2014, the INFINITI Q70 has undergone only mild changes here and there. This leaves the 2018 INFINITI Q70 a bit dated to some, but others may see its aging, swoopy body as a refreshing alternative to the BMW and Mercedes sedans of the luxury-car world.

Best Value

The 2018 INFINITI Q70's features in its base Luxe trim may not seem too generous on paper, but there's a bit more lurking behind the curtain. When you head to the dealership, you're greeted by the ol' wait-there's-more approach, as INFINITI tosses in the Essential Package absolutely free. This adds more desirable goodies like leather seating with cooled front seats, a surround-view camera, a Bose audio system, navigation, parking sensors, and a heated steering wheel.

Model:

2018 INFINITI Q70 3.7 Luxe

Engine:

3.7-liter V6

Output:

330 hp / 270 lb-ft

Transmission:

Seven-speed automatic

Drivetrain:

Rear-wheel drive

MPG:

18 City / 25 Hwy

Options:

Essential Package ($0, leather-appointed seating, Bose 10-speaker audio system, heated steering wheel, navigation, surround-view camera, front and rear parking sensors)

Base Price:

$51,295 (including a $995 destination charge)

Best Value Price:

$51,295

Performance

INFINITI has long been steeped in performance, even the larger Q70. Sure, this sedan is a bit fatter in the corners than the Q50, but it's still plenty agile for its class. If you can afford the extra cost, the 5.6-liter V8 with its 420 horsepower and deep growl are incredible.

Fuel economy was definitely a second thought when designing the Q70, as its V6 is poor at just 25 miles per gallon highway, and the V8 is a full mpg below that. Yes, you can opt for the Q70 Hybrid and its 33 mpg highway, but this electrified INFINITI's powertrain is unrefined at best.

Style

The INFINITI Q70 hasn't changed much since 2014, despite other INFINITI models around it getting updates, but its swoopy looks are a still unique compared to its German rivals. The styling continues inside, as it boasts curviness not generally found in its competitors.

Though its classic styling makes it unique, some buyers may find the curvy styling a bit tired, and rightfully so.

The Best and Worst Things

The INFINITI Q70's best feature is its cabin, as its front and rear seats are beautifully appointed and comfortable. It's also surprisingly quiet and equipped with all the luxury staples buyers expect.

While its powertrains are strong, the INFINITI Q70 is behind the times with its naturally aspirated V6 and V8 engines. With other luxury brands adding potent four-cylinder engines with significantly better fuel economy and more advanced hybrid powertrains, the Q70 simply can't hang.

Right For? Wrong For?

The INFINITI Q70 is the perfect car for later-phase professionals who just need a comfy ride without too many gadgets and doodads to mess with. Plus, those who want a little more punch can go with the V8.

The Q70 is not the right car for young professionals looking for the latest and greatest in the luxury-car world, as its tech features are dated and its styling is getting long in the tooth.

The Bottom Line

Despite looking older than it actually is, the 2018 INFINITI Q70 is still a good luxury alternative to German metal. Its sleek lines, curvey cabin, and peaceful ride are all perfect for the demographic INFINITI is aiming for.
Find more information on INFINITI vehicles