2018 Jaguar XE Overview
Jaguar's smallest sedan enters its second year with more standard and optional equipment, more power, and additional trim levels.
What's New for 2018
While Jaguar's new budget four-cylinder is noteworthy, the real news is at the other end of XE offerings. New to the 35t range are the options-rich limited-edition Portfolio trim and the performance-oriented S, which – at 380 horsepower – is a 40-hp bump over other 35ts.
Choosing Your Jaguar XE
Jaguar offers the XE with the choice of three engines. The base model uses a new-for-2018 2.0-liter, turbocharged four-cylinder. Dubbed the 25t, it produces 247 hp and 269 pound-feet of torque and returns 25 miles per gallon in the city, 34 on the highway, and 28 combined. This engine is available on all but the range-topping XE S trim.
The 20d uses a 2.0-liter, turbodiesel four-cylinder to develop 180 hp and 318 lb-ft of torque – the EPA hasn't gotten around to evaluating this engine's fuel economy, but it should easily be the most efficient XE. Like the 25t, the diesel engine is available on XE, XE Premium, XE Prestige, and XE R-Sport models.
Finally, the 35t uses Jaguar's popular 3.0-liter, supercharged V6 to produce either 340 or 380 hp, depending on which trim level you select. The 340-hp version is available on the XE Premium, XE Prestige, and XE R-Sport, where it returns up to 21 mpg city and 30 mpg highway for 24 mpg combined. Jaguar limits the 380-hp engine to the range-topping XE S trim.
All three engines send their power to the rear wheels via a standard eight-speed automatic – all-wheel drive is optional across the line.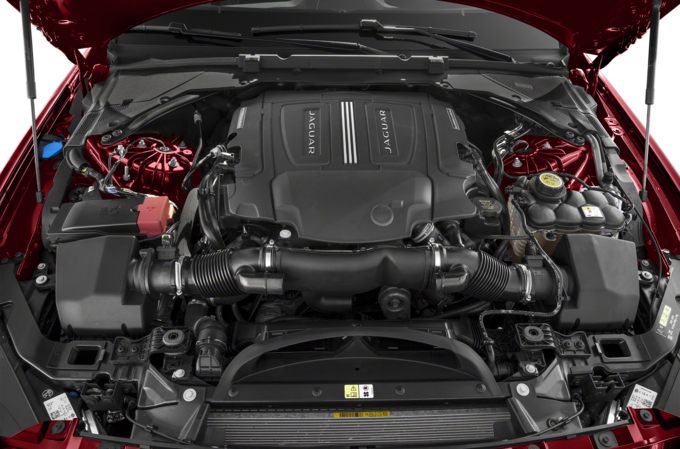 CarsDirect Tip
If you're in the market for a Jaguar sedan, the XE is your entry point in more ways than one. Not only does it offer the cheapest path to Jag ownership, it also offers higher-end buyers the opportunity to sample most of the best luxury and tech features Jaguar has to offer in a (relatively) economical way. Regardless of the model you choose, the R-Sport package is a must. And if you can afford a 35t R-Sport, the $2,700 upcharge to S status is well worth it.
2018 Jaguar XE Review

Just a few years ago, Jaguar was creeping up on its competitors, surprising everyone with new models, including its first SUVs. The 2018 Jaguar XE is a compact sedan and one of this brand's newer models. We think you'll like it for its handsome exterior, engine choices, and competitive pricing. On the flip side, the rear seat is very small.

Best Value

The 2018 Jaguar XE is a compact luxury sedan. This models seats five and comes with standard rear- and available all-wheel drive. Jaguar offers this model in XE, XE Premium, XE Prestige, and XE R-Sport trims.

Jaguar supplies three engine choices: a turbocharged four-cylinder gas engine, a turbocharged four-cylinder diesel engine, and a supercharged V6 engine. All three are matched with an eight-speed automatic transmission. Sadly, there isn't a manual transmission to be had with the XE.

Our choice is the XE Premium with the turbodiesel engine. This model builds on the base trim, adding automatic-dimming and power-folding side mirrors, Homelink, a Meridian sound system and a 40/20/40-split folding seat. The XE starts off with halogen headlights, an electric tilt and slide glass moonroof, 10-way power front seats, and Jaguar Touch with an eight-inch capacitive touch-screen display.

Here's how we'd build ours:

Model: 2018 Jaguar XE Premium
Engine: 2.0-liter turbodiesel inline-four
Output: 180 hp / 318 lb-ft
Transmission: Eight-speed automatic
Drivetrain: Rear-wheel drive
Fuel Economy: 32 City / 42 Hwy
Options: Cold Climate Package ($1,020, heated front windshield, heated washer jets, heated front seats, heated steering wheel), Vision Package ($2,680, adaptive Xenon headlights with LED signature lights, automatic high beams, blind-spot monitoring, rear cross-traffic alert, front and rear parking aids, lane departure warning, automatic emergency braking)
Base Price: $40,820 (including a $995 destination charge)
Best Value Price: $44,520

Performance

Decisions, decisions! That's what you'll face when considering what you'll put under the hood of your 2018 Jaguar XE. All three engines are tantalizing, but we went with the turbodiesel as it's a low-cost upgrade over the 2.0-liter four-cylinder ($1,500) that yields fantastic fuel economy: 32 miles per gallon city and 42 mpg on the highway. This represents an eight mpg edge over the similar-sized gas model. You'll recoup your investment quickly with that advantage.

The turbodiesel makes 180 horsepower and 318 pound-feet of torque. It delivers modest step-off acceleration, but excellent passing power. Working in this sedan's favor is its lightweight frame and perfectly weighted electric power steering. Our consensus is that the XE tracks well on the freeway with perfectly damped ride quality. Also, it's tuned for the various wheel sizes available. An optional adaptive suspension system supplies enhanced road grip and imbues driver confidence as you take on every twist and turn of the road.

Style

The Jaguar XE is handsome and the proportions are precise, but, as is the case with most compact luxury sedans, the style isn't anything special. The look is sleek, yet elegant, although we do miss some of the beautiful embellishments on earlier Jaguars. Nevertheless, the air intake and grille fixtures resonate with this sedan, announcing in no uncertain terms that this is very much a Jaguar.

Inside, the cabin is restrained with elements of elegance and masculine touches evident. Piano black, aluminum or wood trim choices each leave an imprint on the sedan's design. Dominating the center console is a rotary transmission control. Sporty gauges along the lines of the F-Type offer the most dramatic impact inside.

The Best and Worst Things

That Jaguar offers three engine choices, including a turbodiesel, giving this brand a leg up in a segment where most competitors have left diesels behind. The price point for the diesel is enticing indeed. What's disappointing is that safety tech is available only in added-cost options. Even mainstream brands are adding safety features as standard equipment or at least as part of low-cost packages.

Right For? Wrong For?

If you're looking for an executive sedan, especially something along the lines of a BMW 3-Series, the Jaguar is a worthy competitor. Why own what everyone else is driving? On the other hand, the rear seat is painfully small and is best left for children.

The Bottom Line

The consumer market is most certainly shifting to SUVs, but there are still people who prize the driving enjoyment of a compact, luxury sedan. The 2018 Jaguar XE is in the thick of the market, offering a compelling alternative to the top German models. That it offers a turbodiesel only serves this model well.
Recent Articles on Jaguar XE
Find more information on Jaguar vehicles