Our Take: 2018 Jaguar XF
Jaguar has had its ups and downs in recent history, but it seems to be on an upswing as it fills out its lineup with volume-selling sedans while still sprinkling in some amazing performance models. The 2018 Jaguar XF spans this entire range with a thrifty diesel option, a fire-breathing supercharged V6 model, and everything in between.
While the array of options is nice, how does this do-it-all sedan stack up against others in its class? Keep reading to find out.
Best Value
There's a slew of trim levels and engine options to choose from on the 2018 Jaguar XF, but the best value comes with the Prestige 30t model, which not only nets the more potent version of Jaguar Land Rover's 2.0-liter, turbocharged four-cylinder but also leather upholstery, navigation, a heated steering wheel, 19-inch wheels, navigation, an 825-watt audio system, and more without getting too pricey for its class.
Model:

2018 Jaguar XF Prestige 30t

Engine:

2.0-liter turbocharged four-cylinder

Output:

296 hp / 295 lb-ft

Transmission:

Eight-speed automatic

Fuel Economy:

22 city / 31 highway / 25 combined

Drivetrain:

Rear-wheel drive

Options:

Vision Assist Package ($2,580, adaptive LED headlights, automatic emergency braking, blind-spot monitoring, lane-departure warning), Technology Package ($3,265, 10.2-inch infotainment system with navigation, 12.3-inch digital instrument cluster, and 825-watt Meridian sound system)

Base Price:

$58,220 (includes $995 destination fee)

Best Value Price:

$64,065
Performance
So many powertrains to choose from, but you only have two hands to drive with. The XF's engines range from a thrifty 2.0-liter diesel that delivers up to 35 miles per gallon combined to a potent V6 with 380 horsepower.
While the diesel engine is the fuel-economy leader at up to 42 mpg highway, the 2.0-liter turbocharged gasoline engine is no slouch at up to 34 mpg highway. On top of that, this engine delivers 247 ponies that sprint this cat to 60 mph in just 5.4 seconds. If you followed our advice and snagged the 30t variant, the same 2.0-liter gas engine pumps out 296 hp and 295 lb-ft of torque. It's not as potent as the XF's old 340-hp supercharged V6, which the uprated 2.0-liter effectively replaces, but it still provides ample acceleration.
On the downside, none of these amazing engines have a manual transmission available, leaving the driver to depend on the still very good eight-speed automatic transmission to shift for them. The XF also incorporates a llghter steering feel and a bit more suspension lean, which some buyers may not appreciate.
Interior and Exterior
The XF boasts a sleek and stylish look that sets it apart from some of the German metal it competes with. Its recently revamped interior makes it more passenger friendly, especially in the rear seat. On top of that, its cabin is better laid out than many of its rivals, thanks to the clean and simple approach Jaguar took.
Moving into the Sportbrake model ups the ante. This wagon-like rig is not only stunning, but it is also a unique sight on the road. Unfortunately, it's limited to the 380-hp powertrain, making it a far pricier proposition than the XF sedan range.
Cargo room is yet another strong point for the XF, as its sedan can tote up to 19.1 cubic feet of cargo in its trunk. Opt for the Sportbrake model and open up 31.7 cubes of cargo room with the seats up and 69.7 cubic feet with the rear seats folded.
The Best and Worst Things
Customizability is the XF's strong suit. With two body styles, multiple powertrain configurations (including a diesel), available all-wheel drive, and several trims, the XF is a versatile entry for all manner of luxury consumers.
While Jaguar Land Rover is moving toward electrification with plug-in-hybrid Range Rovers and the all-electric I-Pace crossover, it's disappointing that the alternative powertrain craze hasn't reached the XF yet. We'd really like a plug-in variant to challenge the BMW 530e and the upcoming Volvo S90 T8.
Right For? Wrong For?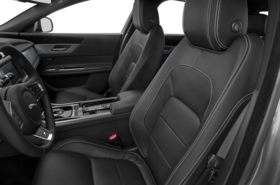 Buyers that have grown tired of the BMW and Mercedes game and want something different will find asylum in the XF.
Buyers who want their luxury sedan to stand out in a traffic jam will likely not be too keen on this sedan. It's as understated as afternoon tea, an appropriately British character that may not gel with shoppers here in the colonies.
The Bottom Line
The Jaguar XF is an incredible machine that balances luxury, style, and efficiency nicely. It also offers a plethora of options for all types of buyers. But the sheer choice and the reserved look and feel mean the XF will only appeal to a select buyer.
Buying With CarsDirect
We have partnered with trusted dealers in your area to give you a great price on the new Jaguar XF.
This is how it works:
We connect you to the Internet Department at a Trusted Dealership.
Use the CarsDirect Target Price as a tool in your negotiation.
The dealer will help you with financing or leasing, as well as trade-in options.