Imagine an Amtrak commuter car versus a Pullman; one says cheap and efficient, the other sings a melody of elegant opulence and splendor. So it is with the Jaguar XJ, a breed of automobile that quietly exudes an aura of distinction that would make founder Sir William Lyons proud. Grace, space, and pace defined Jaguars of yore, and for 2018 the XJ continues to embody that time-proven ethos.
What's New for 2018
The new, high-performance XJR575 trim takes a position at the top of the XJ line, boasting a 5.0-liter, supercharged V-8 with 575 horsepower.
Choosing Your Jaguar XJ
As the top-shelf sedan in the Jaguar portfolio, choice is abundant with the XJ. The three available engines, two different wheelbases, and five distinct trim levels allow buyers to tailor their British saloon to be anything from the proverbial "velvet hammer" to a richly appointed, chauffeured chariot.
The first engine on the pecking order is a 340-horsepower 3.0-liter supercharged V6. It can sprint to 60 miles per hour in 5.7 seconds in rear-drive guise, or 6.1 seconds if equipped with all-wheel drive. It is also the most parsimonious XJ, with EPA-estimated fuel economy of 18 miles per gallon city, 23 highway and 21 combined. It is available with the XJ R-Sport and XJL Portfolio.
For those looking for a little more oomph, there are two V8s available. The milder of the two is Jaguar Land Rover's charming supercharged 5.0-liter, putting out 470 horsepower. Compared to the V6, fuel economy falls to 15/23/18. This engine delivers 0-60 in under five seconds, and is standard fare for the XJ Supercharged and XJL Supercharged.
The engine with the most chutzpah is the 575-horse 5.0-supercharged V8, the same engine Jaguar has attached to its past several SVR models. It is only available in the long-wheelbase XJR575, and lets the big cat run up to 186 mph and hit 60 mph in 4.2 seconds – an impressive feat for a beast that weighs well over two tons.
When barreling along in any XJ, it's comforting to know that there's safety features at the ready should anything go awry. Jaguar equips all flavors of XJ with a multitude of airbags, lane-departure warning and lane-keep assist, a driver condition monitor and Jaguar Protect, which lets the car make an emergency SOS call in the case of an accident.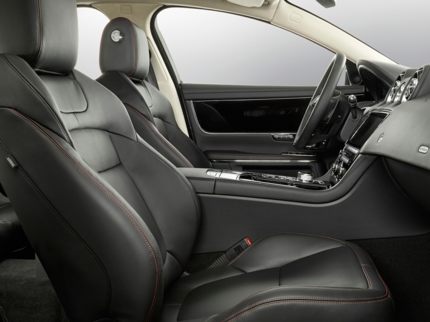 CarsDirect Tip
While the XJR575 is enticing, the high performance and lack of luxury features doesn't align with the full-size, long-wheelbase grandeur that is a full-size luxury liner's calling card. That said, more power on a car of this sort is always better than less, so if the budget allows, spring for the XJ Supercharged. If Jacques is doing the driving, get the XJL Supercharged with the Premium Rear Seat Package and feel like a head of state as you're whisked to your next rendezvous.