The Kia Forte may be an affordable compact vehicle, but in a segment filled with bare-bones machines, the 2018 Forte features a stylish design and high-end features. Despite being a compact, the Forte received the Insurance Institute for Highway Safety's Top Safety Pick Plus award, ranking in as one of the safest sedans on the market. While interior space is competitive in the sedan, the Forte5 hatchback variant is an even roomier alternative.
What's New for 2018
Not a lot has changed for the 2018 Forte. The compact vehicle gets some more amenities, including cruise control as standard and available Android Auto and Apple CarPlay compatibility. Moving up to the Forte S now brings 16-inch wheels, while the available Technology Package also includes a sunroof. Lastly, the range-topping Forte EX gets rear cross-traffic alert and blind-spot monitoring with lane change assist as standard.
Choosing Your Kia Forte
The Forte is available as a sedan and a hatchback, which is aptly called the Forte5. The sedan offers consumers with 14.9 cubic feet of cargo capacity, while the hatchback is a little more spacious with 23.2 cubic feet.
Both the sedan and hatchback have two powertrain options. The standard engine is a 2.0-liter four-cylinder unit that generates 147 horsepower and 132 pound-feet of torque. The top-of-the-line EX trim is powered by a direct-injected 2.0-liter four-cylinder motor that produces 164 hp and 151 lb-ft of torque. The standard transmission is a six-speed manual, while a six-speed automatic is also available.
The Forte5 gets the direct-injected 2.0-liter engine as standard, while a turbocharged 1.6-liter four-cylinder engine is also offered. The 1.6-liter engine generates 201 hp and 195 lb-ft of torque. The Forte5 shares the same transmission options as the sedan, but gets an available seven-speed dual-clutch gearbox for the turbocharged engine.
The most fuel-efficient Forte is rated by the EPA to get 29 miles per gallon in the city and 37 mpg on the highway. The Forte5 isn't too far behind with a rating of 25 mpg city and 34 mpg highway.
Both the Forte and Forte5 are available in three trims: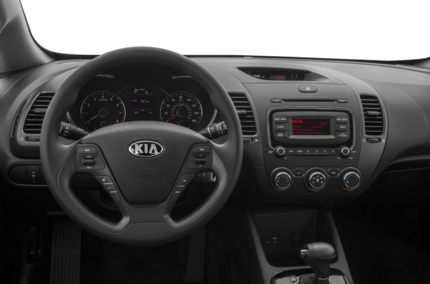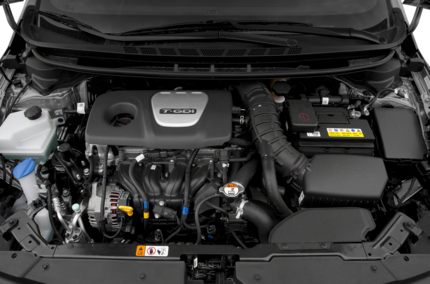 CarsDirect Tip
With its more attractive styling and larger cargo capacity, the 2018 Kia Forte5 is a better option for the majority of consumers that's worth the price difference. For both the sedan and hatchback, the EX trim is the one to go with, as it comes with most of the features anyone could ever want. The available packages are pricey, but are also worth looking into, as they add high-end features. Still, going with a fully-loaded Forte undercuts competitors that don't offer the same features.