Model Preview
After getting its much-needed overhaul for 2017, the Optima Hybrid enters 2018 as a carryover model, save for a few minor color combination changes.
As a carryover, the 2018 Optima Hybrid will be visually identical to the 2017 model. While its lack of change may be a drag to some, the relative newness of its appearance should help it maintain appeal. Some very careful detective work will uncover a few minor changes to the interior and exterior color schemes, but those will go largely unnoticed by the masses.
The 2018 Optima Hybrid's long list of standard features will remain the same. The base Premium trim will come standard with dual-zone climate control, 16-inch wheels, heated mirrors, a rearview camera, dual-zone climate control, Apple CarPlay and Android Auto, a six-speaker audio system, and more.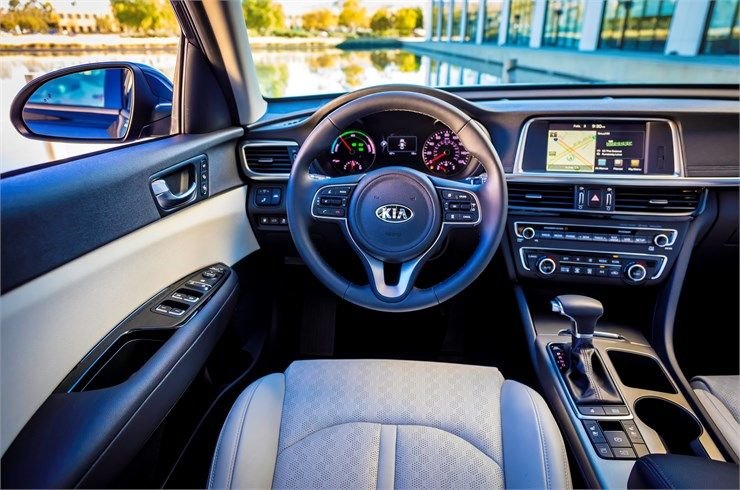 Things will remain the same in the powertrain department, as the 2018 Optima Hybrid will continue with a 2.0-liter engine that pairs with an electric motor to crank out 192 horsepower. This power will route through a six-speed automatic transmission before heading to the front wheels. While this isn't an exciting powertrain combination, it does deliver solid fuel economy numbers: 39 miles per gallon city, 46 highway, and 42 combined.
While the Optima Hybrid doesn't have its own IIHS safety ratings, its platform-mate, the standard 2018 Optima, is an IIHS Top Safety Pick. To get this rating, though, you have to get automatic emergency braking, which is only available as a part of the $5,000 Technology Package on the range-topping EX trim.
Pricing & Release Date
The 2018 Optima Hybrid is available now. Its prices range from $26,890 to $31,885 (destination fees included).
The key competitors for the 2018 Optima Hybrid include the Honda Accord Hybrid, Hyundai Sonata Hybrid, and the Toyota Camry Hybrid.
Build & Price Your 2018 Optima Hybrid »
Pictured: 2018 Optima Hybrid