Is there any notion as romantic as that of the off-road adventure? A rutty and rocky two-track cresting a hill and disappearing into the great unknown, meandering deep into the wilderness... An excursion many dream about but few dare to try, for fear of nature's harsh and unforgiving demeanor. But as with anything, the right tool for the job goes a long way. Land Rover, which could be aptly described as a posh British Jeep, has long been focused on building trucks that can tame the wild. The Discovery, which slots between the ritzy Range Rovers and the compact Discovery Sport, marries that concept of go-anywhere utility with daily-driver comfort. Go ahead and drive the expressway to work during the week; use the weekend to realize that off-road reverie.
What's New for 2018
Because the Discovery was all-new for 2017, there are no significant changes for 2018.
Choosing Your Land Rover Discovery
While Europe gets to choose from three diesel options and one gas motor, here on this side of the Atlantic only the gas-burner and a single diesel make an appearance. The gas engine is a 3.0-liter supercharged V6 which makes 340 horsepower, a powerplant has found it's way under nearly all Jaguar Land Rover vehicles as of late (seriously, of the company's 12 vehicles, nine of them offer this engine). In this application, fuel economy is 16 miles per gallon city, 21 highway, and 18 combined.
We're expecting the diesel to carryover last year's ratings – 21 mpg city, 26 highway, and 23 combined – just like the gas engine did, but official EPA estimates aren't available for the 2018 model year, yet. Of the two engines, the gas-burning V6 is standard, while the oil-burner demands a $2,000 premium. Both are available in all three of the Discovery's trim levels.
Buyers can have a field day when choosing aesthetic details: the Discovery offers 18 different colors to pick from and 14 wheel choices ranging from 19-22 inches in diameter, while seven material finishes and five interior colors are also available.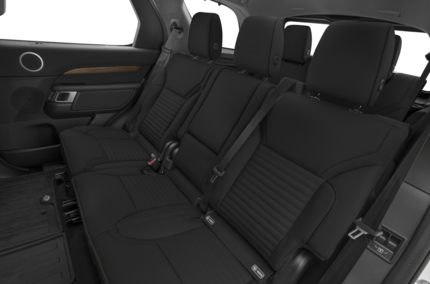 CarsDirect Tip
While there's a plethora of enticing options to choose from, the Drive Package should definitely be on the short list of worthwhile upgrades. For only $565, the safety features it includes could be priceless when it saves a driver's hide in a hairy situation.