A dash of sport and a whiff of indulgence – this has always been the mantra of the four-door sport sedan. The Lexus GS, which has now been around for a hard-to-believe 25 years, quietly upholds that creed in the shadow of such stalwarts as the BMW 5-Series. Though Lexus might not be the first thought that comes to mind when the term "sport sedan" is mentioned, the 2018 GS is nonetheless a heavy-hitter.
What's New for 2018
A few small updates have been sprinkled throughout the GS lineup. Last year's GS 200t is now the GS 300, there's a new set of 19-inch wheels on the options sheet, the Lexus Enform Safety and Service Connect services are now complimentary for the first decade of service, and there's new low-speed functionality on the GS F's adaptive cruise control.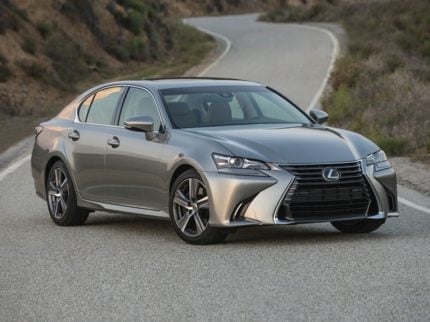 Choosing Your Lexus GS
With four distinct trim levels and powertrain choices, the GS caters to a breadth of needs and finances. Does this make it a jack of all trades? Well, not to the extent of, say, the Mercedes E-Class, what with that model's three body styles and myriad of motors. But even without a wagon or coupe variant, the range of performance offered by the GS is broad enough to please most anyone.
On the cheaper end of things is the 2.0-liter turbocharged four-cylinder that powers all GS 300 models. Not quite the sprightliest of the bunch, the 241 horsepower and 258 pound-feet of torque coax the rear-drive four-door to 60 miles per hour in 7.2 seconds. An eight-speed automatic keeps the power moving from up front to out back, and can be manually manipulated via the standard paddle shifters. A perk of the small displacement is the decent gas mileage. The EPA estimates that it should return 22 miles per gallon city, 32 highway, and 26 combined.
With two additional cylinders and a healthy dollop of extra power, the 3.5-liter V6 in the GS 350 presents a strong case for naturally aspirated six-cylinder engines, which are fast becoming an endangered species in this era of technology and efficiency. It makes 311 hp and 280 lb-ft of torque, enough power to get from zero to 60 mph in 5.7 seconds for the rear-driver (all-wheel-drive models are a tenth slower). However, fuel economy does take a hit when compared to the GS 300, and V6 buyers should only expect 20/28/23 if they get the rear-drive model or 19/26/22 with AWD. While the GS 300 uses an eight-speed transmission, the GS 350 makes do with a six-speed unit.
For those that refuse to compromise on either power and economy, there's the GS 450h. That little h, for what it's worth, stands for hybrid. It earns that moniker thanks to an electric motor bolted up to the familiar 3.5-liter V6. The extra assistance boosts total power output to 338 hp and 257 lb-ft of torque, just enough to let the 450h do zero to 60 in 5.6 seconds, two-tenths faster than the GS 350. The EPA-estimated mileage of 29/34/31 meets any reasonable expectations for a hybridized sport sedan. Instead of a typical multi-gear transmission, a continuously-variable unit handles power delivery to the rear wheels.
All the above engines exist in silent subservience to the mighty GS F. Its bellowing 5.0-liter V8 may seem more American exuberance than Japanese sensibility, but look under the innocuous hood of the big-cheese GS and there it is, all five liters shoehorned into the engine bay with blatant disregard for every Lexus stereotype. It churns out 467 hp and 389 lb-ft of torque, and will whisk passengers from zero to 60 mph in just 4.5 seconds. Gas mileage is just 16/24/19, but this compares favorably to most other big-displacement sport sedans. Besides, who buys 467 ponies to conserve fuel?
On top of the spoiled-for-choice engine roster, the GS boasts a number of standard features. The most notable of these is the Safety System Plus, which is a bundle of active safety features that includes lane departure warning, forward collision warning, adaptive cruise control, and smart high beams. This is on top of the also-standard blind-spot monitoring, cross-traffic alert, and 10 airbags. Other no-cost features standard across the lineup include keyless entry, SiriusXM radio, 10-way power seats, a 12-speaker sound system, a power moonroof, and dual-zone climate control. Across-the-board options include a $500 sensor-activated parking assist, $400 power trunk, and a $1,380 Mark Levinson 17-speaker sound system.
The F Sport upgrade is available across all trims (the GS F is where the extra performance is already built in). Opt for this package – which costs between $2,000 and $5,000, depending on the particular GS trim – and Lexus adds a number of both aesthetic and mechanical upgrades, including LFA-inspired gauges, variable-ratio steering, 16-way power seats, a sport suspension, and distinct trimmings.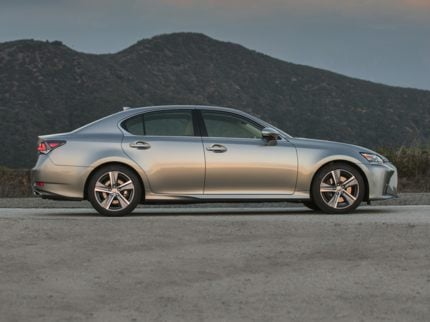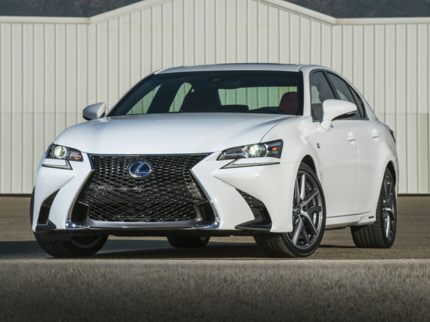 CarsDirect Tip
Unless the hybrid tech of the 450h is that appealing to you, there's no reason to go beyond the GS 350, which offers a good amount of power and all the luxury and safety features you'll ever need. The same advice holds true for the F Sport. Not only is the GS 350 the cheapest trim to upgrade to F status, it's also the only way to get that Torsen differential and the rear-steer system.