Nearly 30 years after its debut, the Mazda MX-5 Miata continues to be one of the best sports cars on the market. In a world of high-powered, expensive machines, the MX-5 Miata manages to blend a peppy powertrain with sublime handling at an affordable price. There's a simple reason as to why Mazda has sold over 1 million MX-5 Miatas – it's a darn good car.
What's New for 2018
For the 2018 model year, the MX-5 Miata benefits from a few changes. There's a new Brembo/BBS Recaro Package that's available on Club trims that are equipped with a manual transmission. The package adds familiar components from last year, like Brembo brakes, more aggressive aerodynamic exterior pieces, and BBS wheels. The newest addition to the package are Recaro seats.
The base Sport trim benefits from a 7-inch infotainment system as standard. Other new options include Auburn Nappa leather seats on Grand Touring trims, a Soul Red Crystal paint scheme, and a Dark Cherry soft-top.
Choosing Your Mazda MX-5 Miata
Choosing which MX-5 Miata to go with is relatively straightforward. The soft-top sports car is the classic variant with an old-school mentality of less is more, while the retractable roof, the MX-5 Miata RF, is a more modern, upscale take on the classic roadster.
Another major decision is going with the six-speed manual transmission or a six-speed automatic gearbox. Besides those two choices, the powertrain is already chosen for you. A 2.0-liter four-cylinder engine that generates 155 horsepower and 148 pound-feet of torque is the only engine offered for the sports car. With its compact powerplant and lightweight body, the MX-5 Miata can get up to 26/35 mpg.
The MX-5 Miata may be all about driving pleasure and carving up windy roads, but the convertible is also fitted with all of the latest safety features. An adaptive front-lighting system, high beam control, a lane departure warning system, rear cross traffic alert, and blind-spot monitoring are all available on the sports car.
The MX-5 Miata soft top is available in three different trims: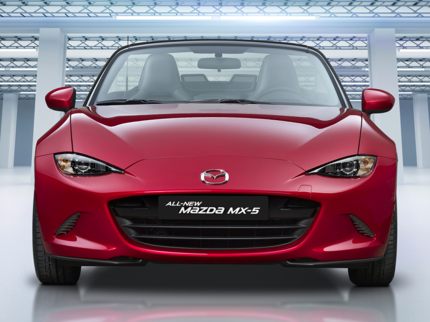 CarsDirect Tip
Enthusiasts looking to get into the sportiest, most enjoyable MX-5 Miata should go with the Club trim and the available Brembo/BBS and Recaro package. Drivers wanting a sports car that they can enjoy on a daily basis should go with one of the Grand Touring trims. The MX-5 Miata RF is better looking and quieter than soft-top variant, without sacrificing the open-air pleasure this line is known for. It's the better all-around choice for most consumers.