Look no further than the Mercedes-Benz CLA-Class for a compact, attainable luxury coupe-like sedan. It is the only front-wheel drive model Mercedes-Benz sells in North America, with all-wheel drive and performance versions available. Beyond the base model, prices rise quickly for this sporty luxury sedan.
What's New for 2018
Light refreshing accompanies the 2018 Mercedes-Benz CLA-Class. New headlights, bumpers, trim and tail lights enhance the exterior. Inside, a rearview camera is standard. Other updates cover the infotainment screen and the available finishes.
Two new special edition packages roll out. An Ice Edition Package, limited to just 400 units, brings in such features as special exterior paint, AMG trim, AMG wheels, and high-performance headlamps. An AMG Performance Studio Package is available on the AMG CLA 45 line only, adding such features as AMG stripes, yellow accents, special wheels, and AMG Performance Seats.
Choosing Your Mercedes-Benz CLA-Class
Mercedes-Benz offers the CLA-Class as either the humble CLA250 or the fire-breathing CLA45 AMG. Seating is for five, but there's limited leg and headroom, the latter owing to the sloping roofline.
The 2018 CLA250 has a 2.0-liter, four-cylinder engine generating 208 horsepower and 258 pound-feet of torque. Paired with a seven-speed dual-clutch automatic transmission, this model returns an EPA-estimated 24 miles per gallon in the city and 37 mpg on the highway. 4Matic all-wheel drive is an available option.
The all-wheel drive CLA45 AMG is the capstone model for the CLA-Class, powered by a handcrafted 2.0-liter turbocharged four-cylinder engine packing 375 horsepower and 350 pound-feet of torque. This engine is also paired with a 7-speed dual-clutch automatic transmission and standard 4Matic all-wheel drive, resulting in an EPA-estimated 23 mpg city and 30 highway. On the flip-side, the CLA45 AMG can hit 60 miles per hour in a neck-snapping 4.1 seconds.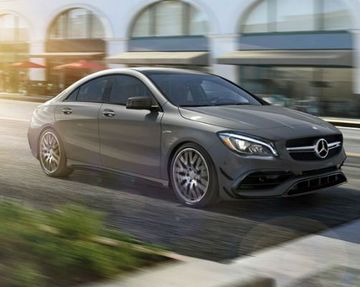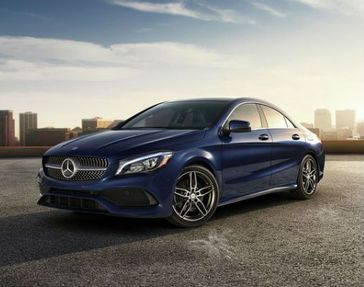 CarsDirect Tip
The base model offers an attainable price point and logical introduction to the Mercedes-Benz brand. If performance is not a priority, stay with front-wheel drive and choose the Premium, Multimedia, and Driver Assist packages, and your final price will come in around $40,000.