Introduced in 2016, the Mercedes-Benz GLE-Class stays true to the M-Class that it replaced by offering consumers a spacious interior, numerous powertrain options, refined styling, and for those that aren't willing to completely trade in their sports car for a SUV, a four-door coupe variant. With a healthy slathering of high-tech features, there's a lot to like with one of Mercedes' most popular vehicles.
What's New for 2018
There aren't a lot of changes for the 2018 model year. Both the GLE43 AMG and the GLE43 AMG Coupe get a bump in power, as the twin-turbocharged, 3.0-liter V6 engine now produces 385 horsepower, an increase of 23 horses from last year's model. The GLE43 AMG Coupe also receives an AMG Performance Studio Package.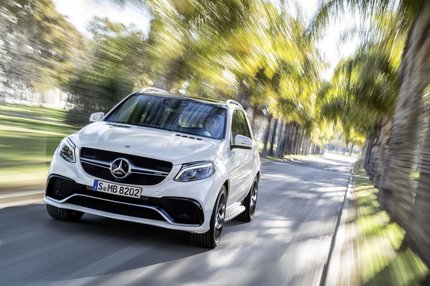 Choosing Your Mercedes-Benz GLE-Class
The GLE-Class is available with four different powertrains ranging from a 302-hp 3.5-liter V6 all the way up to a monstrous 577-hp 5.5-liter twin-turbo V8. A plug-in hybrid variant is available that utilizes a twin-turbo 3.0-liter V6 and an electric motor for a total of 436 hp.
The GLE-Class Coupe is the more performance-oriented variant, as it is only available in AMG trim, with output ranging from 385-hp with the GLE43 Coupe to 577-hp with the GLE63 S Coupe.
As a midsize SUV, the GLE-Class is rated to hold up to 80.3 cubic feet, while the coupe, with its more athletic looks, isn't far behind with a cargo capacity of 60.7 cu ft.
Most GLE-Class models offer the following as optional extras: massaging front seats ($1,100), heated rear seats ($580), a Bang and Olufsen audio system ($5,800), three-zone climate control ($760), and a panoramic sunroof ($1,000). These options broadly carryover to other GLE-Class models.
The GLE-Class is available in five different trims, while the GLE-Class Coupe is offered in two different styles: