Luxurious grand touring cruisers may not be as popular as they once were, but the 2018 Mercedes-Benz SL-Class is a standout in the shrinking segment. With the performance of a sports car and the look of a grand tourer, the SL-Class is a rare machine that oozes style and packs oomph.
What's New for 2018
After receiving a face-lift last year, the 2018 SL-Class carries over with minimal changes. The base SL 450 now comes with a rearview camera as standard, because somehow spending upwards of $88,000 on a vehicle didn't bring the piece of tech last year. An AMG Sport Steering Wheel and mirror logo lamps are standard throughout the entire lineup, while silver or red seat belts are an optional extra.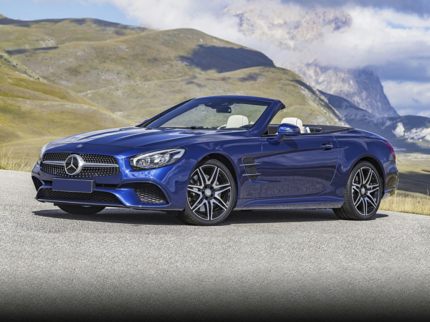 Choosing Your Mercedes-Benz SL-Class
Each SL-Class trim features a bespoke powertrain. The base SL 450 is powered by a 3.0-liter twin-turbo V6 engine that produces 362 horsepower and 369 pound-feet of torque. The engine is paired to a nine-speed automatic transmission that helps the roadster sprint to 60 miles per hour in 4.9 seconds. Stepping up to the SL 550 brings a 4.7-liter twin-turbo V8 engine that churns out 449 hp and 516 lb-ft of torque. The gearbox is a nine-speed automatic unit.
The next two models are the more performance-oriented AMG-branded cars. The base AMG model is the SL 63 AMG that features a 5.5-liter twin-turbocharged V8 engine from AMG. The motor generates 577 hp and 665 lb-ft of torque and is paired to a seven-speed automatic transmission. The sprint from zero to 60 mph takes just four seconds for the SL 63 AMG. The range-topping model is the SL 65 AMG that's powered by a 6.0-liter twin-turbo V12 engine. The powerhouse of a motor generates 621 hp and 738 lb-ft of torque, which are supercar figures. A seven-speed gearbox from AMG helps the roadster get to 60 mph in 3.9 seconds.
Roadsters don't have cavernous cargo space, but the SL-Class makes the best of its body proportions with 13.5 cubic feet of space with the hardtop in place. When folded down, the roadster still manages to provide a useful 8.5 cubic feet of cargo space. Like we said, not spacious, but still enough for the essentials.
The SL-Class is available in four trims: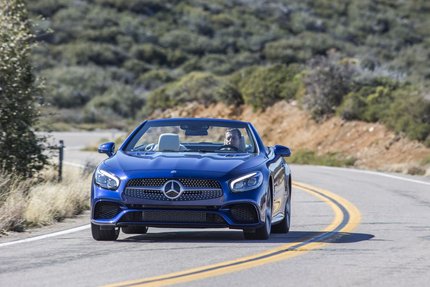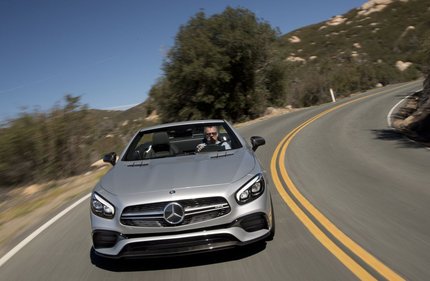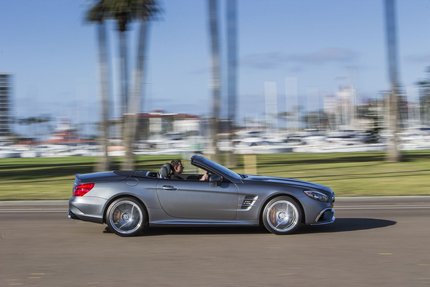 CarsDirect Tip
While we'd love to see and hear nothing but V8- and V12-powered SL-Class roadsters, spending upward of $153,000 isn't feasible for the majority of consumers. Instead, the 2018 Mercedes-Benz SL 450 is a good place to start and should have more than enough performance for daily use. The Driver Assistance Package is a welcome addition for those that want some extra safety, while the Premium Package and the Bang & Olufsen sound system are the way to go for a truly opulent Mercedes.