If a fuel-sipping subcompact is important, the latest Mirage is the leader in the clubhouse. Starting at $14,260 (which includes a $865 destination charge), the 2018 Mitsubishi Mirage is available in three trims, is powered by a frugal three-cylinder engine, and returns the highest EPA-estimated miles per gallon for a non-hybrid powered vehicle in North America. The lack of driver-assisted safety features, an uncomfortable interior, arguably the worst driving character of any new car on the market, and less than stellar exterior creativity suggests this vehicle is best suited for those that consider superior fuel economy at a budget price their number one criteria.
What's New for 2018
The 2018 Mitsubishi Mirage includes a few trim-specific upgrades for the new year. The Mirage ES is now available with a new seven-inch touchscreen infotainment system that features Bluetooth, while the SE gets Apple CarPlay and Android Auto capability, and a rear-view camera. A driver seat armrest is also added to the Mirage SE and GT trims.
Choosing Your Mitsubishi Mirage
The Mirage is available to North American consumers in three trim levels including the base ES, SE, and GT. Each 2018 Mirage is powered by a 1.2-liter, three-cylinder engine that delivers 78 horsepower and 74 pound-feet of torque. The base ES comes standard with a five-speed manual transmission, while a continuously variable transmission can be added for an additional $1,200. All Mirages are front-wheel drive, with CVT's returning an EPA-estimated 37 miles per gallon city, 41 mpg highway for a combined 39 mpg. The manual transmission produces slightly poorer fuel economy with 33 mpg city, 41 mpg highway, and a combined 36 mpg. The ES, SE and GT feature eight exterior colors and a single interior color pattern.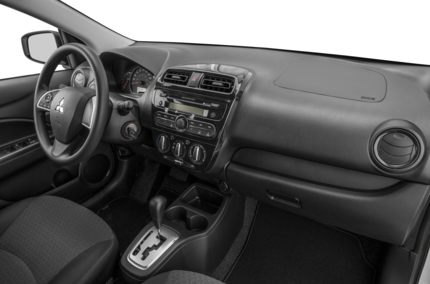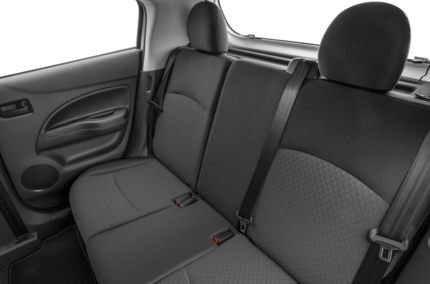 CarsDirect Tip
This subcompact gets exceptional fuel economy for a non-hybrid powered vehicle, but a number of problems outweigh that sole plus. It's not attractive, is terribly unpleasant to drive, and costs far too much money to tolerate either of those traits. Additionally, Mitsubishi's dealership network is minuscule compared to its Japanese rivals. If you absolutely need excellent fuel economy at a low price, consider a used Toyota Prius C before committing to a Mirage.