Kermit used to admonish that it ain't easy being green, but it's clear the beloved amphibian hasn't had a chance to sample the current crop of electric cars. Take the all-new 2018 Nissan Leaf; it offers more technology along with a longer range than the old model, while also costing less money. Sorry, Kermit, but it seems like it's easier than ever to be green.
What's New for 2018
Nissan redesigned the Leaf for 2018.
Choosing Your Nissan LEAF
Being an all-electric car, the heart of the Leaf's propulsion system is a lithium-ion battery pack, one that is 67 percent more energy dense than the previous model. This battery pack powers a 110-kW electric motor, which provides 147 horsepower and 236 lb-ft of torque, both marked increases from the old model. Along with providing the better performance, this powertrain delivers improved range as well, letting drivers roam up to 150 miles before running out of juice.
Along with the improved driveline, the supporting technology also takes a leap forward. The optional ProPilot Assist, for instance, offers drivers semi-autonomous capability: simply activate the system and the car will automatically keep a set distance from the car ahead. ProPilot will also keep the car within it's lane, reducing the need to steer, and it will automatically brake and even halt the car completely should the proceeding car come to a full stop.
The e-Pedal is another attempt at marketing tomorrow's tech today. The e-Pedal feature allows drivers to modulate nearly all braking via the accelerator pedal. That's right: the accelerator pedal can control up to 90 percent of everyday braking, according to Nissan. All buyers have to do is take their foot off the accelerator pedal. By doing so, the Leaf immediately slows down, using up to 0.2g braking force.
While the e-Pedal is standard, the Leaf offers other safety and assistance features as options. These include lane-departure warning, intelligent lane intervention, automatic emergency braking, blind-spot warning, rear cross traffic alert, and a surround-view camera.
Eight colors are available, including a two-tone back/white scheme.
While it hasn't been assigned one yet, the 2018 Leaf will likely be eligible for a $7,500 federal tax credit, not to mention state-specific incentives, that can drive prices down considerably. The numbers listed here do not include any tax credits.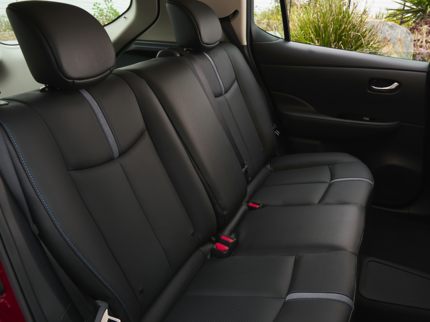 CarsDirect Tip
An SV with the $2,200 Technology Package will have all the latest in technology and driver aids that Nissan offers on the Leaf, and undercuts the SL by $1,500. For the buyer looking for the best bang for their buck, this is the way to go.