Our Take: 2018 Subaru Impreza
Subaru has always distanced itself from the herd of other mainstream manufacturers with standard all-wheel-drive and a flat-four engine design. The brand's 2018 Impreza is no exception to this, and offers buyers in the compact segment an affordable, weather-capable runabout that is available as both a traditional sedan or a cargo-swallowing hatchback.
Best Value
While there's a few different trims on hand, we'd go with the Impreza 2.0i Sport in the spacious five-door guise. This not-quite-a-wagon in Sport trim boasts a number of unique features that are unavailable on either the lower-spec Premium or the higher-spec Limited. These include brake torque vectoring (which applies the rear brake on the inside wheel while turning to improve handling), bigger front disk brakes, 18-inch wheels, a leather-wrapped shift handle and steering wheel, and special upholstery with contrasting red stitching.
While a five-speed manual is standard, it is behind the times, as nearly all competitors offer six-speed manuals for their compacts. On top of that, Subaru's stick-shift is disappointing to operate, lacking in feel and engagement. Factor in that Subaru's EyeSight safety suite is only available for continuously variable transmission-equipped cars and it becomes clear that foregoing the clutch pedal is the way to go. There's not too many options available (though a good number of accessories are on tap), but here's how we'd spec out our Impreza:
Model:

2018 Subaru Impreza 2.0i Sport 5-door

Engine:

2.0-liter four-cylinder boxer

Output:

152 hp / 145 lb-ft

Transmission:

Continuously variable transmission (CVT)

Drivetrain:

All-wheel drive

MPG:

27 City / 35 Hwy

Options:

CVT ($800), EyeSight Driver Assist Technology ($2,945, adaptive cruise control, automatic emergency braking, lane departure assist, sway warning and lane keeping assist, power moonroof, blind-spot monitoring and rear cross-traffic alert, eight-speaker Harman Kardon sound system)

Base Price:

$23,455 (including an $860 destination charge)

Best Value Price:

$27,200
Performance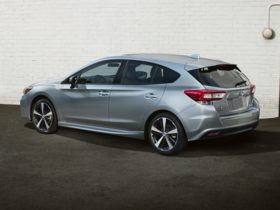 Despite possessing on 152 horsepower, the Impreza still manages to be a fun little machine to toss around, if not exactly fast in a straight line. This can be attributed to the car's low center of gravity, 3,000-pound curb weight, and fully independent suspension. The Sport trim lends additional nuance to the handing via the brake torque vectoring system. When you're not railing on the Impreza as if it were a WRX, the ride is comfortable and quiet.
Around town, the little 2.0-liter has no problem keeping up with traffic and running stoplight to stoplight. However, the highway proves a formidable challenge for the boxer engine. There's a dearth of power when passing at 60 or 70 miles an hour, and it's made apparent by the CVT's audible struggle as the revs climb while the speed does not.
Style
Benefiting from a full redesign in 2017, the Impreza is an attractive car regardless of body style. The lines and proportions are simple and effective: not overdone, not undercooked. It won't bowl people over who catch a glimpse of it, but the conservative sheetmetal is fitting for a car whose first job is to serve as a transportation appliance. We have no doubt that time will be kind to this design.
Inside, that same ethos continues, where drivers will find functional simplicity embedded within an unmemorable but tasteful dash. There's a slew of standard features on even the lowliest Impreza, such as a 6.5-inch infotainment system, Apple CarPlay and Android Auto, Bluetooth, and cruise control. Sport and top-tier Limited models get an upgraded 8.0-inch touchscreen, and the Limited also includes luxuries like a power driver's seat, chrome mirrors and automatic climate control. Notable options on the Sport and Limited include EyeSight, navigation, moonroof, and an eight-speaker Harman-Kardon sound system.
In all Imprezas, the infotainment unit is featured prominently in the center stack, and on the top of the dashboard sits an additional multi-function display that offers a variety of data readouts . While it doesn't look out of place in it's position above the main screen, one wonders why Subaru could not have simply integrated those functions into the infotainment unit itself.
Passengers in the back will appreciate the 36.5 inches of leg room and 37.2 inches of headroom (and that's with the available moonroof). The hatchback also offers nearly 21 cubic feet of cargo volume with the rear seats still upright, a significant improvement over the measly 12.3 cubic feet of trunk space in the sedan.
The Best and Worst Things
The all-wheel-drive is the biggest selling point here. None of the Impreza's compact competitors offer all-wheel drive, making this a great option for those motoring anywhere that isn't in the sun belt. Unfortunately, the Impreza's other novelty, the boxer engine, is the car's weakest attribute. It simply does not have the power or refinement of its rivals' four-cylinders.
Right For? Wrong For?
Snowy-climate urban dwellers who are constantly hauling people and things can't go wrong with the Impreza's capability and practicality. That it's also affordable and has a tidy footprint only makes it even more enticing for city folk who still need a car.
Those who live where snow is something only seen on TV and do most of their driving on the interstate would be better off buying something else that's more friendly to highway commuters. The biggest flaws of the boxer engine become most apparent when traveling on high-speed multi-lanes, and there's other small cars that provide better highway manners with more capable straight-line speed.
The Bottom Line
The Subaru Impreza is an honest and unpretentious automobile. It doesn't masquerade as something it's not, but instead humbly proffers affordability and practicality to those who are looking for just that. And this is why the Impreza aptly represents what makes a Subaru, a Subaru.
Buying With CarsDirect
We have partnered with trusted dealers in your area to give you a great price on the new Subaru Impreza.
This is how it works:
We connect you to the Internet Department at a Trusted Dealership.
Use the CarsDirect Target Price as a tool in your negotiation.
The dealer will help you with financing or leasing, as well as trade-in options.
Insider Information
We have information you must know before you buy the Impreza.
We want to send it to you, along with other pricing insights.
Your Email
Submit
We will not spam you, and will never sell your email. You may unsubscribe at any time.
Thank you. You are now subscribed to our Pricing Insider updates.