Our Take: 2018 Toyota 86
Short on back seat space, advanced safety features, and possessing only average power, the 2018 Toyota 86 still manages to entice with its classical shape, slick manual transmission, and capable performance.
Best Value
With an additional trim level for 2018, the Toyota 86 expands to three models: base, GT (replacing the 860 Special Edition), and the new GT Black Color Package. Prices range from $27,150 for the base trim equipped with a six-speed manual to $30,395 for a six-speed automatic-equipped GT or GT Black model finished in optional Halo white. All models are rear-wheel drive and harnessed with a 205-horsepower, 2.0-liter flat-four, detuned to 200 horsepower in automatic-equipped variants.
Reflecting its Scion-based monospec roots, all 86 models are equipped with the typical power features, LED headlights and taillights, keyless entry, a leather-trimmed steering wheel, air conditioning, Bluetooth, and a seven-inch touchscreen.
At just a $2,130 premium, the GT models receive a few more bits: a rear spoiler, LED fog lights, dual zone automatic climate control, heated outside mirrors and front seats, push-button start, a 4.2-inch TFT multi-information display, a leather gear shift boot, and stickier, suede-like seat fabric with leather bolsters up front.
Here's how we'd build it:
Model:

2018 Toyota 86 GT

Engine:

2.0-liter four-cylinder

Output:

205 hp / 186 lb-ft

Transmission:

Six-speed manual

MPG:

21 City / 28 Hwy

Options:

None

Base Price:

$29,280 (including the $895 destination charge)

Best Value Price:

$29,280
Performance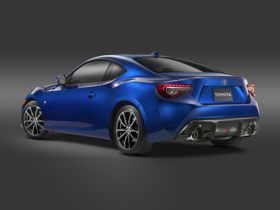 A nearly identical twin to the more track-focused Subaru BRZ, the Toyota 86 makes for a better daily driver because it's tuned for a smoother ride. The slick-shifting manual would be our pick, as it more easily manages keeping power in the rev range. But if your daily driving involves more stop-and-go, the automatic does nearly as nice a job – with the paddle shifters holding gears as long as you like. With excellent driver sightlines, the 86 also corners flatly and securely, while firm steering does an excellent job of communicating what's going on underfoot.
At the same time, the 86 is hardly powerful – with maximum power not coming on until nearly 4,500 rpm – and, like most sports cars, not particularly fuel efficient. Lacking a track-focused model, enthusiasts interested in the same platform should check out the Subaru BRZ tS.
Style
The 86 is the classic sports car incarnate – long hood, aggressive fenders, compact greenhouse, and a graceful roofline – with contemporary revisions that include wider fenders and, in last year's update, a wider front intake and new rear diffuser. The tidy shape is wrapped around a businesslike interior featuring snug, supportive front seats, grippy synthetic suede on GT models, adequate leg and hip room, and enough headroom for helmeted drivers. The touchscreen impresses for the class, while the GT's trim bits give it a new level of sophistication.
The cabin's shortcomings lie with its tight rear quarters, an inadequate number of redundant touchscreen buttons, and the lack of advanced safety features. Although assigned seat belts, two adults will find accommodations extremely tight in back, while the menu-driven infotainment system is often too distracting to operate while driving. And while an increased awareness might be expected of sports car drivers, the lack of advanced safety features that are standard on other Toyotas – forward collision warning, automatic emergency braking, automatic headlights with high-beam assist, adaptive cruise control, and lane departure warning – is inexplicable.
The Best and Worst Things
We're attracted to the 86's stylish looks and handling prowess, but can't get around the fact that advanced safety features standard on the Corolla aren't even optional on the 86.
Right For? Wrong For?
A classic shape, predictable handling, and a slick-shifting manual will have enthusiasts looking for back road corners to carve.
A lack of advanced features will have safety-conscious buyers looking elsewhere.
The Bottom Line
Despite tight rear quarters, a finicky infotainment interface, and a dearth of advanced safety features, the 2018 Toyota 86 continues to impress with a classic design, balanced handling, and solid feature set.
Buying With CarsDirect
We have partnered with trusted dealers in your area to give you a great price on the new Toyota 86.
This is how it works:
We connect you to the Internet Department at a Trusted Dealership.
Use the CarsDirect Target Price as a tool in your negotiation.
The dealer will help you with financing or leasing, as well as trade-in options.
Insider Information
We have information you must know before you buy the 86.
We want to send it to you, along with other pricing insights.
Your Email
Submit
We will not spam you, and will never sell your email. You may unsubscribe at any time.
Thank you. You are now subscribed to our Pricing Insider updates.