Model Preview
For 2018, the Audi A5 was fully redesigned, so we anticipate no significant changes to this luxury coupe for the 2019 model year.
Because we expect it to be a carryover, we don't anticipate any changes to its looks. Expect it to carry on with the same angular look that it took on in 2018, which should still be fresh in buyers' minds. Inside, we expect the sleek cabin, which really separates the A5 from the likes of BMW and Mercedes, to also remain completely unchanged.
The A5's list of standard equipment is another area where we expect no changes at all. If this proves true, look for the 2019 A5's standard equipment continue to include 18-inch wheels, xenon headlights, heated mirrors, automatic windshield wipers, keyless entry and ignition, three-zone climate control, leather upholstery, a 10-speaker audio system, Android Auto and Apple CarPlay, and much more.
In the powertrain department, we also expect everything to remain the same. Like 2018, the new A5 should continue with the same 2.0-liter turbocharged four-cylinder engine that will inject 252 horsepower and 273 pound-feet of torque. This power will continue to route through a standard six-speed manual and Audi's Quattro all-wheel-drive system before hitting the asphalt and sprinting it to 60 mph in just 5.7 seconds. A seven-speed dual-clutch transmission will remain an option, which will help trim the 0-to-60 sprint to 5.6 seconds.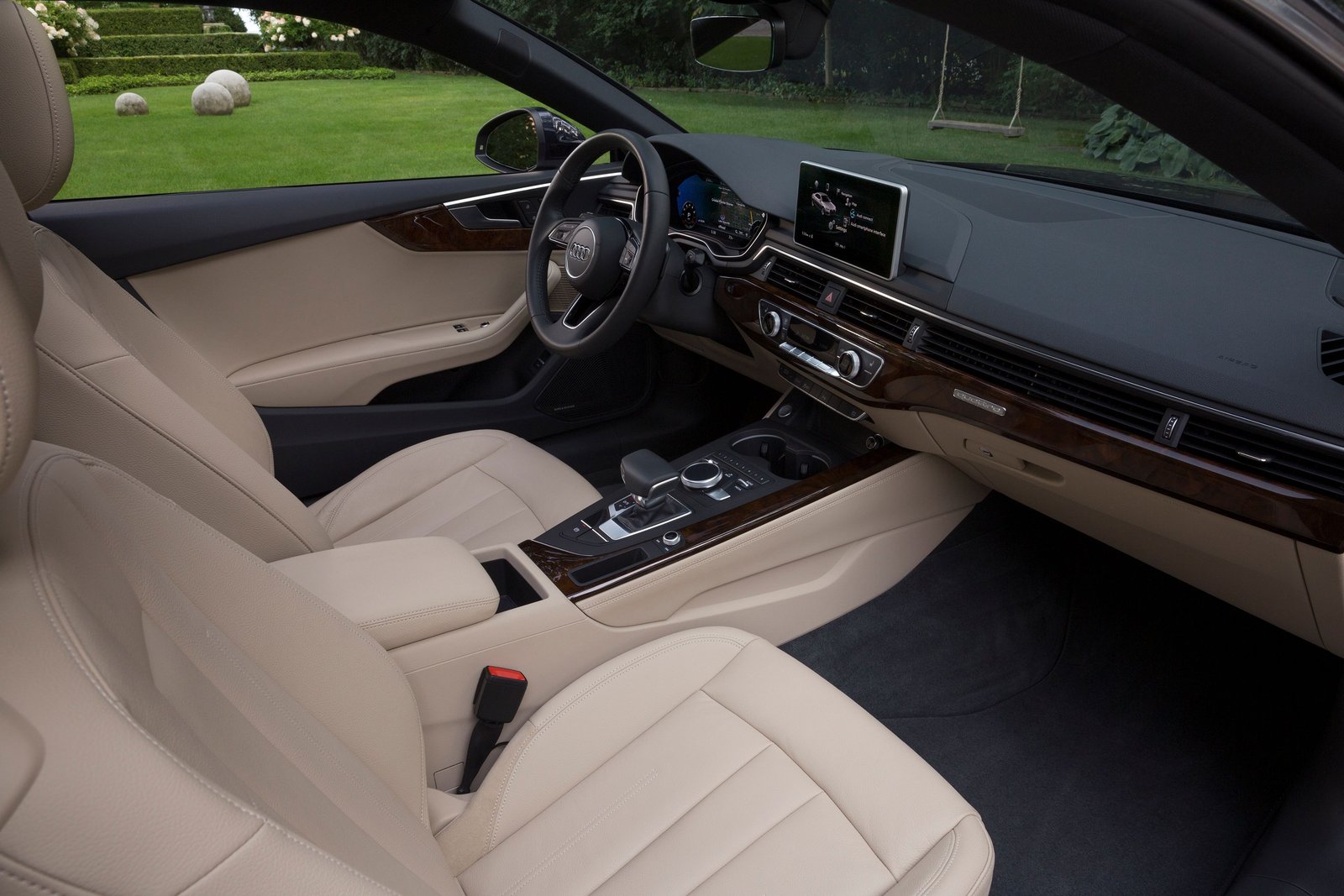 The IIHS hasn't tested the current-generation Audi A5 for safety yet, but given newer Audis often perform well in safety tests, we couldn't imagine anything less than a Top Safety Pick rating for the A5. This potential rating is aided by the standard Audi Pre Sense City system, which will initiate full braking if it senses a collision coming to help mitigate damages and injuries. It also boasts standard Audi Pre Sense Basic, which begins to close the windows and sunroof, and tightens the seatbelts if it senses a crash coming. All these features and the eventual crash safety ratings should carry into 2019 unchanged.
Pricing and Release Date
The 2019 Audi A5 is expected to begin production in late July. We currently estimate a release date sometime in early fall.
Pricing remains unknown, but with so few changes, we don't expect a huge swing in pricing. Look for it to remain near the $43,575 to $50,575 (destination fees included) range of the 2018 model.
Key competitors include the Mercedes-Benz C-Class and BMW 4 Series.