Model Preview
In 2012, Audi joined other luxury automakers in creating a premium four-door car with the swoopy roofline of a two-door coupe. Thus, the A7 four-door coupe was born. The 2019 Audi A7 is completely redesigned. It'll retain the coupe roofline that made it famous, but its details are all new, as is its interior, powertrain, and chassis.
In terms of outward appearance, the A7 will remain very familiar, which is common for Audi redesigns. It'll retain the swoopy roofline, but its soft and hard parts have new looks. Up front, the singleframe grille is lower and wider, the headlights are narrower, and its apron is newly designed. Down the sides, you'll quickly notice the more aggressive lines. Around back, it's easy to spot the redesigned taillights, which are comprised of 13 individual vertical sections. The new A7 will measure 195.6 inches long (three inches longer), 75.1 inches wide, and 55.9 inches tall. It'll ride on a 115.2-inch wheelbase (0.5 inches longer).
Inside, Audi brought some of its more futuristic ideas to the table for the 2019 A7. It carefully combines a clean and refined look with the latest and greatest features, and its horizontal lines make the new A7 feel roomier. Inside, buyers will find Audi's all-new MMI infotainment system with an 8.6-inch touchscreen. Optionally, buyers can add a 12.3-inch display as the instrument panel and a 10.1-inch upper display screen angled toward the driver.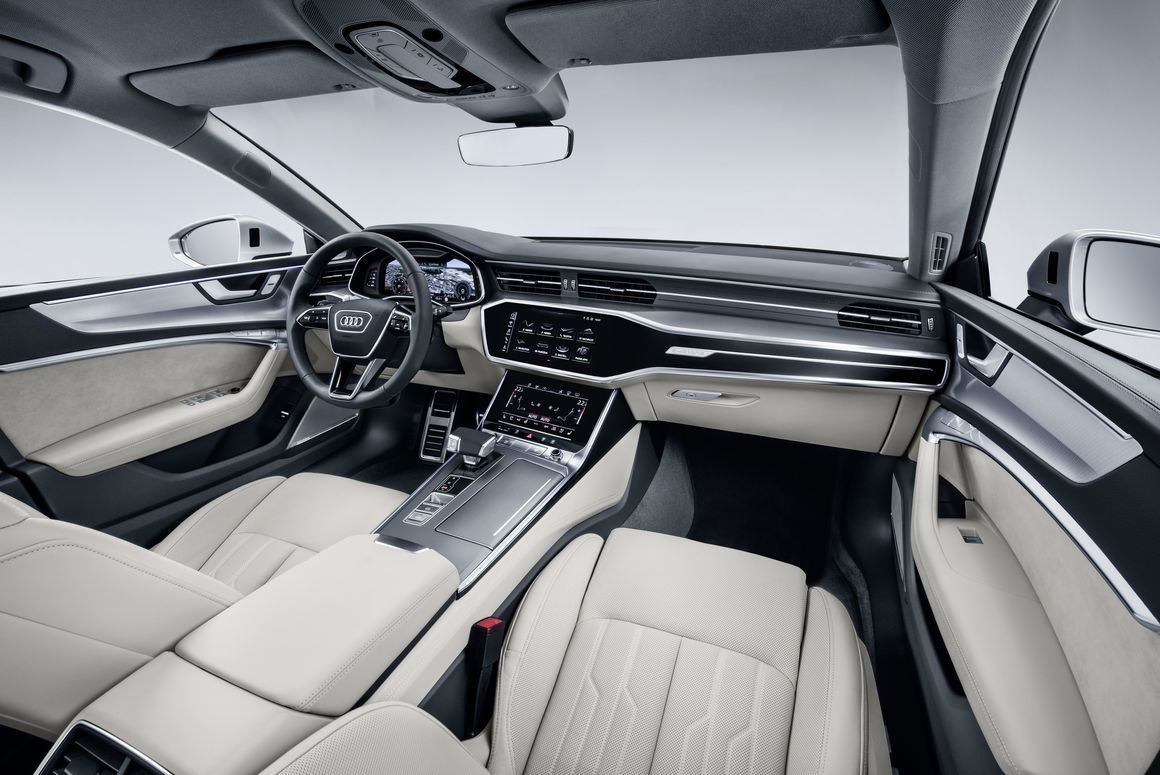 Powering the new A7 will be an all-new mild-hybrid powertrain that combines a 3.0-liter V6 engine with light electrification. Combined, this powertrain will produce 340 horsepower and 369 pound-feet of torque, which will push it from zero to 60 miles per hour in about five seconds.
To help boost efficiency, available Quattro all-wheel drive will also feature a rear-wheel decoupling system so only the front wheels get power, while a regenerative braking system will help recoup some of the electrical system's charge. According to European testing, the A7 will get around 34 mpg on the highway.
Audi says there'll be additional engines available, including another V6 and a four-cylinder, so stay tuned for updates.
Pricing & Release Date
The 2019 Audi A7 is due to begin production in late July. We currently estimate a release date in early fall. We'll update this page when we have more precise information.
Official pricing in the U.S. is not available yet, but it should start just north of the current model's $70,675 starting price (destination fees included).
Competition will include the Mercedes-Benz CLS-Class and the BMW 6-Series Gran Coupe.
Learn about the current A7 on sale now »
Pictured: 2018 A7