When the first A7 hit the streets back in 2012, it was a revelation. Previously, big hatchbacks were always ostracized by American car buyers – just look at the comical failures of cars like the first 1966 Dodge Charger, the same-era AMC Marlin, or the forgotten flop that was the early-80s Rover SD1. Yet the A7, with its slick design and impressive performance, managed to woo the hearts of a fickle public that's usually exclusively enamored with the tried-and-true three-box design. The 2019 Audi A7 has been entirely redesigned in the hopes to keep this suave hatch just as appealing and head-turning as ever.
What's New for 2019
Though it might not look it at first glance, the A7 is entirely new for 2019.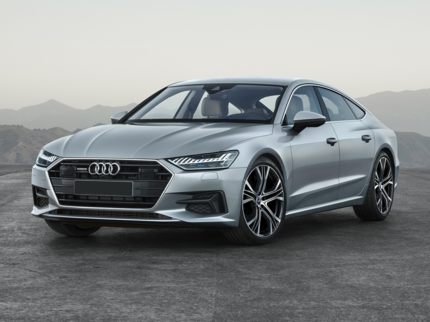 Choosing Your Audi A7
In a world of 2.0-liter four-cylinders, the standard 3.0-liter V6 is a breath of fresh air for lovers of larger-displacement engines. Last year, this motor had some help from a supercharger; this year, Audi swapped out that belt-driven unit for a more popular turbocharging setup. This change in forced induction nets a small drop in horsepower, but torque jumps up in a big way, with another 44 pound-feet worth of grunt now at the right foot's disposal. Total output for the 2019 motor is 335 horsepower and 369 lb-ft of torque; thanks to that extra helping of torque, going from zero to 60 mph now takes just 5.2 seconds.
Augmenting the mechanical workhorse is a 48-volt mild-hybrid electric vehicle (MHEV) system. It's compact enough to hide under the rear cargo floor, and helps boost total efficiency while reducing emissions. It can't let the car run purely on electricity, but does control braking regeneration as well as the freewheeling mode, in which the car coasts while the engine is completely off. Fuel economy isn't yet tested by the EPA and Audi has not made any preliminary estimates.
The sole transmission option is a seven-speed dual-clutch automatic, down a cog from last year. It routes power to Audi's trademark Quattro all-wheel-drive system. Now dubbed Quattro Ultra, this updated system offers more precise control thanks to intelligent, proactive technology that can better anticipate both road conditions and driver demands.
Drivers can also exert more control over the chassis thanks to four available drive select modes: auto, comfort, dynamic, and individual. Each offer a differing blend of firmness, stiffness, and dampening action; individual is a custom setting allows the user to set their own parameters. An available Sport Suspension firms things up across the board and also drops ride height by 20 mm.
The theme of more technology continues into the cabin. There, buyers will find Audi's all-new MMI touchscreen system, which replaces their old dial-and-buttons setup. The two large, high-resolution screens feature precise haptic and acoustical feedback, and control everything from climate control to the stereo to navigation. It also has a handwriting function that can recognize words and letters as written on the touchscreen. Also new is the ability to speak commands and questions, with the system responding appropriately. For instance, audibly ask for directions to the nearest gas station, and the software will respond by automatically pulling up the navigation system with directions already entered.
Surprisingly, most active-safety features are still optional. The only notable standard safety feature is the Audi Pre Sense Basic, which offers vehicle, pedestrian, and cyclist recognition up to speeds of 52 mph and can initiate braking when a collision is imminent.
Standalone options for all trims include rear side airbags, a DVD player, black cloth headliner, and dark brown walnut wood trim. Also available across the board is a 20-inch Wheel Package, as well as a Cold Weather Package that bundles heated rear seats and a heated steering wheel.
As of this writing, options pricing isn't available, nor is the 'build your own' configurator up and running. Once pricing information becomes available this page will be updated appropriately.
CarsDirect Tip
The mid-level Premium Plus is the just-right trim of the 2019 Audi A7 lineup, offering a nice heaping of standard features over the base Premium but not anything needlessly lavish like the Prestige. if you're looking to bring home an A7, start here and option accordingly.