Model Preview
With its last full redesign coming all the way back in 2011, Audi's flagship sedan, the A8, has been well overdue for a complete redesign. For 2019, the German automaker will heavily revamp its flagship sedan, giving it a new, longer look, updated powertrain options, tons of new tech, and a fancier cabin.
While the A8 is still very recognizable as Audi's flagship vehicle, its look is completely new. Its grille is wider and more upright than before, the body lines are sharper and more precise, its wide LED headlights and OLED taillights create a distinct signature, and the long and flat roof creates a sportier look. Audi also updated its construction, as its body is now 58 percent aluminum to help reduce weight.
Inside, everything is completely new as well. The vehicle will feature a brand-new infotainment system that replaces the rotary-button-controlled system with a 10.1-inch touchscreen. Below that screen is another touchscreen that contains all the heating and air conditioning controls, and other features. The latter eliminates the need for buttons that clutter up the center stack. Buyers will also enjoy the standard Audi Virtual Cockpit, the Wi-Fi connection for up to eight devices, and a new navigation system.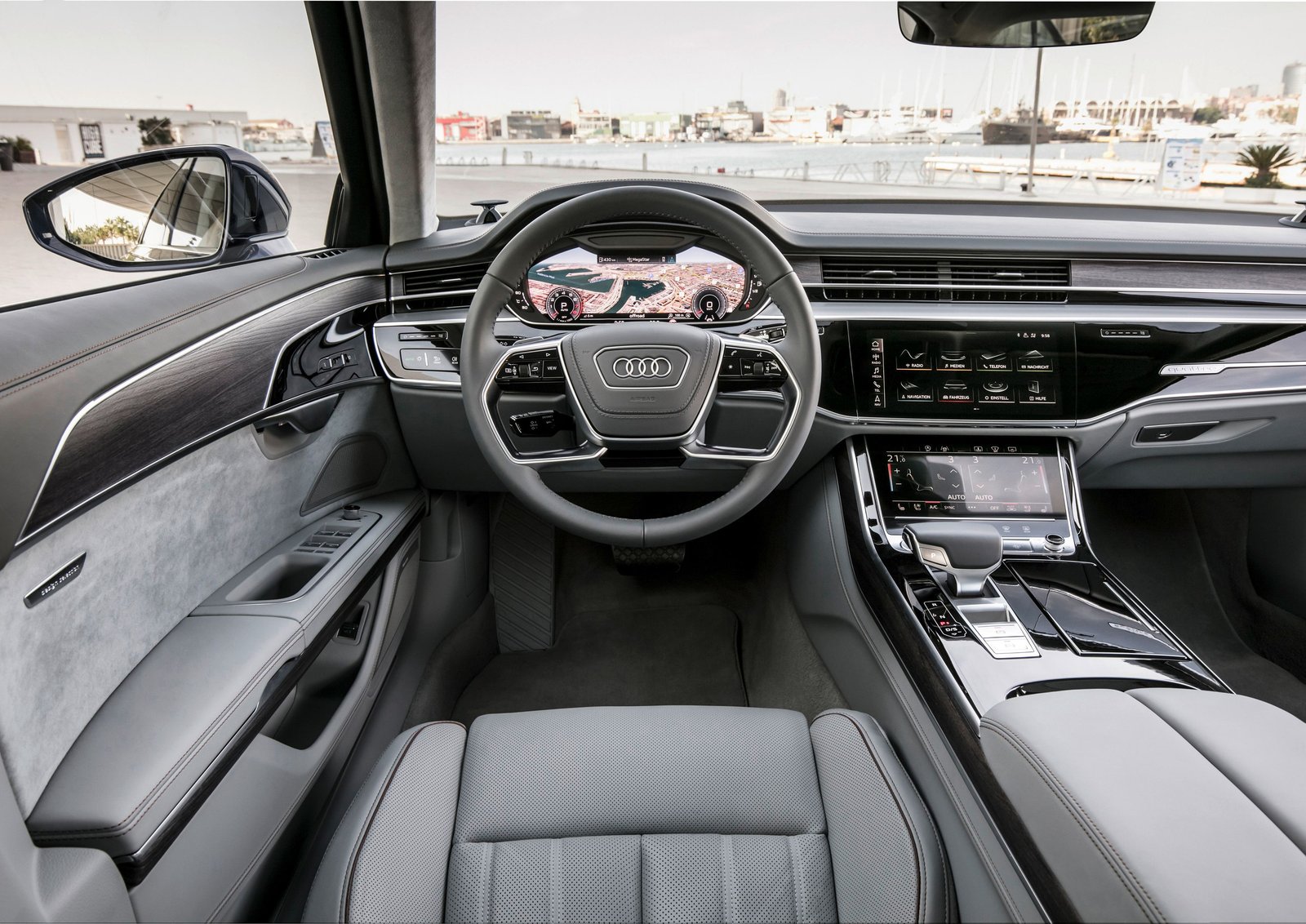 While Audi was forthcoming with many of the 2019 A8's details, its powertrain is still shrouded in some mystery. What we do know is that the 2019 A8 will use a 3.0-liter supercharged V6 engine paired with a 48-volt mild-hybrid system that will use a 10Ah lithium-ion battery. Output and fuel economy haven't been announced, but these should come soon.
The current A8 hasn't been tested for safety by the IIHS, so we have nothing to base the 2019 model's ratings on. We do know that it'll have plenty of advanced driver-assist features, including adaptive cruise control, automatic emergency braking, a 360-degree camera, and more.
Pricing & Release Date
Production of the 2019 A8 is due to begin in early July. Audi expects to have it in showrooms this fall.
Official pricing remains up in the air, but expect the new A8 to sit just above the current model's price range of $83,475 to $92,975 (destination fees included).
Competition will include the BMW 7-Series, the Mercedes-Benz S-Class, and the Porsche Panamera.
Learn about the current A8 on sale now »
Pictured: 2019 A8