Model Preview
Audi already has a fleshed-out crossover lineup, but at the Detroit Auto Show, the German luxury carmaker released a concept that previews a new range-topping people mover: the Q8.
The Q8 Concept appears surprisingly production-ready with many existing Audi styling cues. Where it really stands out, though, is in its almost coupe-like rear glass and flat roof, which stir up memories of earlier Audi Quattros. Matrix laser headlights are also near-production pieces, as is its Singleframe grille. Around back is a full-length taillight bar that Audi calls a "distinctive e-tron light signature." From the looks of it, many of these cues may trickle into the production Q8.
Inside, the Q8 Concept shows off tons of style with bucket seats for all, limiting seating to just four. While this looks cool in a concept, it will likely not be this way in production. The horizontal character of the instrument panel gives the cabin a wider feel, and the center screen seems to float in a sea of glossy black, giving the interior a cleaner look. Materials are, of course, of the highest quality, including Nappa and Nubuck leather.
The technology is also as advanced as it gets, thanks to the Audi Virtual Cockpit, which includes a 1,920-by-720-pixel screen that measures 12.3 inches. This system features a top-down map that shows the current route, and as you zoom in, your surroundings are shown in 3D. The MMI system controls the infotainment system and climate control. Interestingly, the interface is designed to only show the passenger-side controls if it detects a passenger in the vehicle.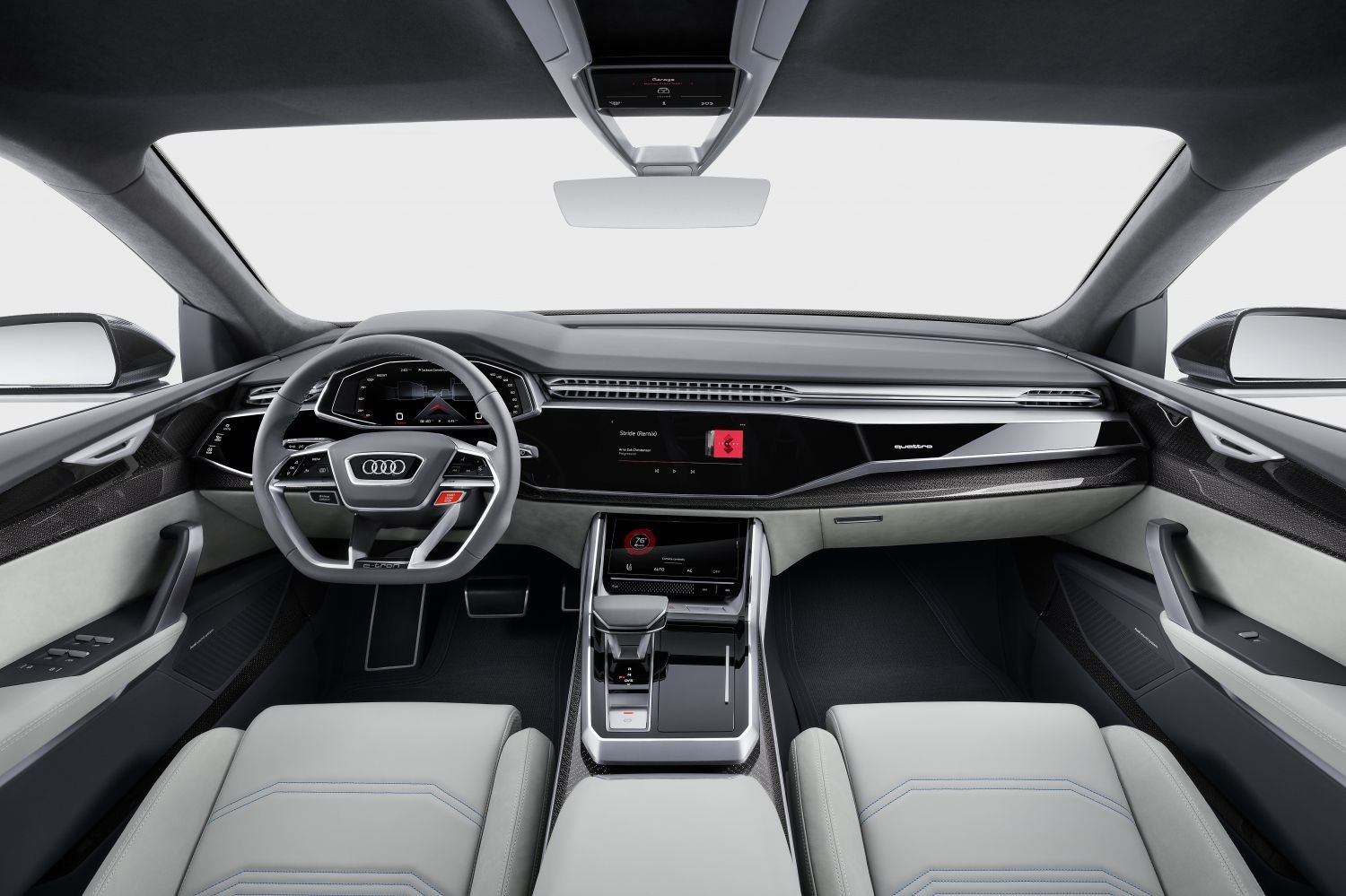 While the four-seat setup will likely be a concept-only feature, the production Q8 should carry the basic interior design and styling, as well as the high-end materials and technology.
Powering the Q8 Concept is a plug-in hybrid powertrain that combines a 333-horsepower 3.0-liter TFSI engine and a 100-kw (134-hp) electric motor. Combined, these power units produce 442 hp and 516 pound-feet of torque. A 17.9-kwh lithium-ion battery pack allows a 37.7-mile electric range and a full charge will take as little as 2.5 hours. Altogether, this system puts the Q8 concept's fuel economy at an estimated 102 miles per gallon. Performance is also solid, as it has a 5.4-second 0-to-62 time and a 155-mph top speed.
While this isn't a production powertrain yet, it could be very close to what shoppers get when the vehicle goes on sale. There will also likely be several gasoline and diesel engines available throughout the global market – the U.S., of course, will not see any diesel engines due to a major shift in strategy following a serious emissions compliance scandal from parent company Volkswagen Auto Group.
Pricing & Release Date
Audi expects to have the Q8 in showrooms sometime in 2018, but a more specific release date is unknown. Pricing is also an unknown, but we expect it to come in well north of the current range-topping Q7, which runs from $49,950 to $55,750 (destination fees included).
Chances are, it'll likely fall in the range of the BMW X6 ($62,395 to $77,095), the Mercedes-Benz GLE550e ($52,925 to $67,225), and the Porsche Cayenne ($60,650 to $160,650).
Stay tuned for updates as they become available.
See the entire current Audi lineup »
Pictured: Q8 Concept