The 2019 BMW 5-Series is a German luxury sedan that, in many ways, defines the type. It's available in a variety of styles, allowing the 5-Series to meet whatever need buyers have. While the various layers of trims and design styles can be confusing to navigate, the end result is that the 5-Series can be configured exactly the way you like it, as long as your wallet allows it.
What's New for 2019
There are no major updates for 2019, except for some price increases and shuffling of the option packages.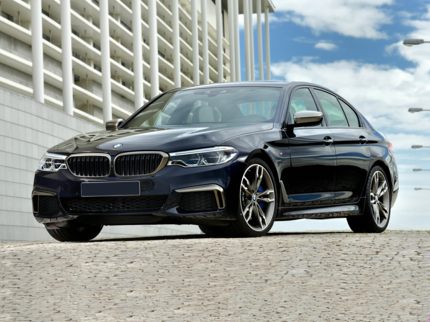 Choosing Your BMW 5-Series
Finding the right BMW 5-Series for you requires what sort of engine best suits your needs. Trims are separated by engine choice.
The 530i is the base level trim, powered by a 2.0-liter turbocharged four-cylinder engine that produces 248 horsepower and 258 pound-feet of torque. This engine returns a combined EPA fuel economy rating of 27 miles per gallon, a number that's solid for a mid-size sedan. The next trim level up is the 540i, which is powered by a 3.0-liter turbocharged straight-six that's good for 335 hp and 332 lb-ft of torque and 24 mpg combined. Those in need of real power can upgrade to the M550i, which provides the driver with 456 hp and 480 lb-ft of torque via a 4.4-liter V8 engine while getting 19 mpg combined. This power is enough to get the M550i to 60 mph in less than four seconds.
For those who look for something a little more eco-friendly, BMW has the 530e plug-in hybrid. It still has the same 2.0-liter turbo from the 530i, but it adds an electric motor that gives a total offering of 248 hp and 310 lb-ft of torque, a greatly enhanced fuel economy rating of 72 MPGe (miles per gallon equivalent), and a 27-mile electric-only range. Those looking for a more efficient 5-Series with extra power are given the 540d, which features a 3.0-liter straight-six turbodiesel engine that provides 265 hp and a healthy 465 lb-ft of torque, with the added benefit of a combined mpg rating of 30 mpg.
The 5-Series comes standard with an eight-speed automatic transmission, as is rear wheel drive on most models. The xDrive all-wheel-drive system is optional across the entire line for an extra $2,300 option, except on the M550i and 540d, where it's standard.
Other options and packages are vast and can get out of hand if you're not paying attention, but the good news is there's little variation across the trim levels. This allows you to buy a 530i with most of the nifty luxury and tech features you want without being forced to spend the extra money on a larger engine if that's not what you're looking for. Keeping that in mind, it's advised that interested buyers spend time exploring all the options available on the online "Build and Price" configurator to find what they want.
The first choice to be made for most trims is which of three design packages you want. The base package is the Sport Line Design that offers a somewhat sporty character, without sacrificing much luxury. The next is the Luxury Design, which provides some chrome accents and leather trimmed upholstery, costing $1,450 on the 530i and 530e, but it's offered for free on the 540i and 540d. For an extra $3,600 on top of the Luxury Design package on all trims except for the M550i (where it comes standard), BMW offers the M Sport Design that adds in a leather dashboard and interior and exterior appearance update.
The next level of choice beyond the design level are the three feature tiers. The $1,400 Convenience Tier includes heated front seats, satellite radio with a one-year subscription, keyless entry, and a power trunk lid. Moving up to the $3,350 Premium Tier adds parking assistance, a head-up display, enhanced Bluetooth and USB inputs, hand gesture control, a surround-view camera, WiFi, and wireless charging to the features added by the Convenience Tier. The $5,200 Executive Tier will give you soft-close doors, rear sun shades, a digital instrument cluster, and adaptive LED headlights with automatic high beams along with everything in the previous packages. Models equipped with the M-Sport Design package comes with the Convenience Tier as standard.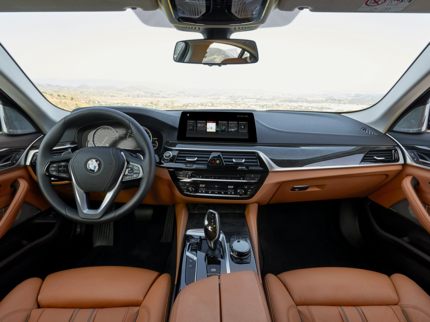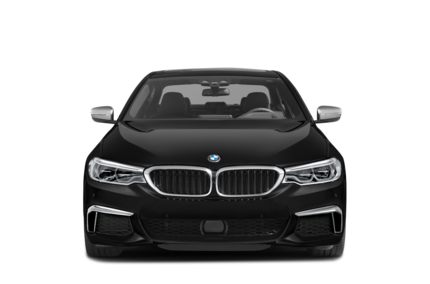 CarsDirect Tip
The 2019 BMW 5-Series can be had in so many different configurations. If you're looking for a bargain, the 540d is an underrated choice. The torque-y and fuel-efficient diesel engine feels faster at lower speeds and saves you money and time with less fuel stops.