Performance and comfort first. The 2019 BMW 5-Series went through its last redesign two years ago, but because even that restyling was more evolutionary, it seems much older than that. This evolutionary styling is calculated, though, because BMW knows where its buyers' priorities lie: comfort and performance.
Big on space and comfort. The 5-Series leaves nothing to chance in the comfort department with its standard 16-way power front seats that have just the right amount of padding and bolstering to keep you comfortable on long hauls and prevent sliding when cornering. With a few option boxes checked, you can get heated and cooled Nappa leather seats with 20-way adjustments for extreme comfort.
In the rear, the outboard seats are plenty comfortable and fit three adults across for at least a few hours. With 36.5 inches of rear leg room, the 5-Series beats the Mercedes-Benz E-Class by 0.7 inches and falls in line with others in its class. Plus, its 18.7-cubic-foot trunk crushes the Audi A6 and E-Class by five and 5.6 cubic feet, respectively.
So many powertrain options. The 2019 BMW 5-Series has a powertrain for just about any driver. BMW treats base 530i buyers to a peppy turbocharged 2.0-liter engine that injects 248 horsepower and 258 pound-feet of torque that's good for a six-second jaunt to 60 mph.
There's also a no-cost upgrade to the plug-in 530e model, which also uses a turbo four-cylinder but adds an electric motor to deliver the same 248 hp and six-second zero-to-60 time. The difference is a 9.2-kilowatt-hour battery that delivers up to a 16-mile all-electric range and an extra 600 pounds of heft. Middle-of-the-road buyers will appreciate the 540i and its turbocharged six-cylinder engine that injects 335 hp and delivers a snappy 4.9-second zero-to-60 sprint. Topping the range is the M550i, which combines a 456-hp turbocharged V8 engine with xDrive all-wheel drive. This potent engine and launch-ready traction delivers a smoldering 3.9-second sprint to 60 mph.
While 530i (an EPA-estimated 27 miles per gallon combined), 530e (29 mpg combined), and 540i (24 mpg combined) models all deliver respectable fuel economy numbers, the M550i xDrive has quite the appetite at 18 mpg city, 25 highway, and 20 combined.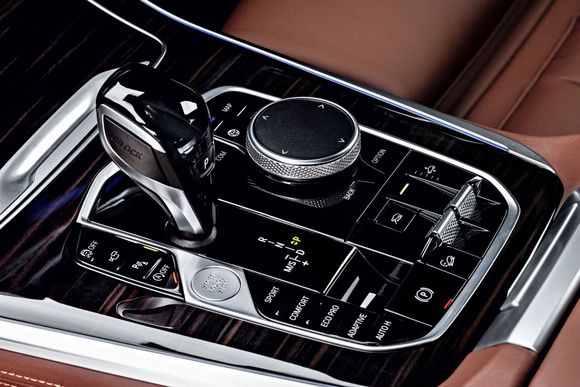 Stale looks. The 5-Series has loads to offer buyers, but it has one potentially fatal flaw: its look. It's far from ugly, but BMW isn't big on change, and the 5-Series has suffered for it.
It still boasts a classy and refined look, but the design is stale and unexciting. And with the E-Class' eye-grabbing looks and the A6 getting a new design, the 5-Series has a hard time gaining any points in the style department.
Final thoughts. The 2019 BMW 5-Series has loads to offer mid-size luxury shoppers, but its strongest suits are by far its virtually endless trunk space, range of engine options, and supremely comfortable cabin. Add to that standard automatic emergency braking and plenty of optional safety equipment that earn it an IIIHS Top Safety Pick Plus rating, and it's a nice overall package.
Keep in mind, you must use care when checking off option boxes, as some of them are eye-popping expensive. For example, getting automatic LED headlights requires the $4,500 Executive Tier package that also includes unnecessary items like soft-close doors and a power rear sunshade. Plus, the range of packages, lines, and standalone options can become a labyrinth.
While the BMW 5-Series deserves high marks, BMW's resistance to visual change has allowed the E-Class, A6, and Volvo S90 to zip by it. Even a newcomer like the Genesis G90 has a more daring design than the 5-Series.