Model Preview
Twenty years ago, BMW discontinued the 8-Series, leaving a void in this hyper-niche market of high-performance luxury coupes. Recently, BMW officially revealed the resurrected 2019 8-Series, which retains the coupe styling but adds all the modern bits that today's BMW enthusiasts expect.
Visually, the 2019 BMW 8-Series carries many styling cues over from its breathtaking concept, albeit toned down for production. Up front, the full-LED headlights are more angular than most Bimmers, and its kidney grille boasts a sharp rearward rake near the top.
Down the sides, this coupe's sleek roofline is a near-direct carryover from its days prowling the concept circuit and boasts a racing-inspired double-bubble look, while 20-inch wheels shod in performance rubber keep it grounded. Around back, the wide, slim full-LED taillights give this sleek sedan a wider look, while its sporty rear bumper and dual exhaust finish the look. For added weight savings, there will be an optional carbon-fiber roof.
Inside, sport and luxury blend nicely with its raised center console and center stack that create a division between the driver and passenger, while soft Merino Individual leather upholstery covers the seats, dashboard, and more. An M Sport steering wheel, the sport seats, and the low seating position all highlight the performance the 8-Series promises.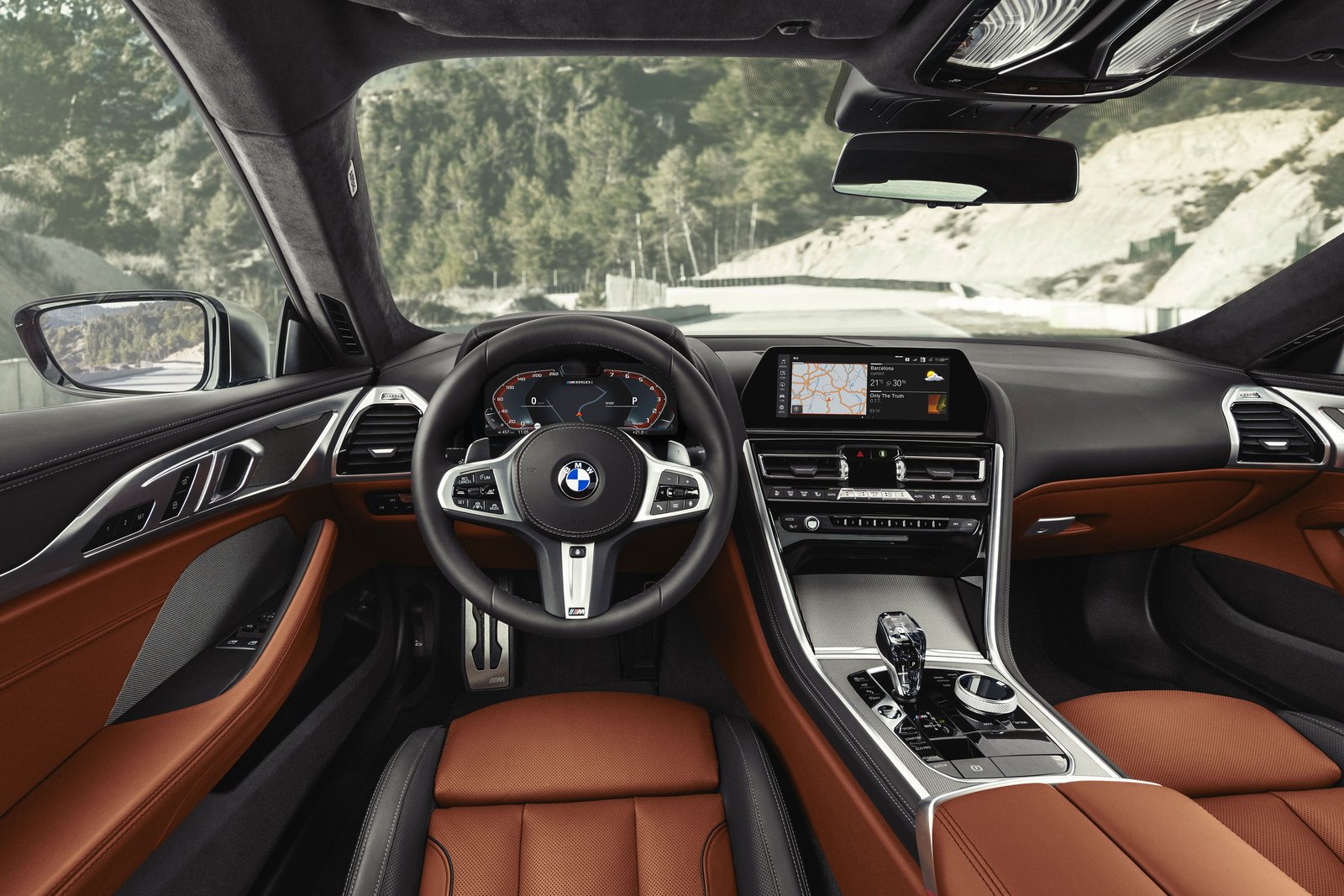 Premium tech will also be plentiful in the 2019 BMW 8-Series, as it will come standard with an 11-speaker audio system, ambient lighting, digital instrument panel, and more. Things will go even further with optional equipment, including a 16-speaker audio system, heated and cooled seats, adaptive cruise control, lane-keep assist, and more.
At launch, the 8-Series will only be available as the M850i xDrive. This M-badge machine will come standard with a 4.4-liter twin-turbocharged V8 engine that produces 523 horsepower and 553 pound-feet of torque. The V8 will pair with xDrive all-wheel drive and an eight-speed Steptronic transmission to sprint this coupe to 60 mph in just 3.6 seconds and up to a 155 mph top speed.
We don't expect IIHS of NHTSA safety ratings soon as this niche rig will likely never go through full testing. That said, the 2019 8-Series will boast all the latest in safety tech, including available lane-keep assist, adaptive cruise, parking assistant, 360-degree camera, active side-collision protection, automatic emergency braking, and more.
Pricing & Release Date
BMW expects to have the 2019 8-Series in showrooms in the fall of 2018.
Pricing will remain uncertain until we get closer to its on-sale date, but given it'll sit above the 7-Series in the Bimmer lineup, we expect a base MSRP north of $100,945 (destination fees included) MSRP the 2019 BMW 750i xDrive carries.
The BMW 8-Series' competitors will include the Lexus LC, Mercedes-Benz S-Class Coupe, and the Aston Martin Vanquish S.