Model Preview
Since its 2014 launch, the BMW i3 has established itself as an important model in the electric vehicle segment. Although its overall looks remain the same, what's underneath this EV has changed. For 2019, battery density improves once again, this time extending the i3's maximum electric-only range by 38 miles.
The 2019 BMW i3 and i3s now have 120 Ah batteries, which give this model a range of 153 miles, up from 115 miles last year. That's nearly double the 81-mile range of the i3 when it rolled out in 2014.
This model is also available with a range extender that's powered by a small gasoline generator. The generator is actually a 0.6-liter two-cylinder engine taken from BMW's C600 scooter. As equipped, BMW includes a 2.3-gallon fuel tank.
Other changes for this year include newly available full LED headlights with cornering lights and automatic high beams. The standard navigation system now includes iDrive 6.0, BMW's latest and greatest infotainment system.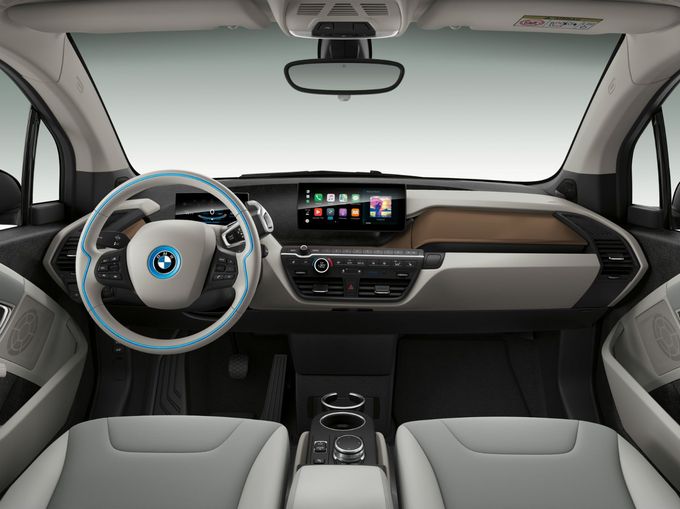 A Wi-Fi hotspot is optional, delivering connections for as many as 10 devices. Also, buyers may opt for a wireless charging tray for the first time.
A new exterior color joins the model line. Further, a new interior color comes to the Mega World model.
The 2019 BMW i3 comes in four grades: Standard World, Mega World, Giga World and Tera World. From there, customers may choose various packages and options to personalize their order.
This rear-wheel-drive model has five doors and makes room for five passengers.
Pricing & Release Date
The 2019 BMW i3 and i3s go on sale this November.
Official pricing for the 2019 model is still pending. We expect a slight increase over 2018 prices, which started at $45,445 for the i3 and $47,645 for the i3s. Models equipped with the Range Extender cost $49,295 and $52,495, respectively.
Both the standard and range extender models are eligible for a $7,500 federal tax credit. State and local incentives also apply.
As far as electric cars, the BMW i3 counts the Nissan Leaf and Volkswagen eGolf among its competitors. Buyers might also explore the Tesla Model S. For models equipped as a range extender, the Chevrolet Volt also competes.