Model Preview
In recent years, BMW has put a lot of its focus on building up its SUV lineup, as buyers seem to flock to these smooth-riding luxury people haulers. The next step for Bimmer is releasing the range-topping 2019 BMW X7, which we first saw in concept form at the 2017 Frankfurt Auto Show and is now rolling down the Spartanburg, South Carolina assembly line in pre-production form.
Since the pre-production model is already in the works, and BMW has already approved the design, it is likely the 2019 X7 will arrive wearing older duds than the latest BMW SUVs. BMW recently showed off the larger, more upright 2019 X5, which gained a massive grille and headlights that no longer met the grille. Inside, we expect much of the same we've seen from the rest of the BMW SUV lineup, plus a touch of 7-Series, which includes the digital instrument cluster and central screen side by side.
The BMW X7 will ride on the new CLAR platform, which will soon underpin every Bimmer north of the 2-Series. This platform's main concern is weight reduction, so look for the X7 to be svelte for its footprint, though we do not expect to see the Carbon Core that helped the 7-Series cut so much weight.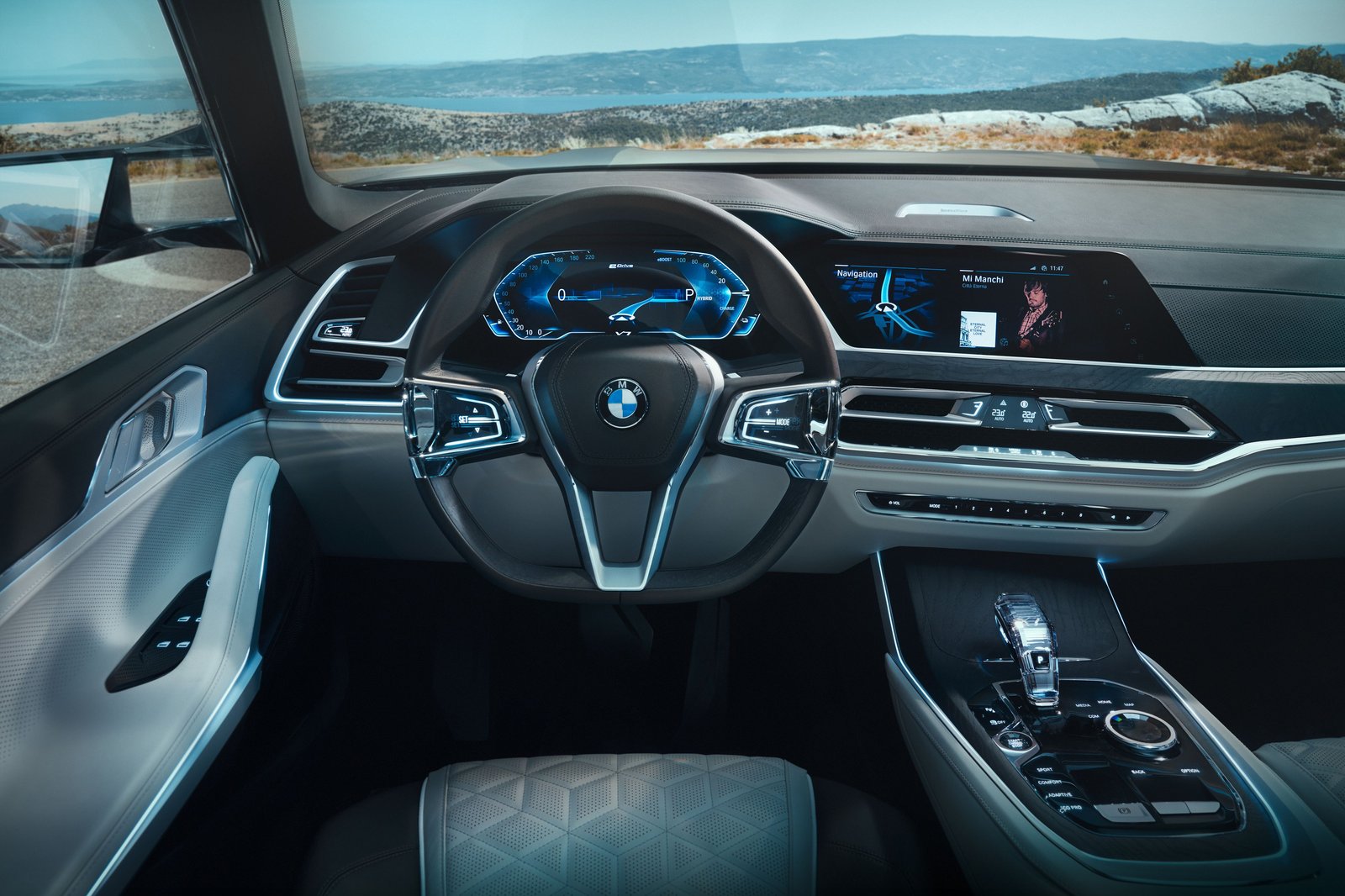 Under its hood, we expect the normal cast of gasoline engines: a 3.0-liter turbocharged inline-six and a twin-turbocharged V8. We also believe there will be an iPerformance plug-in model to help balance thriftiness with power. An eight-speed automatic transmission will handle the gear-swapping duties, and we expect standard all-wheel drive.
Safety is cloudy at this point and will remain that way even when the X7 debuts. The NHTSA and IIHS are in the business of throwing vehicles against brick walls, but they shy away from $70,000-plus luxury rigs.
That said, the closest relative to the upcoming X7 that the IIHS has tested, in terms of platform use, is the CLAR-based 2018 BMW X3. This small SUV pulled in an IIHS Top Safety Pick+ ratting. Logic says a stretched version of the same platform should perform the same or better.
Pricing & Release Date
The 2019 BMW X7 will make its official debut at the 2018 Los Angeles Auto Show in November. We expect to see it in showrooms in early 2019.
Pricing is another area that remains unclear, but looking at the current BMW SUV economics shows the X7 should sit just north of the BMW X6, which ranges from $63,045 to $78,695. An MSRP range of around $70,000 to $90,000 seems logical at this point.
Competition will include the Cadillac Escalade, Lexus LX 570, and the Mercedes-Benz GLS-Class.
Learn about the BMW lineup on sale now »
Pictured: 2019 X7 Concept