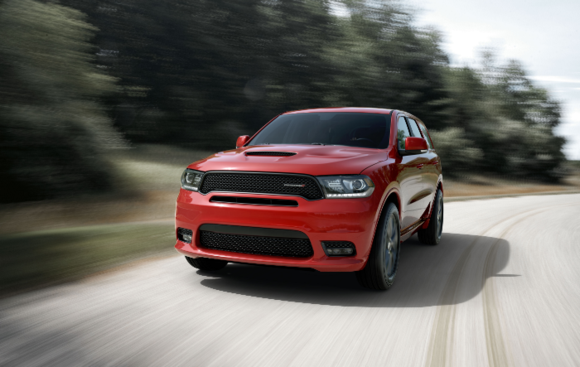 Simple, functional styling: The Dodge Durango has carried on for years with the its simple and functional looks that just get the job done. You're not going to find any stunning curves of sharp design Easter eggs hidden on its two-box body. What the Durango does well is accentuate its personality with subtle tweaks to its looks. This is particularly true when looking at its R/T and SRT model with their hood scoops and available racing stripes.
The same rings true inside, as the 2019 Dodge Durango is simple but function in most trims, but adds a touch of sportiness in its performance trims or luxury other trims.
Loads of engine choices: The 2019 Dodge Durango has more engine options than most SUVs, giving all types of buyers a powerplant the suits their needs. Most buyers will find the 2019 Dodge Durango's standard 293-horsepower V6 engine just right. It delivers up to 21 mpg combined and up to a 6,200-pound towing capacity.
For buyers who plan to do some serious towing, the Durango has you covered with its SRT model. Not only is this 475-hp beast a rocket in a straight line, but it also delivers a mighty 8,700-pound towing capacity. This all comes with a bit of a fuel economy penalty, as the 2019 Durango SRT has an insatiable fuel appetite of 13 mpg city, 19 highway, and 15 combined.
If you're not up for all that power, the 5.7-liter Hemi engine, which is standard in the R/T model and optional in the Citadel, delivers up to 360 hp and can tug up to a 7,400-pound trailer.
Ample cargo room: The Durango has loads of cargo room once you fold the seats. With the third row folded, it boasts 43.3 cubic feet of room. Dropping all the rear seats opens a respectable 85 cubes.
This beats the Toyota Highlander's 42 cubes with its second row folded and 83 cubes with all the seats folded. It also trumps the Mazda CX-9's 38.2 cubes with the third row folded and 71.2 cubic feet with all the rear seats folded. But the Durango comes up well short of the Chevy Tahoe and Volkswagen Atlas, which boast 95 and 97 cubes of max cargo room, respectively.
Where the Durango struggles is with all the rear seats upright. While its 17 cubic feet in this seating format is more than many in its class, most of these 17 cubes fall above the rear glass, so loading it up with gear risks shattering the rear glass.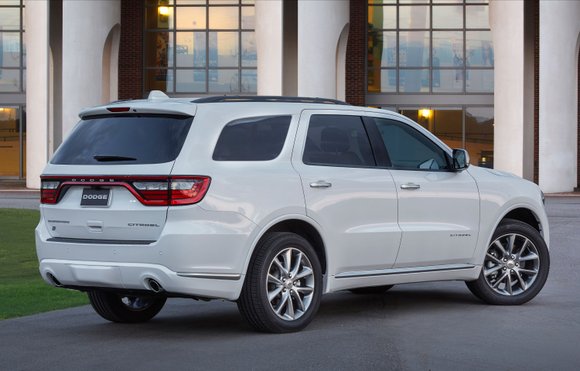 Skip the base trim: While the Durango's SXT trim level isn't poorly equipped for its $31,390 base price (destination fees included), we suggest skipping this and heading straight to the GT package for all the latest gear.
At $35,840 (destination fees included), the GT gives you a sportier look and is the entry point for the optional 8-inch infotainment system equipped with Android Auto and Apple CarPlay. The GT trim is also the doorway to second-row captain's chairs, adaptive cruise control, automatic emergency braking, forward-collision warning, lane-departure warning, and rain-sensing wipers.
Final thoughts: The Durango is a great way to break free of the ho-hum SUVs crowding the segment. With its wild V8 options, capable handling, and big towing capacity, the 2019 Durango shatters the mold for this class.
That said, the vehicle's best assets use old-school technology. While other automakers are switching to small-displacement turbocharged engines to get big power and decent fuel economy, the Durango's snarling V8 engines require a big fuel budget.
Looking for fuel economy? The 2019 Toyota Highlander Hybrid leads the class with 30 mpg city, 28 highway, and 29 combined. If cargo room is your main concern, the Volkswagen Atlas' 97 cubes of space is the way to go. For those seeking a more premium cabin, the Mazda CX-9 strikes a nice balance between luxury and value.