Model Preview
The 2019 Fiat 500e returns with no changes. As before, this four-passenger electric vehicle is available only in California and Oregon.
Introduced in 2013, the Fiat 500e features many of the styling elements of the gas model and includes standard equipment that's optional in the 500. Owners may claim federal, state and local incentives, which when combined reduce this model's final cost significantly.
The 500e's iconic looks feature several enhancements over the standard model, including low rolling resistance tires. In addition, Fiat supplies changes to the front fascia, mirror caps, select underbody treatments and the rear spoiler to increase this model's efficiency. Otherwise, the timeless and classical look of the 500 remains.
Motivating this tiny hatchback is a liquid heated and cooled battery electric powertrain with an output of 111 horsepower. On paper, the electrified Fiat has an 84-mile driving range. With regenerative braking, that range may be further extended. Power is routed to the front wheels by means of a single-speed automatic transmission.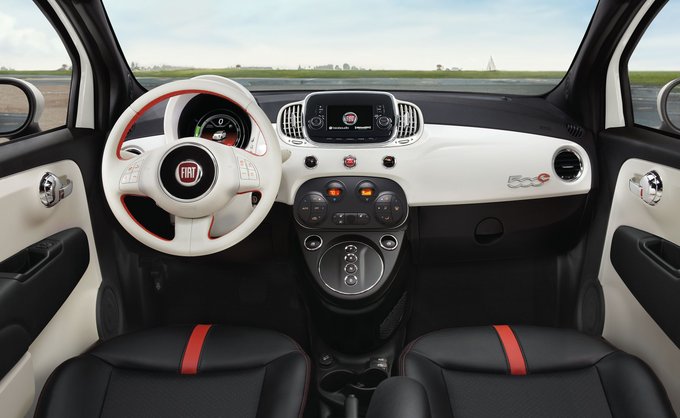 Fiat offers the 500e in base and E-Sport trims. The E-Sport features such design elements as black-trimmed headlamps, specially painted wheels and black trim.
The 500e has a 7-inch TFT instrument cluster that displays full-color picture graphics, including vehicle functions, charge levels and trip information. A 5-inch color display on top of the center console ties in with this model's audio system and supplies Bluetooth connectivity.
The seats are covered in an imitation leather trim. Other features of note include a power tilt steering column, heated front seats, automatic climate control, satellite radio and navigation.
Pricing & Release Date
We're not expecting production of the 2019 Fiat 500e to begin before January 2019. Pricing is pending, but we believe it will come in near to the $34,290 standard price of the 2018 model. This price includes the $1,295 destination charge. A pair of wheel and floor mat packages brings this model's final cost to about $35,000.
Among this Fiat's main competitors are the Smart Fortwo EV and the Volkswagen e-Golf. Other models to consider include the Chevrolet Bolt EV and the Nissan Leaf.
Photos
Pictured: 2019 500e