Ford's cheapest SUV. While the EcoSport may be a new name around these parts, it's not a new vehicle by any means. It's been sold in developing markets and Europe for quite some time now, but now that Ford has divested itself of entry-level hatchbacks and sedans, they need a new entry-level vehicle to take their place.
Accordingly, the 2019 Ford EcoSport does one thing fairly well: it's an inexpensive crossover SUV made by Ford. For some, that's enough to sell a car, but it really does lag behind its rivals in most categories. It also has a side-opening rear tailgate, which is a quirky touch that people either love or hate.
The EcoSport was clearly built to a price point, and it shows. The cabin is filled with low-quality materials and seems to have been designed as an afterthought. You can dress it up a little bit with higher trim levels, but you'd be better off with an Escape at that point.
Lackluster performance. While the EcoSport may come with the much-lauded three-cylinder that powers the Ford Fiesta, it also burdens the little engine with a lot of extra weight for the luxury of sitting slightly higher than a standard car. The result is predictable: this car is slow.
A more powerful engine is available in the form of a naturally aspirated four-cylinder, but it only boosts the power to 166 horsepower, which still isn't much for a small crossover. All-wheel drive is available, and it boosts the EcoSport's towing capacity to a full 2,000 pounds from 1,400 in front-wheel-drive models.
Additionally, while the EcoSport is composed in the corners, it has a terrible steering feel that doesn't stay centered easily and it feels prone to wandering. Braking is a much more confident endeavor though, and the suspension manages to soak up bumps without being too jarring.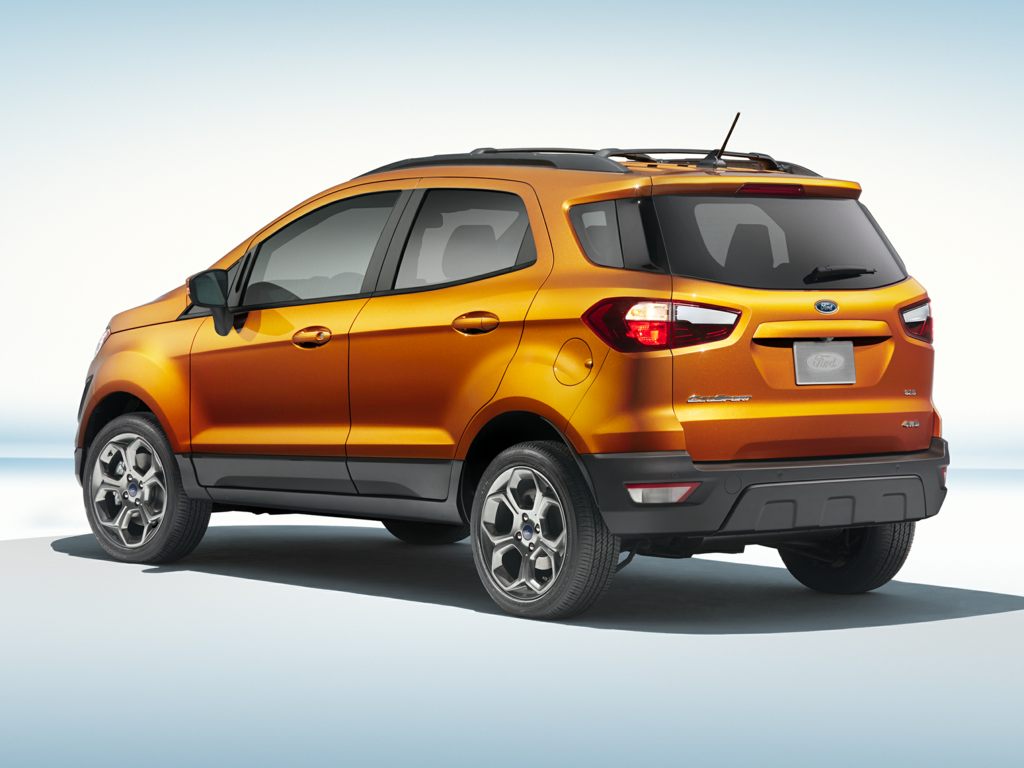 Average fuel economy. It should be pointed out that the name EcoSport is a bit of a misnomer. As previously discussed, the vehicle is not sporty, and it's not particularly eco-friendly either. Instead, the Eco in EcoSport stands for economical, and is reflective of its price point, not its fuel economy ratings.
Three-cylinder FWD models get an EPA-estimated 27 miles per gallon city, 29 mpg highway, and 28 combined. Fuel economy drops to 23/29/25 mpg (city/highway/combined) on four-cylinder AWD models, which is not far off of the larger and sportier Escape.
Worrisome safety. The Ford EcoSport hasn't aced most of it's crash tests from NHTSA. While it does get four out of five stars overall, with five stars for side-impact ratings, it's more prone to roll-overs than many other vehicles. All-wheel-drive models received a four in this category, while front-wheel-drive models scored only a three.
Additionally, the EcoSport receives virtually no active safety features as seen with many other vehicles these days. Adaptive cruise control, automatic emergency braking, or even forward collision warning are all absent on the EcoSport. In fact, the only one available is blind-spot monitoring.
Final thoughts. The 2019 Ford EcoSport feels like a last minute, panicked addition to the Ford lineup, largely because it is. It was built for markets that haven't been spoiled as much as us in terms of entry-level utility vehicles, and it feels largely uncompetitive.
The EcoSport is only fit for those blinded by brand loyalty. The Ford faithful converting from an Escape of several generations ago probably won't notice anything amiss, even if better options exist.
However, if you can stand the sight of another brand in your driveway, you should check out the Honda HR-V or Mazda CX-3. Both are good looking vehicles with great build quality, and the Mazda in particular is great fun to drive. Alternatively, if you want a Ford, look for a slightly used Escape at a similar price point.