Quiet, serene cabin. The rather sedate exterior of the 2019 Genesis G90 is wrapped around a spacious (113.2 cubic feet), serene interior that's elegant, timeless, and worthy of luxury car status. The electroluminescent gauges facing the driver, as well as the various buttons and knobs, are clear, easy to read, buttery smooth, and within easy reach.
The conservative, leather-wrapped, wood-trimmed dashboard houses a massive 12.3-inch touchscreen. In addition to a remote knob, redundant buttons for the primary menu functions make operating the intuitive infotainment system easy, even for the tech-averse.
The spectacular Nappa leather seats that offer all-day comfort are heated, ventilated, and adjustable 22 ways for the driver and 16 ways for the front passenger. And although the rear bench has been optimized for outboard passengers, there's plenty of room back there for three adults. The fact that even entry-level G90 trims offer this type of seating is amazing, even in this class.
The interior is also exceptionally quiet – even at freeway speeds. Engineers used everything from sound-absorbing materials to a low-noise fuel pump, while special attention was paid to mid- to high-frequency noise reduction.
Despite a high cowl, views out the front and sides are excellent, although a high trunk, thick B and C-pillars, and a high beltline hinder views out the back and rear three-quarters.
There are some additional downsides: color choices for the interior are limited to black or beige. The rear seat doesn't fold, so there's no pass-through to the trunk – a feature that's standard even on Hyundai's lowly Accent. Finally, unlike other standard-bearing luxury sedans, no first-class-like rear seat arrangement with individual reclining buckets and wide center console is offered.
Lengthy list of standard features. In a class not known for value, the G90, unlike its option-happy German competitors, stands head and shoulders above them when it comes to standard features.
A suede headliner, power door closures, acoustic laminated windows, and three-zone automatic climate control are standard. Seemingly the entire litany of standard features found on the G90 are considered optional in any other luxury sedan, which dramatically inflates their prices.
The list continues with a full suite of driver assistance features, while even the least-expensive trim comes with an adaptive suspension, adaptive automatic LED headlights, and a surround-view camera.
Impressive safety scorecard. The G90 receives an IIHS Top Safety Pick Plus designation when equipped with LED projector low- and high-beam headlights thanks to an impressive crash-test record and wide-ranging active safety features.
Every model is equipped with automatic emergency braking, blind-spot monitoring, rear cross-traffic alert, lane keeping assist, adaptive cruise control, a surround-view camera system, and a driver attention monitor.
We should point out that the Genesis G90 lacks some of the driver-assistance features found on pricier full-size luxury competitors, but it's also cheaper by thousands compared to those vehicles.
Smooth ride. An updated interpretation of the all-American luxury land yacht, the best attribute of the G90's performance is the ride. Chasing market demands, current luxury sedans attempt to be both sporty and comfortable. Those two qualities, however, are often at odds, so in chasing performance, the ability to cosset and insulate occupants is missing from many marques.
In the case of the G90, however, a luxurious and comfortable ride has been prioritized. The supple, adaptive suspension, smooth V6, and slick-shifting eight-speed automatic transmission combine to produce a refined highway cruiser with excellent merging and passing response, capable of eating up mile after highway mile. Despite three driving modes (Comfort, Comfort Plus, and Sport), the Sport setting is still pillowy soft compared to sport sedans from Germany and Detroit.
Note: The G90 is offered with the choice of two engines: a 3.3-liter twin-turbocharged V6 with 365 horsepower and 376 pound-feet of torque, and a 5.0-liter V8 generating 420 hp and 383 lb-ft of torque. Both are good, but the V6 is the better choice.
At the same time, while the V8 comes with a nice engine note, the G90 isn't equipped to make use of that power, the bigger engine offers only a hint of additional response, and the V8's extra weight gives it an acceleration sensation that's largely the same as that of the V6. In addition, overly light steering makes the G90 feel a bit out of its element on curvy roads, where body lean is all too evident.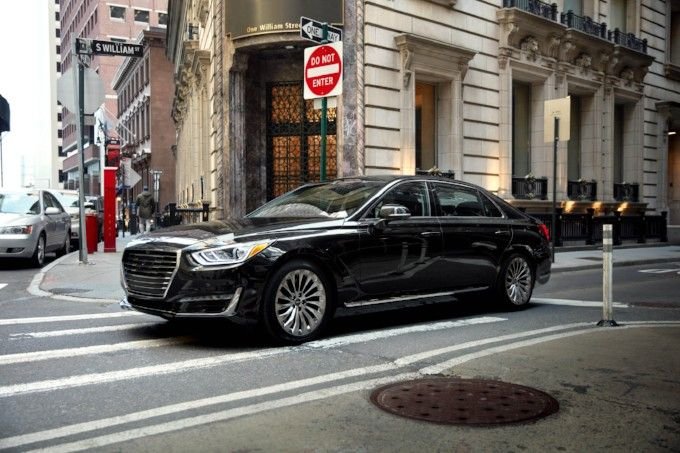 Final thoughts. Don't be fooled by the affordable price tag of the 2019 Genesis G90 – it's a full-on luxury sedan. With its excellent list of standard features, simple lineup, and opulent cabin, the G90 offers a lot of what others in the segment have, but at a more affordable price point.
In terms of competition, with no options and no packages, the G90 lacks the customizable features of competitors, and offers fewer powertrain options, including a hybrid, than its rivals.