Model Preview
Since returning back in 2015, the GMC Canyon has remained relatively unchanged. But we expect that to change when the 2019 Canyon arrives, as we anticipate a refreshed look.
There are no official details on the 2019 Canyon's anticipated refresh, but there are a few things we could easily see getting changed. Of course, most of the sheet metal is expected to remain unchanged, but the soft parts, like the headlights and taillights, grille, and bumpers will all likely see some sort of changes.
Inside, it's hard to say how extensive the changes will be. For the most part, we would expect the design to remain basically the same. What we could see change are things like the infotainment screen, the HVAC vents, the steering wheel, and maybe the color options.
Under its hood, we expect all to remain the same for the 2019 Canyon. We expect its base engine to remain a 2.5-liter four-cylinder with 200 horsepower and 191 pound-feet of torque. Those looking for more pop can opt for the 3.6-liter V6 with its 308 hp and 275 lb-ft of torque. Finally, we expect the 2.8-liter diesel four-cylinder with 186 hp and 369 lb-ft of torque to remain the range-topping option.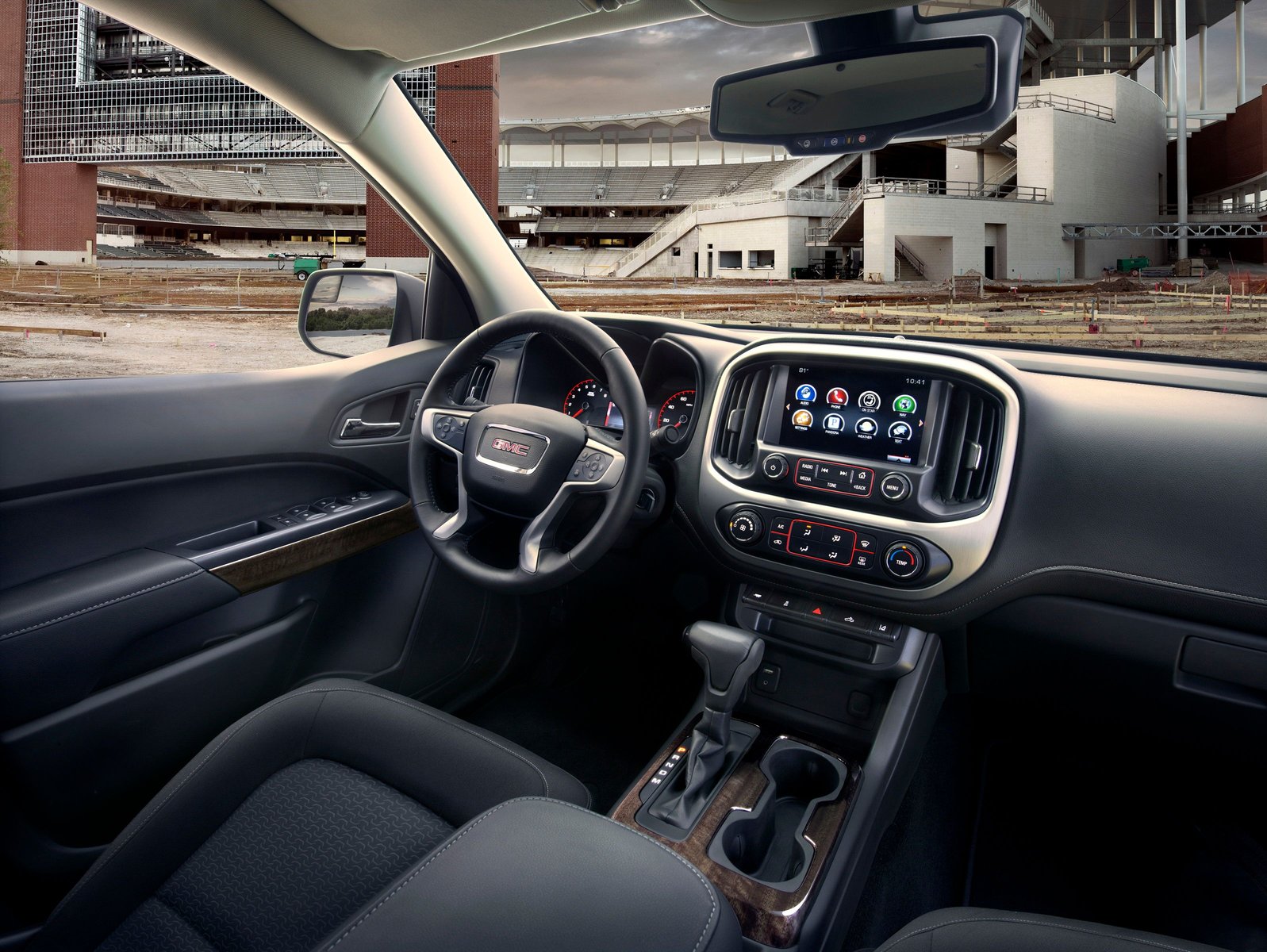 What will also remain the same is what differentiates the Canyon from its cousin, the Chevy Colorado, and that's the GMC's lack of a top-of-the-line off-road model. Sure, the Canyon has the All Terrain X model, but that's no match for the off-road capabilities of the Colorado's ZR2 model, which boasts an extra 0.7 inches of ride height, a 2.5-inch wider track, and race-derived Dynamic Suspensions Spool Valve dampers from Multimatic.
In terms of safety, the Canyon is a tale of two pickups. The crew-cab model receives all "Good" ratings in the range of IIHS crash tests, while the extended-cab model can only muster up "Acceptable" ratings in the driver-side and side crash tests. Holding both body styles back is the "Basic" rating in the front-crash prevention test and "Poor" rating in the headlight test they both receive. This refresh could fix these issues if it comes with new headlights and available automatic emergency braking. It's unlikely to fix the extended-cab model's crash test scores, though.
Pricing & Release Date
While there is no official release date, we expect to see the 2019 Canyon head into production in mid July.
We expect pricing to remain similar to the 2018 Canyon, which ranges from $22,095 to $44,595 (destination fees included). This pricing leaves a decent gap between it and the Chevy Colorado, which ranges from $21,195 to $42,995 (destination fees included).
The Canyon's competition includes the Chevy Colorado, Toyota Tacoma and Nissan Frontier.
Learn about the current Canyon on sale now »
Pictured: 2018 Canyon